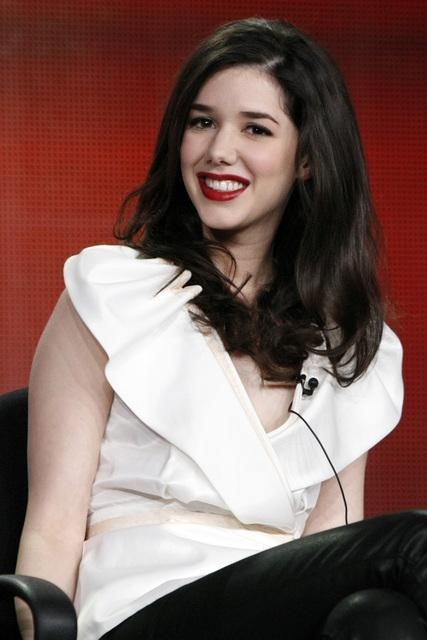 After my frantic interview process with Gray Chandler Murray of the fictional Donovan Decker Agency on ABC Family's Jane by Design…I took a little breather from fashion styling. While I'm still waiting to hear the outcome from all of challenges that I performed, I have been tuning in to Jane by Design to WATCH Jane played by Erica Dasher live her dual life.
Last week I had the opportunity, along with the other participants to ask Erica a few questions:
CL:  On the show a lot of your scenes with Andie MacDowell are either on the phone or on a video screen. How is it different doing those scenes versus when you get to actually work face-to-face?
E. Dasher: The great thing is Andie is always on set. At first they set it up like that because she lives in North Carolina, but after the first episode she came and got a place out in L.A. while we were shooting so that she could be on set. She does all her off camera dialogue. Even if I have to look at her in the office somewhere and she has nothing to do with the scene and I'm just supposed to be watching her walk somewhere, she'll do it. She's incredible.
CL: Also, in the show we see Jane franticly switching between her school and her work like. Do you go and switch back and forth between those two different scenes or do you film all of your work scenes one day and all of your school scenes another day?
E. Dasher: Usually we'll have days where it's half the week we'll be on one stage, which has the house and the school, and the other stage has Donovan Decker, which is this grand, beautiful set. But no, there are days too where we're literally running back and forth across stages, the whole cast is. So it's fun. It's a bit of a character setting.
CL: This past episode we saw Jane go to Paris – what was that like for you personally?
E. Dasher: Awesome. It was great. We shot mostly in L.A. We have stages up in Santa Clarita and then we did a few days in New York in order to make our New York shots feel a little more authentic. It was just great.
Our producer didn't want to put me in front of a green screen. They want each episode to feel like a movie. The show really does feel like a romantic comedy in a lot of ways, and I think what makes it special is that it's on this grand scale. I live in Westchester. I work in SoHo. We travel to Beverly Hills. Eventually we go to Paris.
I was really happy we got to go. It was awesome because we ended production there. We did three or four days of shooting in Paris and then production left and I stayed for five days on my own and wandered around the city. It was an incredible way to end my first job.
CL: Is it true that you broke your ankle when you were auditioning for Jane?
E. Dasher: That is very true. I had gone through the first part of the process, the pre-read and the call back and right before the test I was at a café, writing, working on my own stuff. I hadn't heard anything so I figured it wasn't happening and I got a call from my manager that I was testing for the show. I didn't even have the part yet. I had never tested for a show before so I got very excited and I wanted to step out of the café to be nice to the other patrons, since I was being loud and obnoxious.
As I walked outside there was a step into the parking lot and I fell over. I was still on the phone with my manager and I was like, "Oh my gosh, I'm so excited. Oh gosh, my ankle really hurts." It started swelling and I went to the doctor and he had them put me in this big boot to make sure that I could walk around during the test the next day. They still cast me, fortunately, but it was definitely broken and the first episode was a challenge.
CL: What is your advice to fans that are wanting to fashionable but are on a budget?
E. Dasher: I love vintage shopping. I actually don't spend a lot of money on clothes at all. I live right around the corner from a little vintage shop and I do a lot of rummaging around, those kinds of places. I think the quality of the craftsmanship in vintage clothes is hard to come by unless you're able to buy higher-end labels nowadays, and I think you can find a lot of higher end labels that are more affordable in a vintage shop.
But in college too we would go to Goodwill to get costumes for theme parties or whatever. I think if forces you to be more creative. If a dress doesn't quite fit you find a belt that works. But I love vintage and resale stuff.
CL: Jane by Design is all about fashion, and as a lady you probably keep up with the latest fashion trends, but did you have to do any special research into the business side of the fashion industry to credibly portray your character Jane?
E. Dasher: I did. I had been an assistant at different points so I had done a little of pre-research, but yes. Our costume designer, Olivia Miles-Payne, is a genius and she's exposed me to a lot of young designers. I think the thing about fashion is the industry moves so quickly. A lot of it lives online as well so it's easy to keep up with it, but you have to sort of stay educated in order to do that. I spend a lot of time reading blogs and stuff online and listening to Andie, because Andie grew up in the fashion industry.
CL: Being on this show, has it inspired you to maybe to some more work in the fashion industry in the future?
E. Dasher: I really like fashion. The show certainly has an effect on my personal style, which is still evolving. Yes, fashion is a form of a creative outlet and a form of self-expression. I can see myself staying involved in a way. I'm going to Fashion Week next week in New York. It's just another way for me to learn about that whole world. I'm really excited.
CL: Do they ever incorporate some of your own style to some of Jane's?
E. Dasher: I think some of my own style lives in Jane even more than it does on the red carpet right now. ABC Family has these incredible in-house stylists that will dress me for the red carpet. Right now on the red carpet, it's about taking risks and finding out what I like and what looks good on me in photographs. Sometimes I really like it and sometimes I feel like it's a miss, but I'm learning. I'm learning how to do that.
With Jane, I say this all the time, but Olivia Miles-Payne, who's our costume designer, is a genius, and I think part of her genius lies in that she knows there is magic in collaborations. So she really works with what looks good with our body types and what colors look good and what we're naturally attracted to while still building distinct personalities for each of the characters.
But Jane has these sort of like tutu-y things, these tiered skirts. That's sort of how I pictured her and it's what I wore to all of my auditions. That became incorporated very quickly into the show. I felt like it was really fun and feminine and flirty, and I think that's a large part of Jane's style.
Tune-in to all-new episodes of ABC Family's Jane By Design on Tuesdays at 9/8c!