We spotted our West Coast travel writer Kathy Chin Leong nearby Disney this week and she found a FABULOUS hotel for the entire family.
So… you want to bring the grandkids to Disneyland, but you don't want to spend your entire 401K.  And you don't want to sleep in one of those cheap, dingy motels surrounding the theme park, either.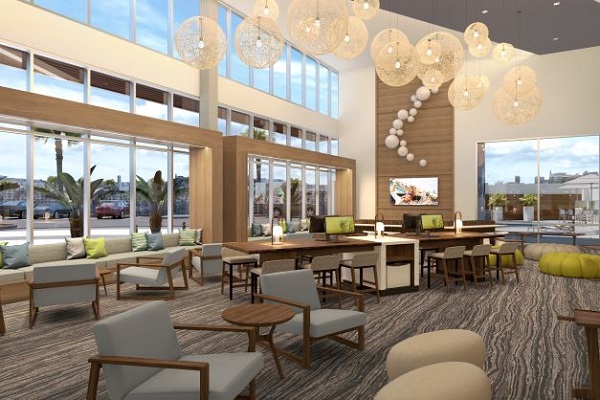 The solution? The new Element Anaheim Resort Convention Center, walking distance from Disneyland in Anaheim, Calif. The five-story hotel with 174 rooms has everything you need for a classy, comfortable vacation. Room prices start at $155 nightly, so that's a bargain in itself.
First off, the all-suite, Westin-brand property opened last July with spanking new everything. And hey, who doesn't like new?  The refreshing Element comes with colorful, upbeat décor with the theme of bubbles everywhere.  The outdoor entry showcases clear glass bubbles suspended on vertical rods in planter boxes lit at night.  A cluster of solid white bubbles cling to the lobby wall as dominant eye candy.  And finally, look up to see the transparent bubble glass chandeliers.
What makes the hotel extra easy for multigenerational travel is the fact that you can reserve adjoining rooms (or not) and certain suites with bunk beds and separate TVs for the kids and a master bedroom for the adults.
Kitchens in every room are heartily equipped. They arrive armed with silverware, dishes, refrigerators, microwaves, and stovetops.  Keeping families in mind is the patio area with relaxing furnishings and a small pool for dips. Alas, no slide here, but it is big enough for everyone to splash around after a day at the theme park.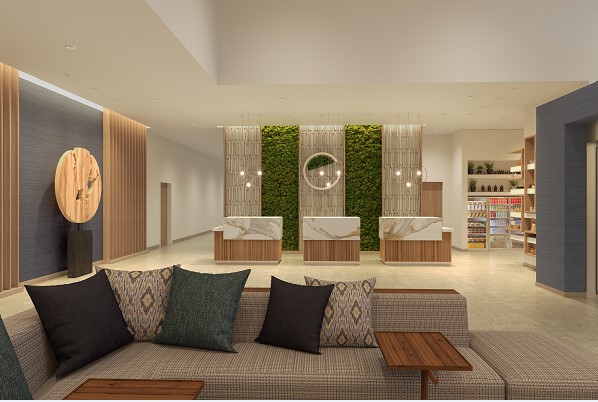 What I applaud at the Element is the fact that the owners took great care in distinguishing it from the competition. The light-filled lobby with floor-to-ceiling windows is integrated with a large living room with sleek long walnut-colored tables, a few select computers, and plenty of outlets for recharging phones tablets. If you need to invest a day of work while on vacation, you can do so comfortably.
On the design side, the living room is dressed with tailored gray couches topped with turquoise and lime pillows, navy swivel chairs, and bubble-shaped gray and yellow lounging poufs with enough room to sit three happy hotel campers.  The spaces throughout the hotel are simple, uncluttered, and a joy to the senses.
The new Element offers a nutritious breakfast with low-fat options and plenty of veggies in the morning.  It's not every day that you have grilled vegetables, right? With so many people going vegan, low-carb, and gluten-free, the hotel has addressed these issues with hot and cold options.  During breakfast, the staff replenished entrees often with freshly-cooked dishes so nothing looked picked over, old, or stale.  Of course, a juice dispensary, as well as coffee and tea, are available throughout the day.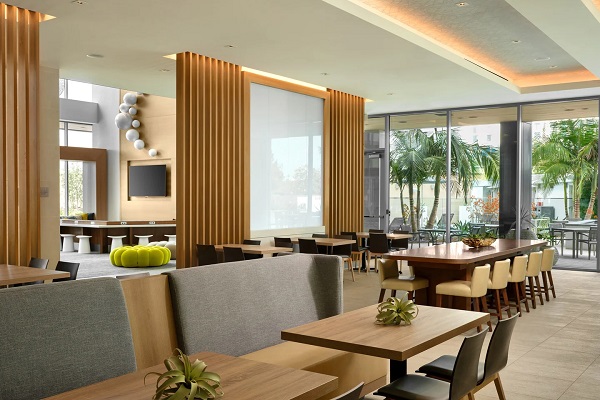 The breakfast arena is so big it reminds me of an elementary school cafeteria, but unlike an elementary school, the soft furnishings absorb sound, so you don't hear clattering or noise that bounces off the walls.
As an added note, the Element brand has stated it is committed to wellness, energy and water efficiency, and green standards ever since it launched in 2006. At press time, there are presently 81 Element hotels around the world. At the Anaheim site, that eco-friendly value means filtered water from all of its taps and free bikes to ride during your stay.
Bedrooms are an excellent size for a group of up to seven. The real estate is generous at 390 square feet for studios and over 500 square feet for separate 1-bedroom suites. Rollaway beds are available, couches that fold out into beds are also abundant.  With seven room categories at your disposal, you should be able to find the one that meets your needs. The hotel also allows pets for an additional fee.
Our one-bedroom queen suite included a separate master bedroom with two queen beds with quintessential white linens and a shower bathroom.  The living room area featured a couch grouping for an additional guest. The large dining table made it easy for me to spread out the paper and enjoy a cup of coffee in the morning. Thumbs up for the full-sized refrigerator with a coffee maker and toaster.
The 72 bunk bed suites, specifically in queen and king versions, are a clever design with well-thought-out layouts.  Where was something like this 20 years ago when my kids were small?
When you enter, you immediately encounter the stacked bunk beds along with a couch, so you instinctively know that is where the kiddos will be sleeping, playing video games, or watching TV.  Step forward a few paces. Connecting that is a narrow kitchen, and as you keep walking, you will arrive in the main bedroom. You can sleep as many as seven people total.  Large families will be so happy. Consider yourself as a grandparent where you can sleep on one bed, the adult couple in the next one, and the little guys down the corridor in the bunks.
The Element can be your weekend getaway with adult friends, children, grandchildren, aunts, and uncles with nephews, or your kids and their friends… the combinations are endless.
Let me tell you. You can read about all the litany of hotel amenities on websites, but it is not until you test drive a hotel like this one where you can actually experience the property inside and out for its service, cleanliness, and comfort. Readers, this Element is clearly a place you can be in your optimal 'element.'