Dry skin
I can't even imagine what my skin would look and feel like if I still lived up in New England with the cold cracking my skin and drying it out even more. Even with the beautiful weather we have here, my skin remains dry. Add the aging factor to that, and I need constant help.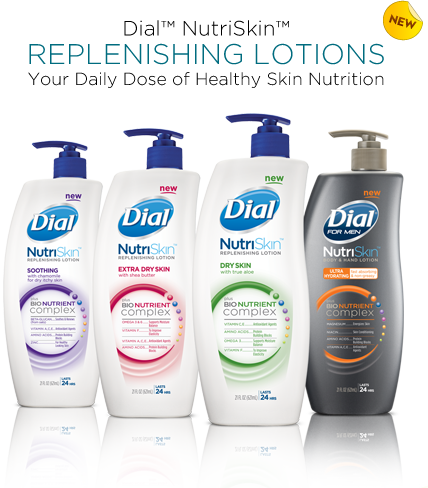 That doesn't mean that I have to spend a fortune for well hydrated skin.  I can easily walk into a drugstore or Target or WalMart and buy myself a bottle of Dial NutriSkin. I find that it hydrates and replenishes my skin with it's unique blend of vitamins, minerals and nutrients.
I like the fact that it's made by Dial, a brand that I'm comfortable with, having used products like their hand soap (it's anti-bacterial and a must have at the mansion) and body washes. There's even a formula for "B" (men). As a matter of fact, he's been complaining about dry skin…but always wants a MANLY product. Dial has answered his needs as well.
Depending on your needs, Dial has created a product for you…
Dry Skin with True Aloe
Extra Dry Skin
Soothing with Camomile
Ultra Hydrating for Men – B uses this
Good mom that I am (and since I wanted to stock his bathroom before he came to live with us), I bought B a big bottle of the Dial NutriSkin Ultra Hydrating for Men. It is chocked full of great nutrients for your skin including magnesium to energize the skin, niacinamide to condition it, vitamins A, C and E (great antioxidants), and amino acids – protein building blocks. MANLY? Yes, but it works to make his skin soft and gentle as well.  He's been using it since he got here and even mentioned how quickly his skin is improving (Dial says you should start to see a difference in 3-days).
You can find Dial NutriSkin nationwide at grocery, drug, and mass retailers in three sizes –  3 ounces for $2.49, 12 ounces for $4.99, and 21 ounces for $6.99.
For those of you in the northern states, winter is coming…it's a GREAT time to stock up.
I received product to facilitate this review. All opinions are strictly my own.