This post has been written in association with First Alert as an IMPORTANT reminder.
As a girl scout I was always taught to "Be Prepared" and it has carried well into my adult life. In life there are negotiables and non-negotiables.
Negotiables are thing like 
That new pair of heels that I may or may not ever wear
Buying a third rug for the living room rather than living with the one that I bought 4 months ago.
Which flavors of ice cream go with a Spanish inspired dinner (cinammon of course)?
Non-negotiables include
Keeping healthy snacks in the house.
Taking time each week to reconnect.
Making certain that my family is safe.
Making certain that my family is safe
While that statement seems easy to do, there are actually scheduled events in my life that make that happen, and this month, being Fire Protection Month, it was time to make certain that I had the proper smoke and carbon monoxide alarms as well as a fire extinquisher >> JUST IN CASE something ever happens.
I hate my yearly trek up the 10-foot ladder
When you have 14 foot ceilings, it can be a little scary for someone who doesn't feel secure on a ladder, so this year I'm installing ALL NEW ALARMS. Why? Because First Alert (my choice in fire and smoke alarms) now offers
With no batteries to change and the security of knowing that my family will be alerted in the case of fire, smoke or carbon monoxide for 10 years (you simply replace the entire alarm system every ten years), I now feel like we are a Super Prepared Family, just like the one in this video.
Knowing that they're safe
and well protected for the next 10 years gives me peace of mind, and to think, I don't have to worry about my fire/smoke detectors for a very long time. Oh, and I've also armed my kitchen counter with a Tundra Fire Extinguishing Spray just in case my famous chicken saute because chicken flambee.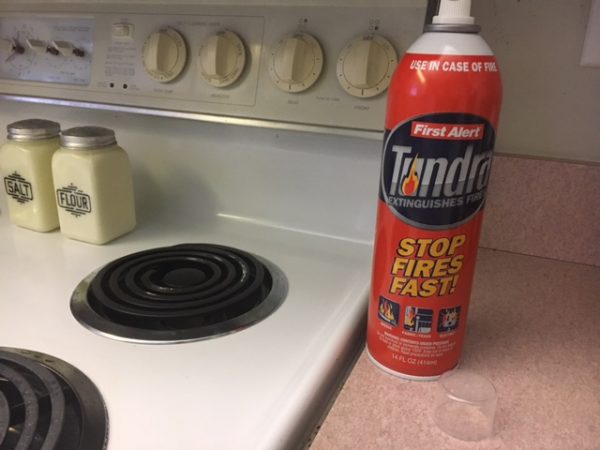 Of course if you're prepared with First Alert you'll never have to worry about someone yelling FIRE in your living room…because your smoke and fire alarms will take notice before anyone else does.