This post has been sponsored by Perdue Farms. All opinions are strictly my own. I make a commission (and you get a discount) when you order through any of my links in this post.
Cooking for myself is easy. Cooking for Mr. S is even easier (he'd be happy with steak and salad every night of the week). But, we also entertain family and friends (but, mostly family these days) fairly often. Our kids come over every other week and my sister-in-law moved in with us 2 weeks ago. So, I can't just sit back and throw burgers or a steak on the grill. I had to get a little fancier than that.
Even when entertaining, I find the easy way out. While I may not rely on jars and cans as much, I do choose recipes that are easy to make, or that I can at the very least LOOK like I know what I'm doing. Armed with a couple of packages of Panorama Organic Grass-Fed Beef Steak Strips for Stir-Fry ,some rice, and a few items on my shelf (the only thing I went out to buy were the green onions) I was ready to add Beef Bulgogi to the rotation. You all know that I love stir-fry, anything in a bowl or on a salad, so this was right up my alley.
Zippy's Favorite Beef Bulgogi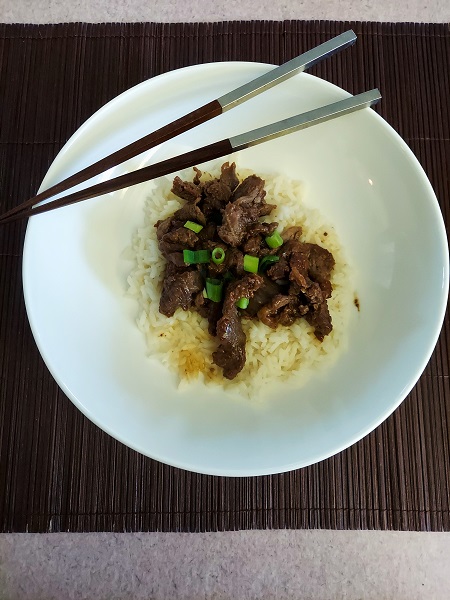 Ingredients
2 packages (8 oz each) Panorama Organic Grass-Fed Beef Steak Strips for Stir-Fry
⅓  cup soy sauce
2½ tbsp sugar (I used brown, but white works as well)
2 tbsp garlic paste or chopped garlic
2 tbsp sesame oil
2 tbsp sesame seeds
½ tsp black pepper
¼ cup sliced green onions
You can add ginger. I am allergic to it, so I don't use it in my Bulgogi.
Directions
Combine soy sauce, sugar, garlic, pepper, and sesame oil in a bowl. Mix thoroughly.
Place Panorama Organic Grass-Fed Beef Steak Strips for Stir-Fry in the mix and let sit for an hour in the refrigerator (I use a ziplock bag to marinate)
Heat a skillet (or wok) over a high heat
When hot toss in the beef and the marinade
Cook for about 5 minutes (until the beef is cooked through).
Serve over rice
Garnish with the sliced green onions
I bowl them and serve them with chopsticks on each bowl. It makes a great appearance and it's easy to make.
Because Mr. S is such a beef lover and I like to know that I'm eating as clean as possible, we love cooking with Panorama Organic Meats from Perdue Farms.
If you've been a regular reader you'll recognize these recipes that I posted in the past month or two as well, all using Panorama Meats.
My favorite Meatballs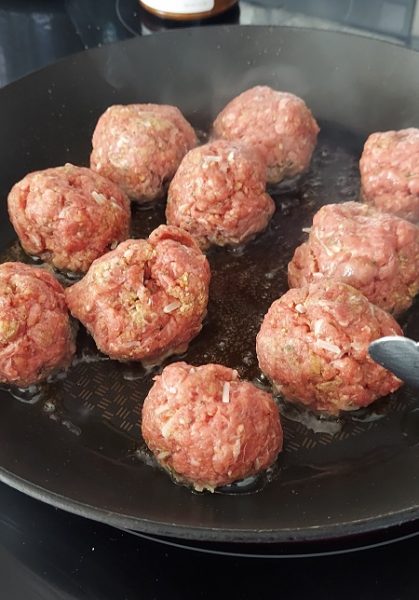 INGREDIENTS
1 egg
½ cup of shredded Parmesan Cheese (don't use the powdered kind with the green lid – it won't give the same flavor)
1 tbsp Garlic puree or finely chop 1 tbsp of garlic
½ cup Italian bread crumbs
1 tbsp Italian Herbs
2 tbls Parsley flakes
Salt & Pepper to taste
Extra Virgin Olive Oil for cooking
Recipe
Dump ALL of the ingredients except the olive oil into a bowl.
Mix thoroughly – using your hands is the ONLY way to go
Roll the meatballs into 1½" uniform sized balls
Spread olive oil on the bottom of a frying pan
Heat burner to med-high
Brown the meatballs on all sides, flipping and cook (approx 2 minutes for each side)
Add the meatballs to your sauce and  continue to cook for another 10 minutes or so until cooked through
Zippy's Beef Stew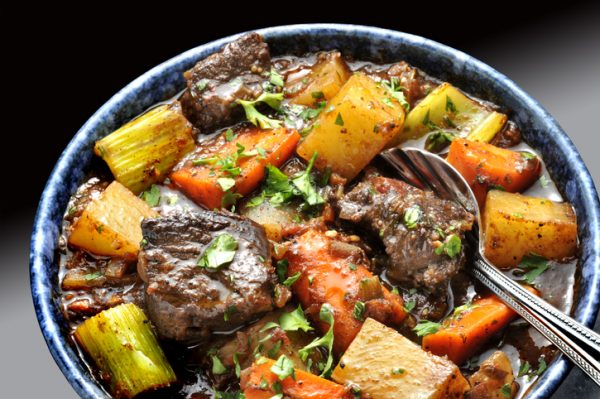 INGREDIENTS
Vegetable oil to coat pan
1/3 cup of flour
salt & pepper to taste
1/2 cup chopped cooking onions
1 bay leaf
1 clove garlic OR a squirt of garlic paste (I use garlic paste)
2 cups of hot water OR beef stock
1 cup canned tomatoes (I have been known to substitute anything from tomato paste to ketchup)
1 tsp Worcestershire sauce
4 stalks of celery sliced
2 small cooking onions – chop 1/2 of one, and quarter the remainder
6 medium carrots cut into 2″ lengths
4 medium quartered potatoes
1/2 cup frozen corn
1/2 cup frozen peas
RECIPE
Dredge the Panorama Organic Grass-Fed Beef Stew Meat in flour
Add oil to the pan (I use a cast-iron cocotte)
Slowly brown the meat on all sides
Add salt, pepper, chopped onions, bay leaf, and garlic
Slowly stir in the hot water or beef stock and tomatoes
Add the Worcestershire sauce.
Cover and simmer for about 2 hours until the meat is fork-tender
Add celery, carrots, and quartered onions and potatoes
Add salt & pepper to taste
Cover and simmer for 30 minutes
Optional: pour in some of that red wine you've been drinking as you cook
Serve in bowls with fresh crusty bread to dunk!!
Here are just a few of the reasons that I choose Panorama over other brands
Ranchers meet and exceed high standards of sustainable ranching practices
They ensure the preservation of local wildlife and plants
All their cattle are market age, traditional breeds optimal for open grazing
The use of added hormones and antibiotics is strictly prohibited
Panorama cattle spend their entire lives on pasture and never in a feedlot
Cattle are raised in safe and low-stress environments
Grass-fed beef is just the naturally health-conscious choice to get great healthy proteins
Panorama Organic Meats are ON SALE at Perdue Farms right now!
What are you waiting for? That package of Panorama Organic Grass-Fed Beef Steak Strips for Stir-Fry that I used in my Beef Bulgogi recipe is only $4.99 right now.
Order TODAY before this fantastic sale ends
Visit using this link for 15% off your order! –

https://perduefarms.com/champagneliving