This post has been sponsored by Black Dinah Chocolatiers. All opinions (and chocolatey fingers) are strictly my own.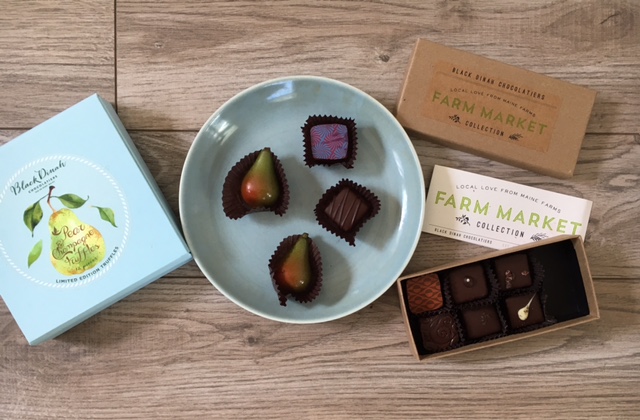 If I were stuck on a deserted island and could have only TWO things aside from the natural vegetation to eat they would be
CHOCOLATE
COFFEE
CHAMPAGNE (of course)
After spending years working in the restaurant and coffee business, I learned how important these two delights are…. especially when enjoyed TOGETHER.  But, as you've read before, I can be a bit picky when it comes to my roasted beans, and frankly I'm just as choosy about my chocolate.
THERE IS NO REASON TO EAT BAD CHOCOLATE… EVER!
This New England gal knows her way around tasty food, especially when it's local, and now that I live in South Florida, I still order from my favorite hometown culinary treasures. Today I'm going to let you in on a sweet secret that hails from Westbrook, ME on Isle au Haut (you know that Mr. S went to college in Orono so he knows ALL of the little specialties that the area has to offer).
Black Dinah Chocolatiers
With cafés in both Blue Hill and Westbrook, ME, this small chocolate company has a way with quality ingredients. Using locally sourced products and an artistic sense of flavor the owners, Steve and Kate Shaffer pour their hearts into making the best flavored treats that will delight everyone from young to old. They care enough to offer vegetarian, vegan and gluten-free products so that NO ONE need go without an indulgent Black Dinah chocolate creation.
With a strong culinary background Chef Kate is a master at sneaking chocolate in all sorts of recipes, and her approach to delighting her customers shows in the adventurous ways she uses the sweet.
I keep dreaming about making a mocha with her Spiced Ancho Chile Drinking Chocolate (the ULTIMATE mix of my two favorites – coffee and chocolate).
Thankfully, we don't have to drive up to Maine every time we need a Black Dinah fix made with fresh cream and butter from local farms. They've made it a point to do things like trade for fresh herbs, fruits, vegetables, and edible flowers with Maine farmers and gardeners they have met along the way—at farmers' markets, on the road, in their shop, or on their farms, and they use premium teas, organic, locally roasted coffee, and whole spices to flavor their confections, that are available for ordering online as well as in the café.
Sourcing single origin, sustainably-grown chocolates from producers that not only make the best chocolate in the world, but also treat their growers, harvesters, and the flora and fauna on their lands, with respect is important to Black Dinah Chocolatiers.
With the holidays just around the corner Black Dinah Chocolate makes the perfect hostess gift, stocking stuffer, or sweet indulgence for YOU.

For more information and to order Black Dinah Chocolates visit: BlackDinahChocolatiers.com today.
SPECIAL FOR CHAMPAGNE LIVING READERS ~ Use Code Truffle15

for

 15% off all orders now through 

12/31/17

And if you want to know what to get me for a gift, I'll take a box of their Flagship SeaSalt Caramels please.