I received product to facilitate this post and video. All opinions are strictly my own.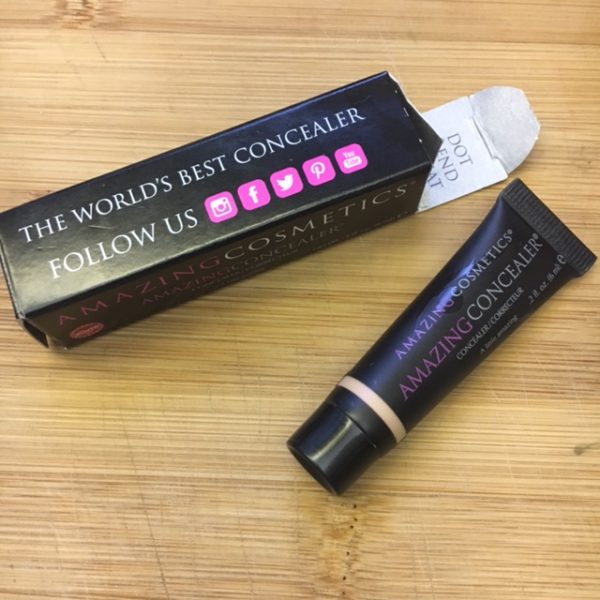 If you ask me the ONE THING that bothers me the most about my face –
it would be the dark circles under my eyes.
I have had them all of my life, and as a child I was extremely self-conscious about them. As an adult, I hoard concealer and won't leave the house without it. On my hang around in my jammies days, I wear no makeup other than concealer. I hate to say that it's my "crutch"…but it is. If you're hanging out with me on any given day, you'll notice that I run to the ladies room to reapply.
As a result, I've tried more concealers than I can count. Some got tossed, some get used for a short while, others get mixed with other concealers, and there are a chosen few that have become my go-to products.
Amazing Cosmetics
It's funny, but I used Amazing Cosmetics – Amazing Concealer for many, many years. But, while one of the perks of writing a blog is getting to try new products, those that I rely on sometimes end up at the bottom of my makeup bag while I use my newest trial. I had forgotten all about my old friend, when I was sent this tube to review, and just like a bestie that you've lost touch with over the years, once you connect again it's like you were never apart.
What makes it BETTER than the rest?
The coverage is great without being heavy & you can layer it easily
It doesn't cake and leave tell-tale lines like most concealers
It is available in 15 shades (not just light – medium – dark) making it easy to match
Available at Sephora, Ulta, The Studio, and online, I can just run in and pick it up if I forget to order it. At $42 it is more than drugstore brands, but it lasts longer and has better coverage. In my opinion, that makes it worth every cent.


To learn more about "The World's Best Concealer" visit AmazingCosmetics.com