I want I want I want I want … a cup of coffee!
Old genes? Habit?
Every morning I remember my parents sitting out on our patio as the sun went up and the smell of coffee wafting all around the garden table where we sat.  It was my favorite wish: to grow up and be a big girl and drink coffee like my parents.  And to this day, all I know is I don't want to get up in the morning without My Cup of Coffee!
So when my old coffeepot broke I went on the prowl to find the Best Coffeepot Possible.  I chose Hamilton Beach because I like the brand.  When I ran across the Hamilton Beach 2 Way FlexBrew with K-cup coffee cups that make only one cup as well as a carafe to make a full pot, I had to try it out!  I love the K-cups because I can try all different kinds of coffee, tea, chai, etc., and not have to buy an entire brand of coffee to find out if I like it or not.  And people are constantly stopping in for a cup of Joe in my neighborhood, so I can accommodate everyone.
MY PICK:
Hamilton Beach 2 Way FlexBrew Coffeemaker
It's pretty!
It has double brew usage, a regular carafe side and a K-cup side where I can make an entire carafe OR a one cup brew!
It's easy!
I love Hamilton Beach!
It's priced in my price range!
I turn it on immediately with very simple directions!
On the other hand, it does have some great manufacturer details:
With one side designed to brew a single cup up to 14 ounces and the other side designed to brew a full 12-ounce carafe, you'll have options when enjoying your homemade coffee. Now that's good thinking.
Set: Coffee maker and coffeepot
Coffee maker: Adjustable cup rest
Regular and bold brew strength
Programmable timer
Automatic shut-off
Stainless steel trim
Coffeepot: Glass
Material: Man-made
Care: Dishwasher safe pot
Imported
Full pot or single cup brewing|12-cup coffeepot included
This side by side coffeepot full carafe/K-cup single serve makes a cup or carafe of coffee so easy.  I just set the option to either one cup or an entire carafe of coffee, fill the carafe side or the K-cup side full of water (14 ounces for the K-cup side) and off I go!  The one cup side also offers you the ability to make one cup of your regular coffee with a coffee filter.  All I do is hit the BREW button and I am off and running.
Although I cannot make BOTH a carafe of coffee and a K-cup of coffee, tea, or chai at the same time, I love this coffeepot.  The size is perfect, it is truly easy to use and clean, and it takes seconds for the coffee to brew.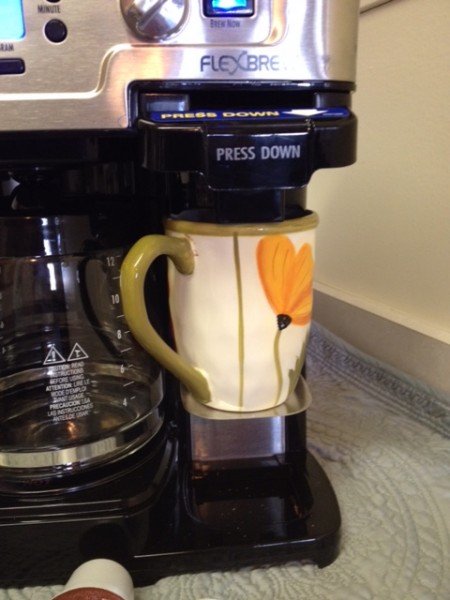 This coffeepot also programs (carafe side only) for brewing when I get up in the morning.  It's as easy as:
Rotate the dial to the left to select the CARAFE setting
Press HOUR and them MINUTE to set clock
Hold PROGRAM until clock flashes
Continue holding PROGRAM button, press HOUR and MINUTE until the desired brewing start time is reached and the release PROGRAM button. Then press PROGRAM to activate automatic brewing.  Green program light will illuminate to indicate the unit is programmed and will begin brewing at the selected start time.  AND IT WORKS!!!!
Come join me for a cup of coffee!
DETAILS
To learn more or to order a Flex Brew for YOUR kitchen visit: Hamilton Beach
GIVEAWAY
WINNER: SANDRA A
Enter to win a FlexBrew by using the form below. Winner to be announced on May 17, 2015
We received this product to facilitate a review/post. All opinions are strictly our own.