Clem and I are Petcurean Ambassdors. We both feel that it's important to champion this brand as they offer a healthier alternative to what you find on the grocery store shelves. This post is a result of our cooperation with the brand.
I love Las Vegas, and when we picked Clem up just outside of Los Angeles eleven years go for his first cross country road trip (his breeder is in California and he was coming to live with us in Florida), that was the stop before we met our furry family member.
Earlier this month, the pet industry descended upon Las Vegas for the industry's largest trade show, SuperZoo. We both wish we could have been there. Why? From toys to treats – there is a lot of fun and interesting stuff happening.
Thankfully, our good friends at Petcurean were there, and shared the following trends with us.
Innovative Pet Products
There were lots of new products this year that are sure to tempt. We loved the cool air cot, which provides your fur kid some air flow for hot summer days. Ball launchers were a big hit for cats and dogs alike, and if you want to make sure your pets are safe and behaving while you're away, this doggy cam will do the trick.
Best of all was the halo for blind dogs, which took a top award from the show, marrying functional with a bit of fun (since Clem is blind this is something we're looking into getting).
Big Brands Make a Move Into Pet Aisles
Pet care is a booming industry, and many mainstream brands are developing products to be a part of it: Burt's Bees (which we've been using for years in the human product line) now offers a natural pet care line, and ECOS has developed a line of plant-derived pet cleaning products safer for pets, as well as the planet. We even saw dog waste bags from Glad….now THAT is a convenience I like!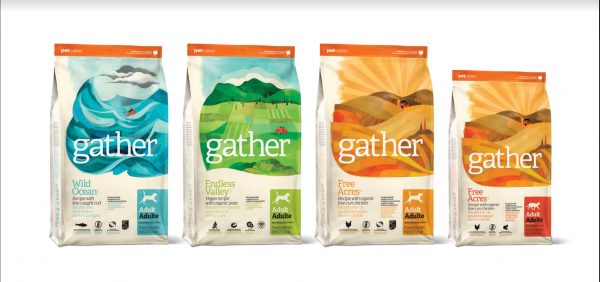 Humanization of Pet Food
As society as a whole continues to eat heathier, and expect more sustainability and transparency in their food production, this expectation has also crossed into the pet world as well. All over the show floor, there were a lot of new products that touted everything from clean supply chain to natural ingredients. Petcurean led the pack with the introduction of GATHER, a new category of pet food crafted from certified, organic, non-GMO and sustainably produced ingredients.  Including a sustainably fished and MSC certified cod recipe, a certified organic chicken recipe, and a certified vegan recipe, they are all perfectly blended and balanced to provide dogs and cats with premium quality, natural nutrition that is free from rendered ingredients.


Clem enjoy's Petcurean Now Fresh twice a day, and SPIKE TREATS when he's a good boy. He's looking forward to GATHER coming to his favorite pet food store soon.