I actually went out this week with my hair looking like a COMPLETE DISASTER. I hadn't meant to. I was at the Crowne Plaza Hollywood Beach on a staycation and was having WAY too much fun at the pool, the tiki bar, the bistro, and shopping and going out with my brother and my Fort Lauderdale friends. I hadn't brought my own products with me and used the hotel shampoo & conditioner. UGH.

I did this, while having ALL OF THE PRODUCTS THAT YOU SEE ABOVE stashed at home. That's right, I have a HUGE stash of the Clairol Professional products sitting in my shower at home, and here I was using a generic product that left my hair looking like straw.
WHAT WAS I THINKING? I have color treated hair, and I'm at that point of the month when I need a touch-up, so my roots show gray if my hair is not styled. Apparently I wasn't (thinking that is). If I had simply used Clairol Professional's REPAIR line of products I would have been all set.
Repair and condition damaged hair, leaving strands strong and smooth with extra shine. Formulated for dry and damaged hair, the Repair collection uses shampoos and conditioners with Color Safe formula. Customized Radialux™ technology provides extra care to target areas for instant, visible shine from root to end.
Using the correct hair care products to get the BEST from your mane, shouldn't be rocket science. Clairol's Professional line (available at places like Sally Beauty Supply or your hairdresser) offers options for you whether your hair is curly, straight, frizzy, or even damaged and dry.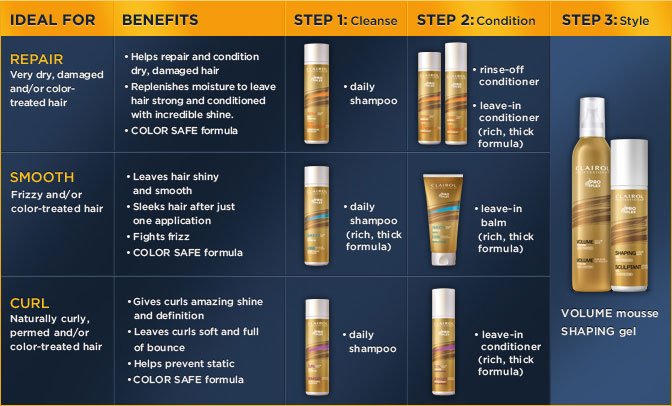 The price point of these products is affordable (in the $10+ range), and they offer shampoos, conditioners, mousse, and shaping gel for the FULL professional hair care experience right at home for three different needs.
CARE:
REPAIR: Ideal for dry, damaged hair. Helps smooth to repair and condition dry, damaged hair and replenishes moisture to leave hair strong and conditioned with incredible shine.
SMOOTH: Ideal for frizzy hair. Fights frizz and sleeks hair even after one application and leaves it shiny and smooth.
CURL: Ideal for naturally curly hair. Gives curls amazing shine and definition.
STYLING:
VOLUME MOUSSE: Provides extra strong hold, giving fullness and body for all day volume.
SHAPING GEL: Holds, defines and accentuates any style, while washing out easily.
PLUS – it seems that a couple of celebrity stylists have jumped on the Clairol Professional bandwagon, including hair colorist Kiyah Wright and stylist Torsten Witte.
Torsten Witte, Hair Stylist:Torsten's work spans celebrity hair styling, editorial shoots, concert stages, movie sets and advertising campaigns. He has earned a long list of A-list clientele and his work frequently appears in top-tier publications.
Kiyah Wright, Colorist: Kiyah works with artists in the film, TV and music industry such as Ciara, Jennifer Hudson and Gabrielle Union. Kiyah's work can be seen in top fashion magazines and is frequently featured on-camera on hit television shows. When not on-set, Kiyah works with a loyal client base at the Warren-Tricomi Salon in Los Angeles.
So, I got to thinking, if I had the opportunity to sit down and talk to Torsten and Kiyah, that I'd like to ask them a few questions including…
Torsten:  As women age, do you think that the classic hair styles are more flattering, or can we still wear more fashion forward styling without looking foolish?
Kiyah: Can a woman change her hair color with the change of season as part of her seasonal fashion statement?
I've tried ALL of these and I found that the REPAIR line along with the shaping gel gives me the best effect. AND Clairol and I want one of YOU to try all 9 products as well to see which one's fit your style the best.
Want to learn which products are the right ones for YOU?
Follow Clairol Professional's on FACEBOOK
GIVEAWAY
Winner: Maretta C – Roswell, GA (your items are on their way)
Extra Entries & Rules
Follow me on twitter @zipporahs and tweet about this giveaway using the hashtag #ChampagneLiving
Comment below with your tweet
Subscribe to Champagne Living,  follow me on facebook or twitter – all found on the sidebar (each counts for 1 extra entry)
Tell your peeps on your blog, facebook page or twitter about this or any post (each counts for 1 extra entry) and link to us.
Share this giveaway on any contest/sweepstakes/giveaway site for 5 extra entries..
This giveaway is open to US residents, 18 and over and ends on October 16, 2012
No purchase is necessary.
Odds of winning are dependent upon the number of entries received.
Void where prohibited by law.
I participated in this sponsored post campaign for One2One Network. All opinions stated are my own.