If you feel as though your kitchen is in need of a little TLC then you need to try and deal with the issue as soon as you can. If you don't then you may find that your house devalues as a result and that things only get worse. Of course, it's important to know that refurbishing your entire kitchen doesn't have to take a huge chunk out of your wallet and if you update everything slowly then you'll soon realize that you can get way more for your money.
Paint as Much as you Can 
Paint is quite possibly the best and the easiest way for you to make an inexpensive change to your kitchen. There's not much in your kitchen that you can't paint, so really get creative. Paint over dated wood cabinets as this will make your kitchen seem much bigger and brighter. If you have cabinets that are in poor condition, then opt for a faux finish instead. This will hide all of the blemishes and it will also make it easier for you to bring out the right finish.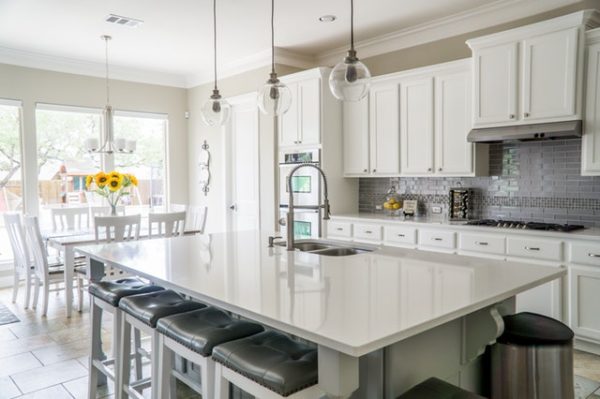 Countertops
A stained or even an outdated countertop can easily ruin the look of your entire kitchen. Instead of replacing it, you might want to think about laminating it instead. Laminate improvements are far cheaper when compared to buying new countertops and they are light and easy for a single person to install. As if that wasn't enough, they also come in a huge variety of colors, styles, and finishes. If you are not quite sure how to go about applying the finish, then you should hire a professional because if you try and do it yourself without the right experience then you may find that you end up wasting a lot more money.
Cabinet Hardware
Changing cabinet hardware is another way for you to really boost the look of your kitchen. It can be really surprising to see how one change can make a huge difference. Cabinet handles are widely available, and they come in a range of sizes, textures, and colors. If you know that your cabinets have hinges on show, then it may be worth replacing these so that they match. Of course, if you want to do this then you'll need to make sure that you budget accordingly.
Drawer Fronts and Cabinet Doors
Replacing the cabinet doors and even the door fronts are way cheaper than installing brand new cabinets. If you don't feel as though your kitchen is suited to a new lick of paint, then this may be your next best option. If this is out of your budget, then think about replacing the inner panels with lattice inserts. They are super unique and they are ideal if you want to add a very interesting texture. Sometimes you can also add some clear glass as this will help you to show off all of your glassware and favorite dishes. Frosted glass is very classy and modern, so if you're stuck for what to choose then this is a great option.
Updating your Appliance Panels
If you cannot afford to replace your fridge or even your dishwasher then why not consider covering it up instead? Appliance panels and trims are super inexpensive and sometimes they are available in over 200 colors and designs. You can get a stainless steel trim or even one that is much more colorful. Either way, if you are stuck here then try and choose something that is going to fit in with your other appliances. If you have hopes of replacing them soon then now is the time for you to settle on a color scheme.
Appliances
It's super easy for you to buy appliances for a very affordable price. If you go online and find the right discount code, then you'll soon find that you can save up to 50%. This is a fantastic way for you to get a great deal and you would be surprised at how many choices you'll have as well. If you are stuck as to where to get great voucher codes, then NetVoucherCodes.co.uk are a fantastic option.
Replace the Floor
Nothing will make your kitchen look dirtier or even more outdated than an old kitchen floor. Replacing it really doesn't have to be expensive and it doesn't have to be a time-consuming project either. A lot of kitchens have a square design and this makes it very easy to do yourself. If you don't like the idea of tiling then you can easily put down a vinyl if you want. This is very quick and easy to do, not to mention that it's self-adhesive. This means that you can easily lay it down without having to worry about a thing. If you are concerned about doing it all yourself then hiring a professional may be the way to go.
Light Fittings
Another thing that you might want to do is to replace any light fittings that you have. This is especially the case if they are an eyesore. Track lighting is ideal and most of the time they come in a huge variety of widths. They are also prewired and very easy for you to install. A lot of feature halogen lights can also be pointed at key areas in the kitchen and this gives you an additional level of light.
Sink and Faucet
Think about it, how much time are you going to be spending at the sink? Probably more than you realize. If you think that your sink could do with an update, then it may be worth looking into an under-mount sink. Undermount sinks essentially sit right underneath the counter and this makes wiping them down way easier. You might also want to think about having a cast iron or even porcelain sink if you are sick and tired of that stainless-steel look. If you know that you just can't afford to have the whole sink replaced, then why not think about replacing just the faucet? There are so many different shapes, finishes and sizes available, so you just need to think about which one is going to look the best in your room.
Backsplashes
Backsplashes are often ignored or unused. If you want to change this then why not make it both colorful and practical? You can easily add a bit of color by choosing to paint it or even retiling it. You can even put up a decorative print if you want. This will make your home seem more personalized to your needs and it is again, another affordable option
Plants
Believe it or not, your kitchen window can essentially operate as a greenhouse. It probably gets a good amount of light, so why not capitalize on that? Buy some nice, cheap houseplants and then put them on the windowsill. The empty space can easily take a few herbs and you may also be able to add some silk plants if you want. When you do, you will soon find that you are able to improve the overall appearance of the room without having to worry about a thing. If you are finding it hard to choose some plants, then succulents are a great option and you would be surprised at how many variants they come in as well. Some house plants come in lovely pots that you can put right outside your kitchen window too, so whenever you look out of your window, you will have a nice selection of color without having to break the bank.