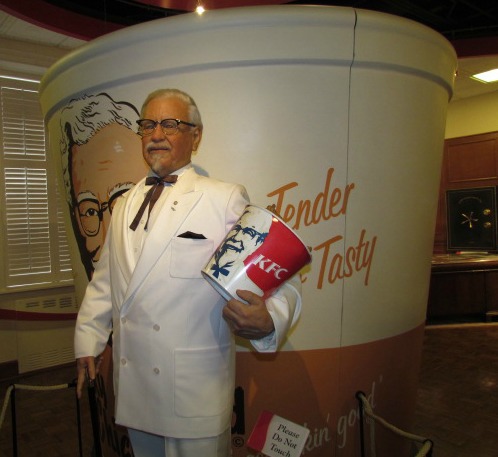 It's been a couple of weeks since I've returned from the Kentucky Fried Chicken event in Louisville. It seems that since returning, I've visited my local KFC a lot more than I used to. It's probably because now I know EXACTLY what goes into making each delicious piece of chicken, and the fact that all of the ingredients are FRESH, never frozen, never prepared in advance, and never sit for a long time before being served.
In my last post I was able to highlight the great FRESHLY made chicken that you get each time you visit your local KFC. Today I want to talk about social responsibility and giving back. While the food was yummy (especially those new Chicken Pot Pies) it's the HEART of Kentucky Fried Chicken that really spoke to me.
The folks at YUM! Brands and particularly Kentucky Fried Chicken are really focused on helping their global community. In particular they are determined to see the Colonel's vision of helping and educating America seen to fruition.
Each year the KFC Colonel's Scholars program sends high school senior to colleges and universities by offering $20,000 scholarships through the KFC Colonel's Scholars program. Awards are given to cover tuition, books, fees and even room and board to students showing financial need who'd like to attend a public college or university. With the rising cost of education, it can be difficult for those in need to afford schooling. Students who want to get their bachelor's degree and have a GPA of at least 2.75 can apply to the program. There are some 300 students CURRENTLY enrolled who receive scholarship monies from the KFC Scholars program.
For more information and to find out when applications will be accepted go to: KFC Scholars
As if this act of giving weren't enough. They do so much more, including donating food to local soup kitchens  to reuniting families, like they did for this military family that got the surprise of their lives when a mom was reunited with her daughters after serving in Afghanistan.
In the spirit of all that they give. KFC will be  giving away gift checks to be used in their US restaurants over the course of this year here on Champagne Living and other blogs who participated in this program. This month TWO WINNERS of the KFC Champagne Living Giveaway will each win $50 in KFC gift checks to be used at KFC's throughout the US.
GIVEAWAY
Winners
Ellie W. – Garland, TX
April B. – Fort Lewis, WA
Extra Entries
Follow me on twitter @zipporahs and introduce yourself
Comment below with your tweet
Subscribe to Champagne Living,  follow me on facebook or twitter – all found on the sidebar (each counts for 1 extra entry)
Tell your peeps on your blog, facebook page or twitter about this or any post (each counts for 1 extra entry) and link to us.
Share this giveaway on any contest/sweepstakes/giveaway site for 5 extra entries..
This giveaway is open to US residents, 18 and over and ends on April 5, 2012
No purchase is necessary.
Odds of winning are dependent upon the number of entries received.
Void where prohibited by law
I wrote this post based upon a trip to Yum headquarters that was generously paid for my KFC. All opinions are strictly my own.