Easter and Pass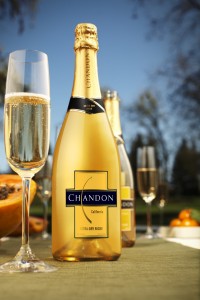 over are quickly approaching. What are YOU planning to serve at your Seder or Easter Dinner…or to just celebrate the spring season?  While I LOVE the European wines and champagnes, I'm also enamored of some WONDERFUL Napa Valley wines. including those by Domain Chandon.
Think Easter baskets are just for the kiddos? Consider a new tradition by including colorful Chandon 187s of Brut Classic and Chandon Rosé in your Easter baskets and fill in the gaps with your favorite dark and milk chocolates.  I'm a dark chocolate lover, and if you are too, don't forget  that the darker the chocolate, the more full-bodied you'll want your sparkling wine to be. Try Rosé with dark chocolate and raspberries and then move to Chandon Riche to compliment white chocolate dipped apricots.
For a little something different to serve your guests, try one or more of these Chandon cocktails inspired by SPRING.
Chandon Luscious Peach
Ingredients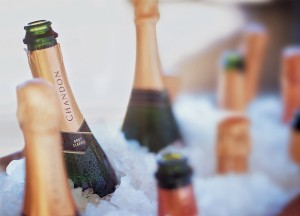 2½ oz Chandon Extra-Dry Riche
¼ cup of fresh peach
½ oz simple syrup (or pomegranate syrup)
5-7 mint leaves (for a little spice, add 2 grinds of fresh pepper instead of mint)
Instructions
Muddle the peach with the syrup and the mint or pepper in a cocktail shaker. Shake with ice and strain into a glass filled with ice. Top with Chandon Extra-Dry Riche and stir. Garnish with a peach wedge or a sprig of mint.
Chandon Easter Parade
Ingredients for 1 cocktail
1 scoop good raspberry sorbet
1 sprig fresh thyme
Chandon Rosé
Instructions
Scoop sorbet into glass. Place thyme sprig into the center of it as a garnish. Fill glass with Chandon Rosé and enjoy immediately.
Chandon Cucumber Peel
Ingredients
2½ oz Chandon Brut Classic
2 inches of raw cucumber with peel
½ oz simple syrup
5–7 spearmint leaves
Instructions
Muddle cucumber with mint leaves and simple syrup in a cocktail shaker. Shake with ice and strain into a glass filled with ice. Top with Chandon Brut Classic and stir. Garnish with a slice of cucumber or a sprig of mint.
For more cocktail recipes and entertaining ideas visit http://chandon.com/entertaining/hosting.html for some lovely party planning help. Want a reason to celebrate everyday?  Visit http://www.chandon.com/365/chandon-365.ics to download Chandon's 365 Reasons to Celebrate calendar to your desktop or go to www.facebook.com/chandon and click on the 365 tab.
À Votre Santé