As a traveler, and a travel writer I am constantly on the go. Whether it be tossing my bags in the trunk and heading down to Key West, or standing at customs having my neatly packed clothes all being scrutinized at Charles de Gaulle in Paris I seem to always either be toting or carrying (usually both) luggage. It's gotten so bad lately that there are times that I find myself standing next to my gear before heading out to the grocery store….HABIT!
In 2010 I went through two full sets of luggage. In 2011 I went through a third set before discovering the BRX line by Briggs & Riley. I've made the decision to have my BRX exchange 26″ duffle and my BRX explore 20″ upright luggage be my OFFICIAL bags for globe trotting a la Champagne Living.
Since I already had the duffle, I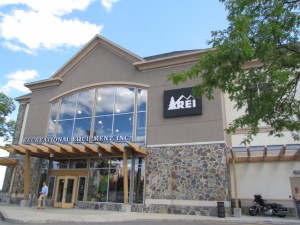 knew that I needed to get a carry-on with wheels to compliment it. So, while I was in Rhode Island on a trip I stopped into the REI store in Cranston, knowing that they carry plenty of adventure bags. I was surprised to learn that not only did they not carry it, but they couldn't tell me a local outdoor store in the STATE that did. WHAT? This made absolutely no sense to me. The BRX pieces are specifically  made for adventure and outdoor travel. They're rugged and have an AMAZING system of clips to make taking all of your bags along with you easy and convenient.  Next stop EMS (in nearby Warwick, RI) only to hear the exact same thing.
So back home to Florida it was to go shopping at a the luggage store at the mall, where I had bought my original duffle from the line. I had been looking for a larger
piece of luggage, but unfortunately they only had two pieces of the line left. I asked and was told that it is one of the most popular lines at this Bag 'n Baggage store in Boca Raton. After the saleswoman had shown me all of the features, I realized that between the 20″ and my duffle that I'd have MORE than enough room for a week away in Europe, so I bought it.
Last week I gave it a good workout on my trip to Jamaica. I was hoping to grab some photos of the luggage on the carousel, but unfortunately TSA and I seem to have a love/hate relationship…I think they LOVE my luggage and I HATE finding that little white tag that says that they went through my unmentionables.
I was EASILY able to pack 5-days worth of shoes and clothes into the one bag and didn't even need the duffle clipped on it. I did have to unzip the expansion on the way home (let's see, I bought coffee, earrings, pickapepper sauce, etc). It made it through five (that's right FIVE) searches (told you I had a love/hate relationship). Apparently, the Jamaican security people don't trust their x-ray machines and hand search EVERYTHING, yes EVERYTHING you have before you hop on the plane (either that or they get a kick out of making you stand in line, go through your luggage, and then have you replace it all back the way it was when they started).
This shop has been compensated as part of a social shopper insights study for Collective Bias, although I already owned a piece of this line BEFORE I became involved in this study….so, these really are my opinions.