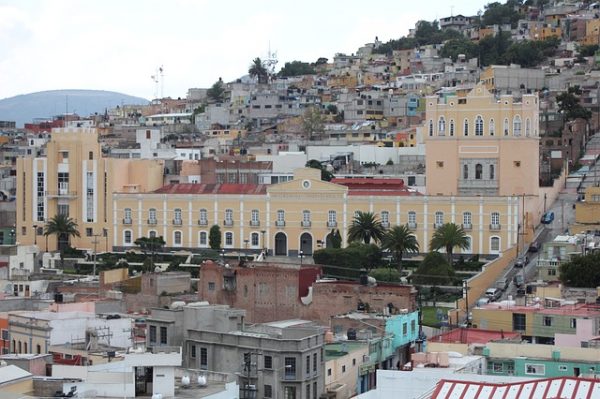 If you are planning to visit Mexico City and looking for some daytrip destinations, consider Pachuca, Hidalgo.  Located about a two-hour drive from Mexico City, Pachuca is the capital of the State of Hidalgo, known for its mining, Cornish history, and food.  The city is relatively small, but growing, with an interesting and walkable city center, easy transportation, and a population that is friendly to tourists.
Food Typical to the Region
Due to its history and location, Pachuca sees significant influence on its cuisine from other parts of Mexico, as well as from Lebanon, due to an influx of Lebanese immigrants in the 20th century, and the United Kingdom, as the city was settled by Cornish miners, the food is quite diverse.  Dishes beloved by the locals include barbacoa (sheep slow cooked in a clay oven), pastes (Cornish pasties in English), mixiotes (seasoned meat steamed in leaves or paper), grilled meats, birria (stewed beef or goat), pozole, and carnitas—as well as the ubiquitous Mexican items like street tacos and tamales.
Where You Need to Eat
Because Pachuca has a strong food culture, there is no shortage of places to try.  In fact, you could easily just show up and walk along the streets in the center and pop into any restaurant that strikes your fancy and still have a wonderful experience.  However, there are a few restaurants that are particularly well-known and beloved by the locals that we think travels should take the time to try.
Restaurante La Blanca
For breakfast, lunch, or dinner, you cannot go wrong with La Blanca.  The restaurant is one of the oldest in Pachuca and is known for its excellent execution of traditional cooking techniques and recipes.  While dining, you will be able to enjoy a lovely atmosphere as the space is filled with interesting designs and artifacts that are native to the region, and the building itself has history you can see.  While there is nothing on the menu that is anything but authentic and delicious, we suggest you order the "plato Huasteco," which features cuisine typical to the Huastec region of Hidalgo, including a meat called "cecina" which is salted, marinated meat that is partially dried in the sun before cooking.
Tejeda El Serranillo
This restaurant's original location is actually about 30 minutes from Pachuca in the pueblo magico of Real del Monte.  However, due to its popularity, it has since expanded and now has several locations throughout the state, including a few in Pachuca.  Each location offers the same excellent food and service, so you cannot pick wrong.  Also open for breakfast, lunch, and dinner, you can enjoy this restaurant at any time of day.  Offering a large menu, it might be intimidating to find the right option for you, so we suggest you start with some pastes, move on to the "mixiote de carnero" for an authentic taste, and end with one of their pan dulces and a mug of atole.
Asados Don Abel
Another restaurant that has a few locations in the city, you simply must take the time to dine at Asados Don Abel.  While most locations are not very fancy, the restaurant is beloved by the local—as you will notice from the crowded dining room and all the autographed photos from local celebrities on the walls.  The restaurant specializes in grilled meats.  You select the meats you want, the amount of them you want, and they are brought to you along with fresh tortillas, salsas, and a cactus salad.  While all of the meats they offer are excellent, the "costillas jabali"—wild boar ribs—and "chorizo argentino" are a must.
Birria El Tapatio
This restaurant is not as easy to find as the others on this list.  Hidden inside a small mercado in the Aquiles Serdan neighborhood, Birria El Tapatio offers an incredible dish of stewed beef and its juices that local residents crave throughout the week—and on weekend mornings in particular, as it is known as a hangover cure.  But whether or not you partied hard the night before, you will want to try this dish which manages to feel both authentically Mexican and like the comfort of home.  Our suggestion: order the plato grande or a burrito with a side of soup.  As an added bonus, the owner and chef, Max, speaks English!
Hayes
Not all the signature food in Pachuca is Mexican; in the case of Hayes, it is Lebanese.  Because the restaurant is not well-known outside of the Lebanese community, it is rarely crowded and always offers exceptional and personalized service.  The atmosphere is lovely and the food delectable.  In order to experience as much as possible, order the "mesa del sultan" with a glass of red wine—which is poured from the craziest-looking decanter you will ever see.
Barbacoa Don Roman
You simply cannot travel to the state of Hidalgo without eating barbacoa.  While there are many dishes loved by the locals, none is considered as signature as this.  Like the majority of barbacoa restaurants, Don Roman is only open on Saturdays and Sundays, starting at about 9 am and closing when the food runs out, so be certain to plan your trip around this.  You can order barbacoa by the taco or by weight and can choose which parts of the sheep you prefer—ribs, stomach, and just general meat.  You can also order the juice of the meat prepared as a soup—consome—as well as quesadillas.
Potzoliza
Finally, there is Potzoliza, a restaurant that specializes in the dish pozole.  Unlike most other places serving the dish, here you have a lot of room for customization.  You can choose between white, green, and red pozole and decide if you want the meat to be traditional pork, chicken, lamb, or go meat-free.  No matter the combination you choose, the results are incredible.  And if you are still hungry, you can get a taste of the Yucatan by ordering their "tacos de cochinita pibil."