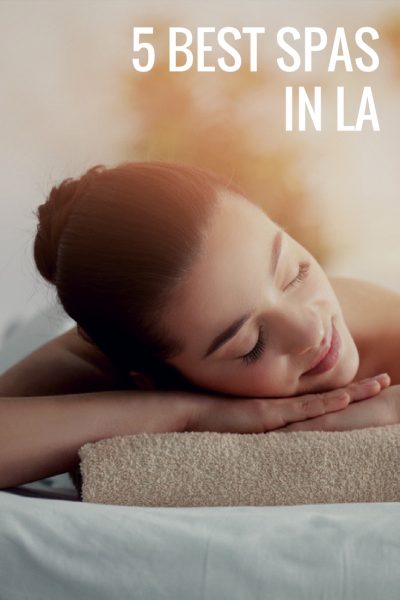 There's nothing better than a nice spa session to get you relaxed after weeks of stress and overworking yourself, and when you're in LA looking to treat yourself to one, you're actually pretty spoilt for choice!
To help you make the best choice, here we've listed down the 5 best spas in LA- visit one of these based on your preference, and you surely won't regret it.
The Spa by Joanna Vargas
This Sunset Tower Hotel's hideaway spa is one of the best noteworthy ones to visit. Enjoy the classic old Hollywood decor before you hit the salon to pamper your tresses. If you're looking to take things up a notch, you can book any of the four private spa suites which are complete with a flat screen TV, wifi connection, an oversized tub and more.
Among the best services that this place offers are the The Soak, an infusion of coconut, green tea or chamomile, a Turkish hammam, a detoxifying muscle treatment and even the LED light therapy that has been known to tackle seasonal depression.
Ciel Spa
Talk about luxury spa treatments, and the ones at Ciel Spa are the literal definition of it. With the stark white decor and all the rooms equipped with the latest technology, this place will have you feeling mesmerized in minutes.
They've got 5 treatment rooms and unique massage beds. Among their best spa packages is the Ultimate Detox Package which improves oxygenation, boosts microcirculation and relaxes the muscles.
The Spa at the Four Seasons Westlake Village
With 28 treatment rooms spread around 40,000 square feet, this spa focuses on health and longevity in its treatments. Here you can get your teeth whitened and skin tightened or book any of the four luxury suites complete with a private pool, a day bed and more.
Relax with their signature body treatments- the turmeric body scrub, the foot baths and more. And don't forget to check out their delicious and healthy food menu that has everything from smoothies and salads to wraps.
The Raven Spa
Just entering into the Raven spa is enough to get your muscles to relax- the decor here is outdoorsy and woody. When you're enjoying one of their spa treatments, you'll also hear the chirping of the birds. Choose from their many excellent massage options, and bite into apples, oranges and dates.
Keep in mind though that there are no showers here, so you'll be leaving this place feeling a bit oily, but loads better and relaxed and with a smile on your face.
Glen Ivy Hot Springs Spa
This spa has been around for good 150 years, and has been well known for its natural hot spring mineral baths. Today, it offers a lot more than just that. Enjoy and relax in the mud bath or get your full body moisturizing experience at the Grotto. You'll also get to pick from many other beauty treatments and relaxing massages- check out their face mask that boosts collagen production- it is known for its anti ageing benefits.