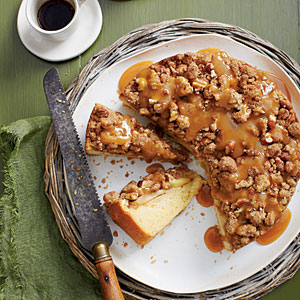 With the chill of September on the horizon, this month's featured Southern Living Source recipe combines traditional comfort food with the surprise of caramel topping (like a caramel apple minus the stick). Enjoy your delicious transition from summer to fall!
 "Caramel Apple Coffee Cake is simply divine! It doubles as a delicious breakfast treat for company and an easy dessert for any occasion. The melt-in-your-mouth caramel sauce is the icing on the cake—you can make it up to one week in advance." – Shannon Satterwhite
Yield: Makes 8 to 10 servings
Total time: 4 Hours, 50 Minutes
Ingredients

2 tablespoons butter
3 cups peeled and sliced Granny Smith apples (about 3 large)
1/2 cup butter, softened
1 cup sugar
2 large eggs
2 cups all-purpose flour
2 teaspoons baking powder
1/2 teaspoon salt
2/3 cup milk
2 teaspoons vanilla extract
Preparation
1. Preheat oven to 350°. Melt 2 Tbsp. butter in a large skillet over medium-high heat; add apples; sauté 5 minutes or until softened. Remove from heat; cool completely (about 30 minutes).
2. Meanwhile, prepare Streusel Topping and Caramel Sauce. Reserve 1/2 cup Caramel Sauce for another use.
3. Beat butter at medium speed with an electric mixer until creamy; gradually add sugar, beating well. Add eggs, 1 at a time, beating until blended after each addition.
4. Combine flour, baking powder, and salt; add to butter mixture alternately with milk, beginning and ending with flour mixture. Beat at low speed until blended after each addition. Stir in vanilla. Pour batter into a greased and floured shiny 9-inch springform pan; top with apples. Drizzle with 1/2 cup Caramel Sauce; sprinkle with Streusel Topping.
5. Bake at 350° for 45 minutes. Cover loosely with aluminum foil to prevent excessive browning; bake 25 to 30 minutes or until center is set. (A wooden pick will not come out clean.) Cool in pan on a wire rack 30 minutes; remove sides of pan. Cool completely on wire rack (about 1 1/2 hours). Drizzle with 1/2 cup Caramel Sauce.
Streusel Topping (see recipe below)

Ingredients

1 1/2 cups all-purpose flour
1 cup chopped pecans
1/2 cup butter, melted
1/2 cup firmly packed light brown sugar
1/4 cup granulated sugar
1 1/2 teaspoons ground cinnamon
1/4 teaspoon salt
Preparation

Stir together flour, pecans, melted butter, brown sugar, granulated sugar, cinnamon, and salt until blended.
Let stand 30 minutes or until firm enough to crumble into small pieces.
Caramel Sauce (see recipe below)

Yield: Makes about 1 1/2 cups
Ingredients

1 cup firmly packed light brown sugar
1/2 cup butter
1/4 cup whipping cream
1/4 cup honey
Preparation

Bring brown sugar, butter, whipping cream, and honey to a boil in a medium saucepan over medium-high heat, stirring constantly; boil, stirring constantly, 2 minutes.
Remove from heat, and cool 15 minutes before serving.
Store in an airtight container in refrigerator up to 1 week.
To reheat, microwave at HIGH 10 to 15 seconds or just until warm; stir until smooth.
Thank you to Southern Living magazine for this delicious recipe.