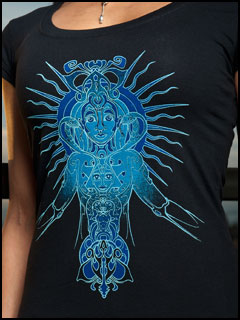 Buddhaful, the clothing brand connected to the heart and soul of the fashion, music, and art community, has hit a fresh chord with their new Makin' Honey collection of shirts, coats, pants, and dresses. Since its inception in 1998, Buddhaful has been showcasing the talents of budding artists from Vancouver B.C. to San Francisco, California in their clothing designs. Makin' Honey features intricate beehive and honeycomb motifs, and like all their offerings, strives to bring a conscious, positive message to everyone. Their eclectic and often unusual stylings exhibit individuality, while bringing people together in their love for the unique. Buddhaful clothing can be found worldwide in fashion capitals like Japan, the UK, and France, as well as across the United States. Their hip stylings have been featured in many recent movies including Scott Pilgrim Vs. The World, Eat Pray Love, and music videos by Skinny Puppy and Halestorm. Their men and women styles are a definite fall must-have!

Champagne Living Says: I have one of their long sleeved yoga tops that they no  longer carry & I have to say it's TRES CHIC and TRES COMFY.  It clings where it should and stretches with you in all sorts of poses. Trendy and centered at the same time, I wear it out with jeans as often as I do when working out (more actually).
Great gift for: Fitness fanatics, trendsetters, guys who love the tattoo shirt look, those who wear their inner being on their sleeves (literally).
Available at Buddhaful.com. Shirt shown is available at their online store for $26.00