I participated in an Influencer Program on behalf of Mom Central Consulting for Eppa SupraFruta Sangria. I received product samples to facilitate to my review and a promotional item to thank me for participating

Sunday brunch is a tradition around the mansion. It's usually Florentine omelets, toast, and a sparkling flute of mimosa. It sounds glamorous, but we've been doing it for SO LONG, that frankly it's a bit boring. This week, I pulled out my maracas a shook things up a little around here.
Brunch became a fiesta de la mansion.
Starting things off with glasses of white and red SupraFruta Sangria by Eppa, each of our glasses were filled with fruit and the chilled fruity wine that has the added benefit of antioxidants. Our plates were filled with Serrano ham, artichoke hearts, cheese and a Spanish potato omelet.
Spanish Potato Omelet
Ingredients
Olive Oil
4 potatoes
1 large sweet onion
4 eggs
Kosher salt
Directions
Pour olive oil to cover the bottom of a fry pan and heat to medium
Slice potatoes in 1/8 inch slices
Slice onion
Alternate layers of potato and onion in pan
Cook slowly, turning once
Remove potatoes & onions
Beat eggs, add salt to taste and toss in potato & onion mixture – soaking the potatoes COMPLETELY in egg
Return to the fry pan and cook until the bottom is light brown
Using a plate, flip the potato in the pan and cook the other side
Repeat until eggs are completely cooked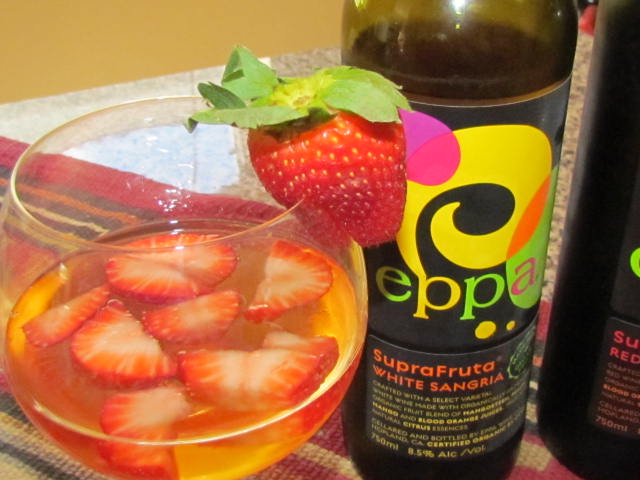 Sangria
Ingredients
Directions
Cut citrus, berries, or whatever fruit you have in the house
Open chilled bottle of eppa Supra-Fruta sangria and pour over fruit
Enjoy
I'll NEVER make home made sangria again. Not only is Eppa SupraFruta absolutely delish, but it's stocked with good for you fruits with no messy mixing and bowls.
Eppa Red – Pomegranate, blueberry, Mediterranean blood orange, and acai juices
Eppa White – Mangosteen, peach, mango, and Mediterranean blood orange juices
Our Spanish brunch was SO MUCH FUN, that I think we'll do it again when we get back from the Caribbean in a couple of weeks.
When was the last time YOU enjoyed a fruity glass of sangria?
Details
I participated in an Influencer Program on behalf of Mom Central Consulting for Eppa SupraFruta Sangria. I received product samples to facilitate to my review and a promotional item to thank me for participating