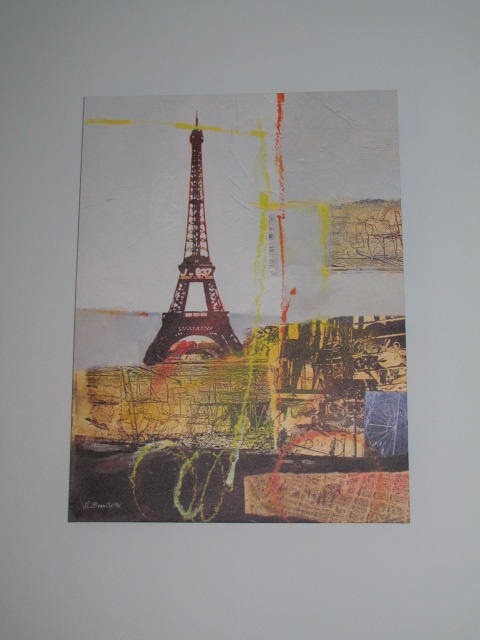 In my dreams I look out the window on to the Champ de Mars and see the Tour Eiffel. In reality I see a man made pond with lily pads and wildlife, and while it's very pretty…it's just not Paris. Yes, I do get to visit every now and then, but in between visits I NEED a touch of the City of Lights.
My solution?
While I could just buy silly little trinkets from street vendors, I prefer waking up and seeing the Eiffel Tower. So, I went to Gallery Direct and ordered myself the iconic Eiffel Tower…well, not the REAL Eiffel Tower, but rather Maureen Brouilette's Eiffel. This large gallery wrapped piece of art hangs in my bedroom, so YES I really do get to see the Eiffel Tower immediately upon waking and for that moment I am reminded of one of my favorite places.
I recently went to visit a neighbor and had asked him about a beautiful piece of artwork depicted the canals of Venice on his wall and he told me the same thing. That it was one of his most cherished vacations and just looking at this piece of art reminds him of the beauty of Venice every day.
Think about your favorite vacation or a place that you used to live that you miss. Why not go to Gallery Direct and find a piece of their fine art that depicts that place and have the luxury of spending a piece of every day there? If it's a beach locale that you miss, they have a great selection of  Tropical and Coastal art work, or just type in the city, state or country and see what comes up (that's what I did).
Now I wonder if they have any artwork that reminds me of Providence? I'll have to go look.
You can follow Gallery Direct on  Twitter and Facebook and keep updated on any specials they may be running.
I am a blogger ambassador for Gallery Direct, as such I receive artwork to facilitate my reviews. All opinions are strictly  my own.