We received a copy of this book for review. All opinions are strictly our own.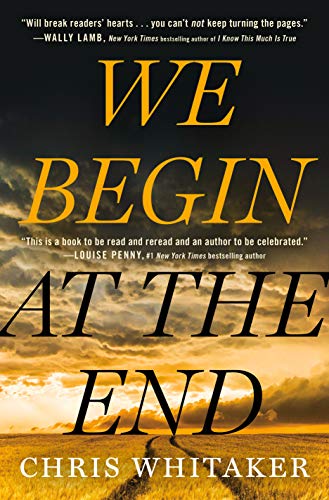 Author: Chris Whitaker
Stories of damaged families abound.  Some are exceptional:  Room, Shine, many more.  Stories about brave, young girls also abound:  To Kill a Mockingbird and others.  We Begin at the End by Chris Whitaker introduces 13-year-old Outlaw Duchess Day Radley and her 6-year-old brother, Robin, born poor in a dirt town with an alcoholic mother, Star, who cannot take care of herself, much less her children.  Enter two of Star's childhood friends, Walker and Vincent.  Walker, called Walk, is the town sheriff and has been in love with Star since childhood, but Star has always been Vincent's girl.  Vincent has been in jail for the last thirty years for the vehicular homicide: at 15, he ran over Sissy, Star's sister, and did not know he had hit her, leaving her for dead.  Vincent is now getting out of jail and coming home. And Walk now watches over Duchess and Robin as he witnesses Star on a self-destructive route to nowhere.
One of the best novels I have read in a long time, Whitaker's prose freezes us within an emotional and cerebral celebration of language, much like The Shipping News.  Language becomes a conduit to a brazen and beautiful but harsh landscape of thought and feeling.  If you miss this novel, you will have missed a literary tour de force.  It sizzles, sings, and thrums with a universal tug at our hearts where courage and vulnerability reside.  Duchess brings us to our knees as Whitaker delivers a literary event of monumental force.  Wonderful.
We Begin at the End is available at Amazon.com & your local bookseller.