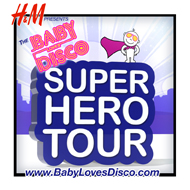 I'm a HUGE fan of the Loew's Hotel chain (they're family AND dog friendly – so Clem the mini-bull-terrier can vacation and spa along with me). As a matter of fact I'm talking Mr. "S" into making plans to visit them this year. While I don't have any little ones around anymore, I know that a lot of my readers DO and there are some FABULOUS opportunities for "baby" to do a little Champagne Living of his/her own when they visit the Baby Loves Disco Superhero Tour arriving in several cities this spring and summer, courtesy of Loews Hotels.
Twelve events have been scheduled so far in cities across the country; for a complete list of events, visit http://www.babylovesdisco.com/events
The proceeds of all 12 events will support community schools through DonorsChoose.org, the official charity of Loews Hotels; a web-based not-for-profit that provides essential classroom tools to teachers across the country.
Families are invited to join the Baby Loves Disco Nation, to dance, play, savor healthy snacks and generally enjoy good times with family and friends. Parents and kids are invited to dress up as their favorite superheroes, or come just as they are. For updates on the Tour, visit Baby Loves Disco's pages on Facebook and Twitter.
Each event of the tour rocks with special guest superhero DJs and MCs, dance instruction, big video screens, super contests and surprises at every turn. At its core, each event retains the patented mix of Baby Loves Disco magic that has helped connect a worldwide community of moms, dads and kids of all nations, of all colors and all walks of life, all in the name of dance (and fun!).
Thousands of parents, grandparents and kids have already danced the day away at all kinds of venues in New York, New Jersey, Ohio, Wisconsin, Minnesota and California. Other sponsors of the Baby Loves Disco Superhero Tour include H&M, Creativity for Kids, Honest Kids, Snikiddy and Piggy Paint. Last fall, the Baby Loves Disco Lemonade Tour co-sponsored family dance parties at Loews properties in Coronado Bay in California and Ventana Canyon in Arizona.
Baby Loves Disco is an after­noon dance party fea­tur­ing real music spun and mixed by real DJs, blend­ing clas­sic disco tunes with the latest G-rated dance tracks, all guar­an­teed to get lit­tle booties mov­ing and grooving. An international sensation since its founding six years ago by two parents in Philadelphia, Baby Loves Disco now brings parents and kids together to groove at all kinds of venues. Last year's 45-city Baby Loves Disco Lemonade Tour of 2010 raised awareness and funds for Alex's Lemonade Stand, the children's cancer charity.
The Loews Hotels events include: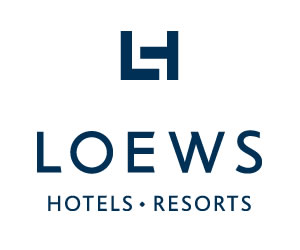 · May 15 – Loews Annapolis Hotel, MD
· May 21 – Loews Regency Hotel, New York City
· May 22 – Loews New Orleans Hotel, LA
· June 5 – Loews Atlanta Hotel, GA
· June 9 – Loews Royal Pacific Resort, Orlando, FL
· June 10 – Don Cesar Beach Resort, A Loews Hotel, St. Pete Beach, FL
· June 12 – Loews Miami Beach Hotel, FL
· June 19 – Loews Ventana Canyon Resort, Tucson, AZ
· July 23 – Loews Philadelphia Hotel, PA
· July 29 – Loews Santa Monica Hotel, CA
· July 30– Loews Coronado Bay Resort, CA
· August 6 – Loews Lake Las Vegas, NV
If you've never been to a Loew's Hotel you're in for a real treat. My suggestion? Stay the night because Loews Hotels takes the job of entertaining traveling families seriously. The company, which is well-known for its innovative guest service programs and imaginative approach to everything from food to family pets, offers Loews Loves Kids, a branded initiative addressing the practical and playful aspects of traveling with children and teenagers. It features everything from gift bags with toys on arrival, a Kid Kloset (a go-to spot filled with practical and playful travel necessities, such as games, books, car seats, strollers, night lights, potty seats, baby bath tub, baby blankets, and outlet protectors), and trans-fat-free children's menus.
For reservations or more information on Loews Coronado Bay Resort or ANY of their 18 fabulous US locations,  call 1-800-81-LOEWS or check http://www.loewshotels.com
Regularly updated information and advance tickets for local events are available at www.babylovesdisco.com/events