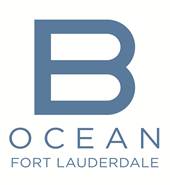 It  may be Fort Lauderdale in the summer, but from what I hear from my friends around the country – we're COOLER than you are. I've gotten reports from friends in Rhode Island where the temperature has been as high as the upper 90's and my bestie in Salt Lake City called yesterday to report 103°. I have to say, that it's been in the mid-80's and as I drove home last night, the temperature gauge on the hybrid read 75° – so it's a GREAT time to come down.
For a chic, oceanfront retreat, escape to B Ocean Fort Lauderdale, where tailored experiences meet stylish, yet approachable sophistication. Rated one of the "Best Affordable Beach Resorts" in the world by CNN Travel (June 2012), B Ocean Fort Lauderdale offers tailored packages for great summer and year-round values.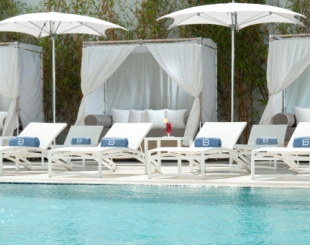 Add to that the summer deals, and you've got a Champagne Living vacation on the cheap. Just look at what the elegant B Ocean hotel in Fort Lauderdale is offering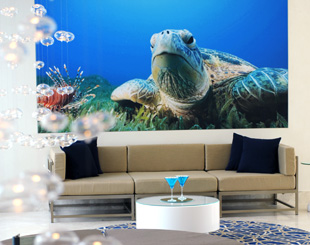 Summer rates starting from $139 per night.
*Florida Resident rate includes 25% savings on room rate and 50% discount on valet parking.
OVERNIGHT SUMMER PACKAGES:
Vacation Like a VIP, rates starting from $179 per night, for a minimum two night stay
Available through September 30, 2012
Experience Fort Lauderdale like a VIP (told you this was Champagne Living):
 Ocean view accommodations
 Complimentary room upgrade at check-in, based upon availability
$100 hotel credit, once per stay
$25 American Express Gift Card and Super Summer Savings 2-for-1 card to Fort Lauderdale's top attractions, provided by the Greater Fort Lauderdale Convention & Visitors Bureau
 Complimentary valet parking
Summer Sand Dollars, rates starting from $140 per night
Available through September 30, 2012
Reserve the Summer Sand Dollars package for a $1 more than the best available rate per night, and B Ocean will treat you to a daily $25 credit to B Nourished at any of the dining outlets including B'stro on the Beach, SAIA(I'm heading there soon & I'll let you know JUST how FAB it really is) the Pool & Patio Bar or dine in the comfort of your guestroom with In-Room dining.
EXCLUSIVE Summer Package for Facebook Fans – Stay three nights and the 4th will B On Us!
Rates starting from $139 per night, minimum of a three night stay
Available through August 31, 2012
We invite our Facebook Fans to B Our Guest® with an exclusive Facebook summer package.
For all you birthday girls (and boys) – this one's A-MAZ-ING 
B Celebrated on Your B-Day and stay for $1, rates starting from $139(for the first night) and $1 for the second, minimum two-night stay required
Available all year
Toast to YOU! Escape to Fort Lauderdale's golden beaches for a birthday bash like no other. Reserve a two night stay and receive the second night for $1 on your actual B-Day.  Upgrade available for an additional $29 per night, depending on room category selected.
So, head down. The B Ocean is right across from the beautiful Fort Lauderdale beach, and just a few blocks from some fabulous shopping at the Galleria. Who knows, you might just run into me there.