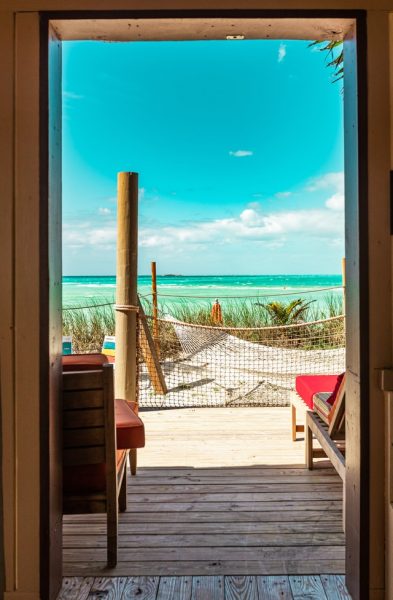 Nothing beats sitting on a beach listening to the ebb and the flow of the tide on a warm summer evening. If you are lucky enough to have a beachfront property, you may want to consider bringing some outside in and decorating your home with a seaside theme.  Here are fantastic décor ideas for your beach house.
Beach House Bedroom
A beach house bedroom should be cool and airy, especially if you live in a hot climate.  Furnish your bedroom with white wooden furniture inspired by New England architecture. You can buy new items or upcycle old wardrobes and chests of drawers for a more rustic look.  Find vintage furniture at your local antique store, auction rooms, yard sales, or online second-hand websites. Ask friends or family if they have anything they want to get rid of.  Paint the furniture with chalk paint in shades of white, cream, or very pale blues and greens. When the paint is dry,  rub random areas with sandpaper or wire wool to give a rustic look reminiscent of driftwood that has been distressed by the salty water of the sea.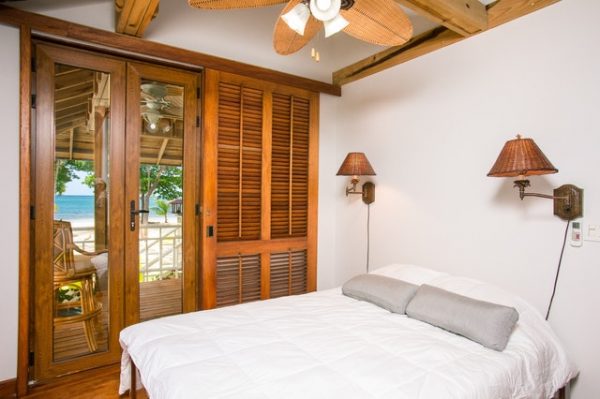 For a restful sleep, choose a bed with a comfortable mattress – one that will keep you cool on hot summer nights.  Our choice is a Ghostbed Luxe cooling mattress. This mattress is made from many layers of foam, including a layer made using thermo-sensitivity technology to develop a material that senses heat and adjusts to keep you cool all night long. This mattress is topped with Ghost Ice fabric which is soft and cold to the touch. A white, wrought iron bedstead would look great beside painted furniture – or even a four-poster bed draped with billowy curtains or mosquito nets.
Dress your bed with clean, crisp white sheets and add pops of color with an icy blue candy stripe duvet cover or cushions with nautical-themed patterns on them.
Light and Airy Lounge
Bring the colors of the seaside into your living area by using a cool color palette of watery blues, sandy shades of yellow, white, and limpet green. Lay flooring that is easy to clean as you will find that sand and water get brought into the house on people's feet when they come in from the beach.  Sanded floorboards look great with a wash of white paint and scattered with sisal rugs. If your home doesn't have wooden floorboards, consider laying a pale–colored laminate or ceramic tiles, which are lovely and cool to walk on when barefoot.
Wicker and rattan furniture will give an instant coastal living feel. Make chairs comfortable by lining them with squishy cushions covered in blue fabric.  Look for a statement sofa in blue velvet or soft linen and scatter it with plenty of pillows or a decorative cotton throw blanket. Opt for cotton or canvas slipcovers on your couch so they can be removed for easy cleaning as they will get dirty quickly with people sitting on them with wet swimwear.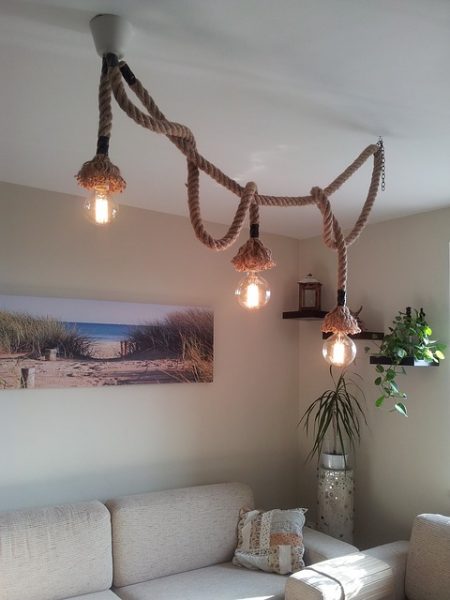 Accessorise with lots of wooden ornaments such as driftwood sculptures and models of boats, lighthouses, and sea birds.  Accentuate the light in the room by hanging lots of reflective mirrors. If your property is right on the beach, you probably won't need art prints on your walls as you can just open up your doors and windows and admire the spectacular view.
Dress the windows of your property with delicate fabrics that will offer privacy, and if you want to block out some of the intense sunshine, install wooden plantation shutters or Venetian blinds.
Coastal Kitchen
A beach house kitchen will be plain and simple as you will probably do most of your dining al fresco and enjoy lots of picnics and barbeques. In keeping with the rest of the house, choose rustic wooden kitchen cabinets painted in white, blue, or aqua. You can add some nautical decorative features such as wall tiles with hand-painted sea creatures on them, or metal door handles shaped like starfish.
Install pretty glass pendant lights above your kitchen island. Having lots of glass in the kitchen, such as lights, door panels, decorative jars, and drinking vessels, will add elements reminiscent of the sea and rockpools. Look for handmade colored glass products, which are often crafted in shades of sea green and aqua blue.
Natural stone countertops will look great with wooden cabinets, as they will look like pebbles on a beach.  If you do not want stone, wood, laminate, or marble are great alternatives.  Laminate countertops are an inexpensive option and available in decorative effects such as a pattern that looks like sand on a beach.