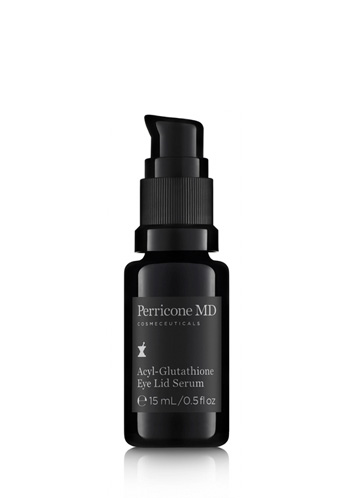 I'll be telling you all about my newest secret weapon to fight off the signs of aging soon, but I wanted to show you a LIVE demonstration of how it works first. Each day that I get closer to 60 (today it's 637 days away) the more I have to fight to keep looking and feeling like my young self. Here's what I've been doing to help with the droopy eye lids.
Can you see the difference between the two eyes from just ONE application? A-MA-Z-ING! It's from the skin doctor himself Dr. NV Perricone  Once you begin using this regimen you'll find that you'll become addicted to daily use VERY quickly. The acyl-glutathione eye lid serum is only one piece of the 2-part program that I'm using from the Acyl-Glutathione line, but it certainly is one of the more dramatically different products that I've tried, as is the Acyl-Glutathione Face Cream. I'm supporting my routine by using the Cold Plasma creams like the Cold Plasma Sub-D and the wonderfully hydrating Neuropeptide Cleanser as well.
The first in skincare technology, Acyl-Glutathione Eye Lid Serum topically replenishes the skin's Glutathione levels around the eye to dramatically improve the visible signs of accelerated aging along the upper eye lid area and deliver a youthful, more awakened appearance. Additional benefits include dramatic tightness and firmness of a droopy eyelid and a smoothing of creases and minimized redness and dark circles. The light, fast absorbing texture of Acyl-Glutathione Eye Lid Serum also enhances make-up application by acting as a primer to help make-up glide on more smoothly and improve its wear throughout the day.
I promise I'll have more information about this Perricone line that is a great defense against ADVANCED aging (like mine) soon. Thanks for stopping by my hotel room this morning….see you from the mansion some time next week.
I received product to facilitate my review, all opinions are strictly my own