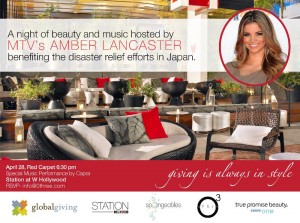 I get invited to some amazing events. Some I go to, others I have to decline. If I could hop around the globe every week I would, but a girl's got to have a little down time as well. I had been invited to the MTV evening of beauty and music at the Station at W Hollywood for a night of music and beauty to raise money and awareness for the relief efforts in Japan hosted by MTV's Amber Lancaster last week. Unfortunately, I was here in South Florida, but I made them PROMISE to send pictures.
The guest list read like a who's who of young Hollywood and included the likes of
Greg Finley – The Secret Life of an American Teenager
Adrienne Frantz – The Young and the Restless
Peggy Tanous – Real Housewives of Orange County
Tinsel Korey – Twilight
and many, many more
Invited guests got  the opportunity to shop such beauty brands as Spongeables, Comodynes, and True Promise Beauty with a portion of all proceeds being donated to Global Giving.  Attendees were also treated to Hors d'oeuvre's provided by Delphines, frozen yogurt provided by Yogurt Stop, beverages provided by Jones Soda and a live performance by Hollywood Records hit band CAPRA.
Enjoy some of the photos along with me from this wonderful event.