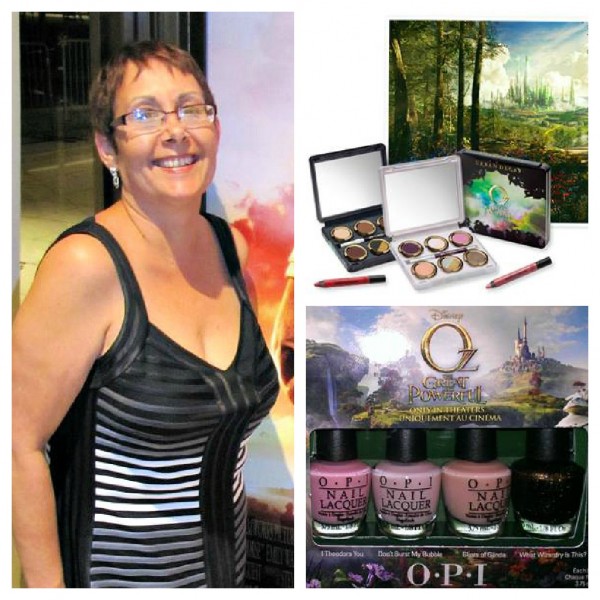 The VERY first time I walked the red carpet as media was in 2008. I was a guest of the original Sex and the City Movie. Lucky me, I also got to go to the pre-party and all of the after-parties with the stars.  I prepared by having my hair done by one of my favorite people Seiji  at Frederic Fekkai and my makeup was done by my ALL TIME favorite makeup artist, Brandon. While I love going to a tony salon pre-event, I can't see spending $500 for one evening's folly each time I'm invited someplace.
In two weeks I'll be attending yet another red carpet event, to see Oz the Great and Powerful. While Shana will have already done her magic (cut and color scheduled for tomorrow – every four weeks like clockwork), I'll be putting on the finishing touches myself. I probably attend around 6-8 events a month, and am always on the lookout for a color palette that compliments the event.
Sephora and Urban Decay have conjured up a collection of two promotional makeup palettes!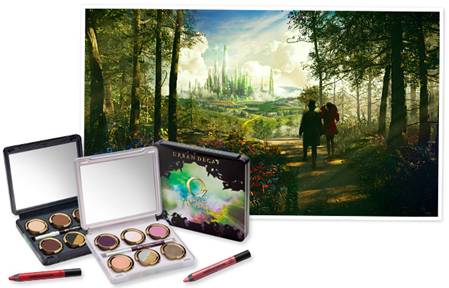 Broken (pale cream satin)
Beware (warm brown matte)
Bewitch (dark charcoal brown satin)
West (deep metallic brown shimmer)
Spell (black satin with green and gold shimmer and gold metallic with tonal glitter)
Jealous (pale green pearl and dark green pearl)
Glide on Eye Pencil in Zero (black)
Super-Saturated High Gloss Color in Theodora (bright red cream)
A card with step-by-step instructions on how to get Theodora's look from the film
Tornado (vibrant deep purple shimmer)
Aura (iridescent white with blue shift and iridescent white with red shift)
Magic (pinkish purple with golden shimmer), Illusion (pale peach satin)
Oz (gold with gold glitter and silver with silver glitter), South (warm pale gray shimmer with silver micro-glitter)
Glide on Eye Pencil in Rockstar (deep eggplant)
Super-Saturated High Gloss Color in Glinda (light sheer nude)
A card with step-by-step instructions on how to get Glinda's look from the film
OPI is no stranger to creating colors for movies (the Skyfall Collection being the most recent), so to complete my look right down to my nails OPI and Disney are sending me this amazing array of colors that go from sweet to sexy with a swoosh of a brush!
You already know that I ADORE how OPI names it's colors, and these names are as clever as always….
Which is Witch? 
Glints of Glinda
Lights of Emerald City
When Monkeys Fly!
Don't Burst My Bubble
I Theodora You
What Wizardry is This?
Both the Urban Decay and OPI Oz the Great and Powerful color collections are available for purchase in stores and online NOW. The question is which witch says more about YOU?
Follow my adventures to the Emerald City on twitter from February 13 – 15.
For more about Oz the Great and Powerful:
Thank you to Disney Worldwide, OPI & Urban Decay for providing these products. All opinions are strictly  my own.