This post was sponsored by SwimWays as part of an Activation for Influence Central. I received products to facilitate my review.
There are days that I wonder why I left the beautiful New England summers and decided to stay in Florida year round. It's hot, it's humid, it's….OPPRESSIVE. That is until I look out onto my lanai and see the pool, and I know that no matter HOW hot it is outside, that I'm able to cool off and relax any time that I want.
Most days start with Mr. S and I doing our aqua-aerobic exercises in the shallow end, but once those are finished….
It's time to RELAX
My favorite way is in my SwimWays Spring Float Recliner available at Walmart. Now this is not my FIRST rodeo with Swimways!! Mr. S has a green one that's been a member of the Champagne Living Family swim club for about 10 months, so you KNOW we really do love the way they hold up.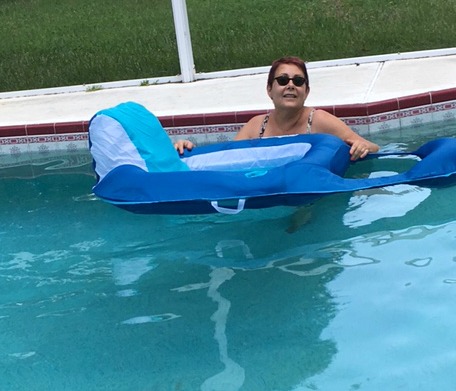 The lap of luxury
At least that's the way it feels when I'm lounging in my SwimWays Spring Float Recliner. Unlike those squeaky, thin floats that don't last, this inflatable float has a luxury fabric-cover and ultra comfortable features like
a sit-up style
backrest
headrest
ottoman
and even a beverage holder!
Plus, it's available in THREE different colors (so you can claim one as your own)….DON'T TOUCH THE BLUE ONE…it's MINE!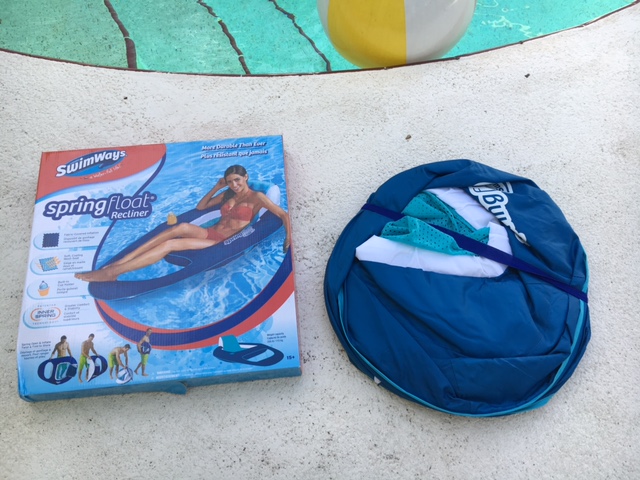 Plus, the SwimWays Spring Float Recliner is the only float on the market with the patented Inner Spring Technology, which allows it to be easily inflated, closed and carried. It even has it's own carry bag with a strap, for tossing over your shoulder!  I love being able to tuck it away for winter storage, or to toss into the trunk of the car when visiting a friends pool without it taking up unnecessary room.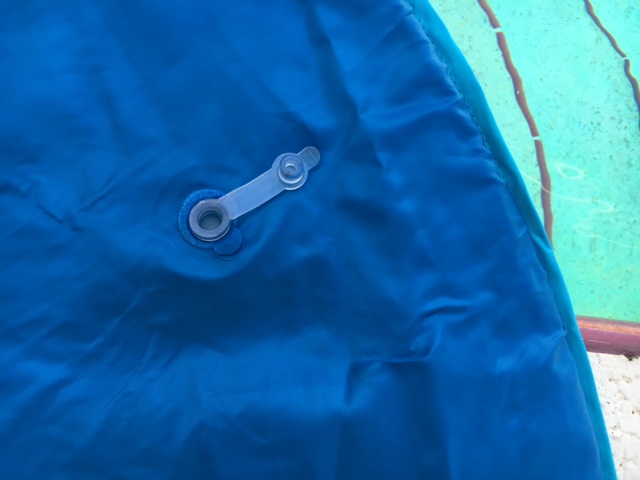 While it looks like it would take a LOT of air, the jet valve makes it easy to inflate, and only the outer chamber and headrest will fill, allowing the rest of your body to cool off on the mesh seat, and the fabric covering means you'll never STICK to it.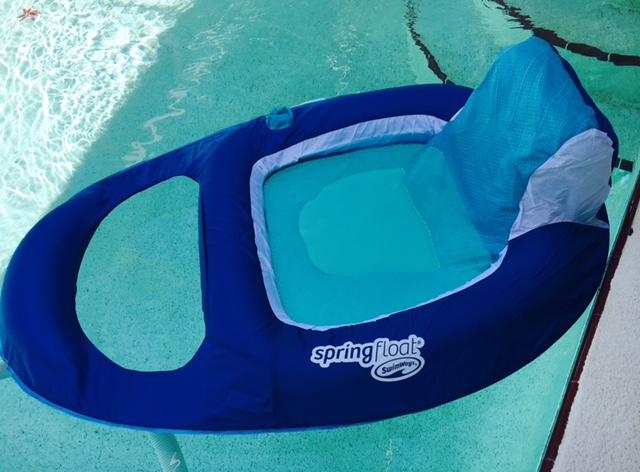 The only downside? Our other SwimWays float does not have a headrest, and Mr. S and I both love this one…..I guess I'll be heading BACK to Walmart to get another.