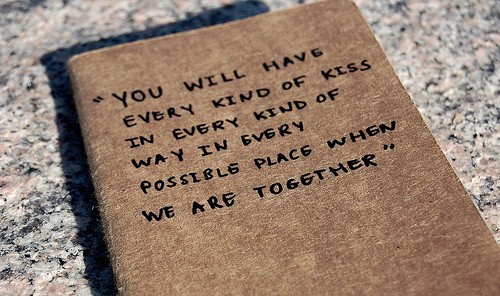 A dozen roses are just so…ORDINARY (I feel very differently about iris, tulip or lily bouquets). As I've said before, unless they're thought out in advance and ordered from the florist, he could simply walk into the grocery store or pick up a bunch from the guy standing at the stop light on the way home from work. Don't get me wrong, I love flowers, but I ALSO love a man who's put a little THOUGHT into telling you just how much he loves you.
This DOZEN (1/2 for him and 1/2 for her)comes from eHow and I'm just saying that Mr. S needs to see them (who am I kidding – first I'd have to print them out, then put a neon frame around them for him to look…even then he'd say "what list?").
Find a classic love poem and write it on the bathroom mirror.
 Bring her breakfast in bed – with a love note on the tray.
Call her favorite radio station and request a romantic song during the time she drives to work.
Change the welcome message on your answering machine to an expression of love.
Show up at her workplace, meet her as she takes her break, and whisk her away to a lovely park. Have a picnic lunch, complete with candle and rose.
Ask her to watch the sunset with you – and promise her your love will burn longer than the sun.
And just to even things out a bit… a few for YOU to do FOR HIM
Put a note on the bathroom mirror promising to share an afternoon delight.
Find his car at work and leave a note on the steering wheel suggesting a romantic rendezvous. Meet him with drinks and snacks and a love note.
Meet him after work wearing your sexiest outfit and tempt him away to lover's lane. Carry along a bottle of sparkling water and a basket of canapés.
Leave a trail of paper hearts, each with a loving message, from the front door to the bedroom for him to find as he comes home from work.
Cook his favorite dinner and serve it by candlelight.
Scatter Hershey's Chocolate Kisses all over the bed.
Of course you could be one of the 70 million to dine out on Valentine's Day – but why be ordinary when you can be EXTRAORDINARY? For more unique, creative ways to celebrate, check out the rest of the list at eHow for celebrating  Valentine's Day without spending any money