I was a sponsored guest of Wicomico County. I had never been before, this post is based on my experience.
Having grown up in New England, the Eastern Seaboard has always held a special place in my heart. I feel most at home in the counties that dot the Atlantic coast, but I realized that there is so much more to experience in the 2069 miles from Maine to thru Florida. Outside of DC and Silver Springs, MD where my cousins lived, I hadn't really veered off of the beltway (on our frequent road trips from Rhode Island to Florida and back again).
I was excited when Wicomico County invited me to explore some of the small towns and larger cities that make up the area. My first order of business was to learn how to pronounce – Wicomico.
A Little Background About Wicomico County, Maryland
Having never been before, I needed to have a little background before heading out. Located on the Delmarva Peninsula, Wicomico County is one of the most beautiful places. With over hundreds of years of history dating back to 1867, this county is known for "building houses" (that's actually what Wicomico means). With an area of 400 square miles, 26 of those miles are water which makes the county a great place to visit for fishing, boating, and then dinner on the lake. This county is made up of all walks of animal life (there is so much green space and woods), spacious land, gardens and trees which makes for a great scenic vacation for any baby boomer looking for a getaway out of the city.
For easy planning, I've created a guide to the experiences and places that I fell in love with on my trip…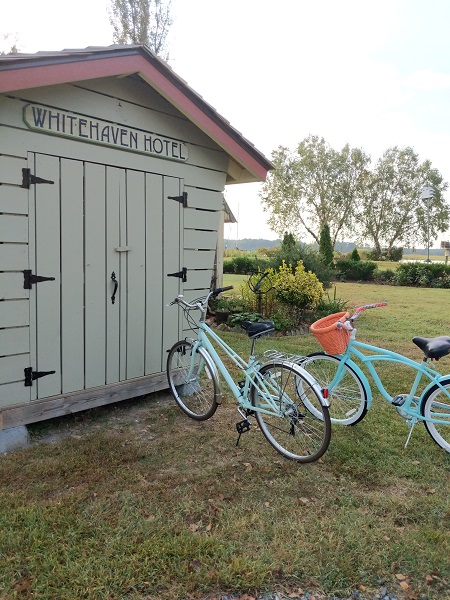 Where To Stay?
There are many options if you're looking for a place to stay but my recommendation would be the Whitehaven Hotel for exploring the slower, greener side of the county and when you head to the city of Salisbury the Courtyard Marriott.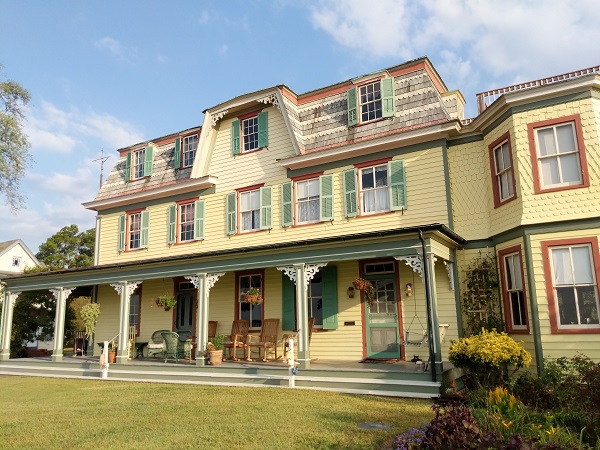 The Whitehaven Hotel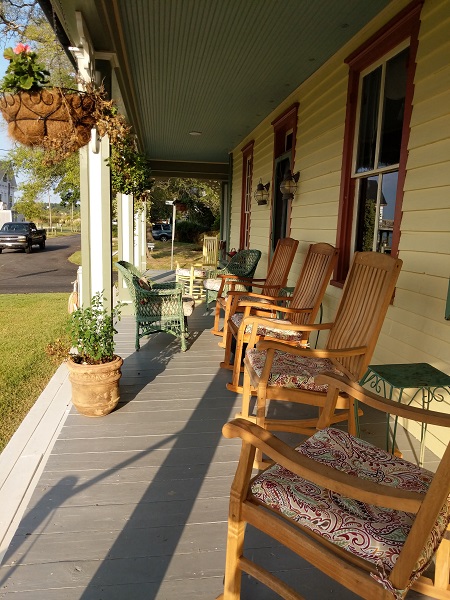 It's really a misnomer to call this beautiful bed and breakfast a hotel as it is truly a bed and breakfast that offers guests spacious yet cozy rooms to lay their heads at the end of a fun-packed day. With a dining room filled with coffee and morning breakfast, it is perfect for early risers and breakfast lovers. I loved the fact that it is filled with gorgeous antiques and a big porch that overlooks the Wicomico River and the Whitehaven ferry dock. It was saved from being demolished by the Maryland Historic and the Hotel, now one of the last of its kind originally provided lodging for travelers crossing the Wicomico by horse to Quantico, Salisbury, and Princess Anne and by steamship to ports as far as Baltimore.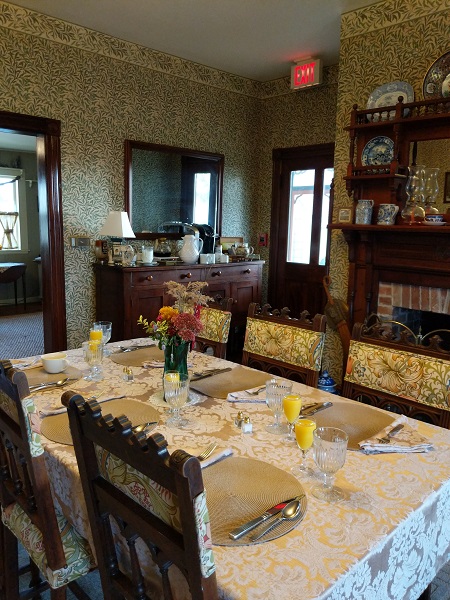 The amenities are unlike chain hotels, with a piano room that guests are more than welcome to play their favorite tunes or even come sit around and listen to others play which enjoying a cocktail. There are two scenic balconies that all guests have access to that they can enjoy the view of gardens and Wicomico River which is located a few yards from the hotel.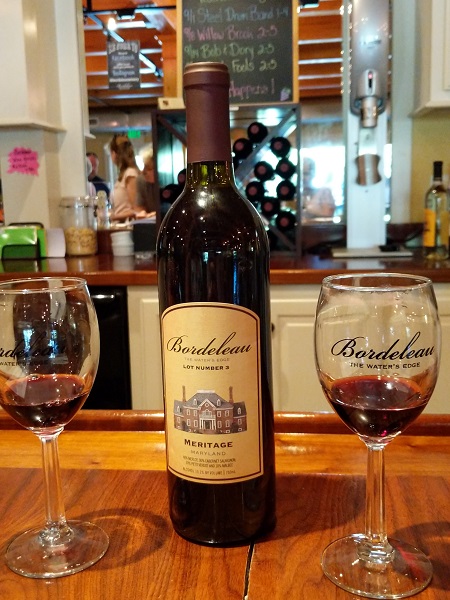 What to do once you get there
While there is a lot of countryside there are also many restaurants and places to have drinks. I had the opportunity to visit the Bordeleau Vineyards & Winery, where you can enjoy wine and garden scenery overlooking their beautiful vineyards.  They offer wine tastingsYes, I left having bought myself a couple of bottles of the Meritage.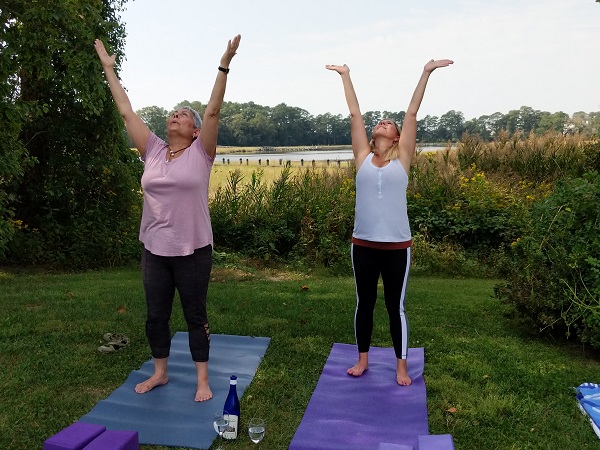 Plus, if interested guests can enjoy yoga in the vineyard which is available during warmer seasons check you can reserve a spot with Shining Waters Yoga. Not to mention boating tours where you can enjoy dinner on the river and even light fishing during its seasonal times of the year. Habenera Farm is also close offering guests access to farm-fresh vegetables and fruits during its seasonal times of the year, where there is a farmers market, fresh jams and other snacks you can take as a souvenir.
If the Whitehaven is all booked up another great stay is the Courtyard Marriott in Salisbury which is also surrounded by fun and entertainment. It is a great option for a base when exploring Salisbury.The Marriott is great with an indoor pool that guests have access to year-round and tons of activities within walking distance of the hotel. Horseback riding, jet skiing, and trails are easily accessible within one mile of the hotel, not to mention other activities such as hunting, miniature golf, and even bowling! The Marriott also offers an inclusive breakfast to its guest in the lobby area, and cozy rooms with high standard bedding, bathrooms, as well as high-speed internet access.
Where To Eat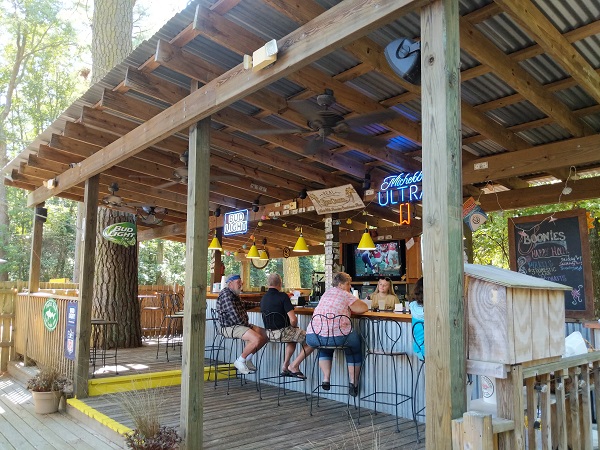 There are so many great places to eat around the town not to mention great views while eating, a couple tourist and local favorites include Boonies (Burgers, Beers and Bait) this place is your all in one eatery and bait shop, and frankly was my favorite in the area. whether you are stopping in for dinner or want to grab lunch and head out onto the water you can get everything you need here, this place has a tiki bar that is surrounded by tall pines that shade the bar to give you a cool forestry soothing effect. Play cornhole or sit around the fire pit with a drink and great conversation. I could go back again and again (and yet again).
Tall Tales Brewing Company is another local favorite, has home-brewed craft beers and delicious foods such as shrimp and lobster platters that are great to top off their local beer choices. with many options to chose from this is the perfect place to bring any beer fanatic.
Down the road is Sobo's Wine and Beerstro, this restaurant is great for all your local beer and wine needs, it is known for great service, entrees, and seasonally fresh fish. Sobo's works closely with its farmers and fisherman to ensure the freshest products year-round, so you can guarantee to see a new menu often with tons of tasty options to choose from.
The Evolution Craft Brewery has their own specialty craft brews and even offer a "Hoppy Hour" from 3-6 on weekdays that give you a special discount for coming in, they also have a seasonal menu that works great with their broad selection of craft beers. Ask to tour the brewery…so you can see where your favorite beer is being made.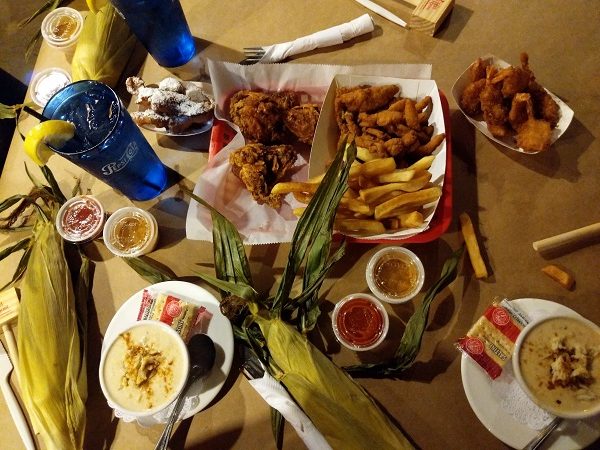 One of the more fun finds is the Bull Lips Dock bar which is located right against the pier and also has its pairing restaurant The Red Roost. Overlooking the water, this is the perfect spot to unwind after a long day of fishing or exploring the surrounding area.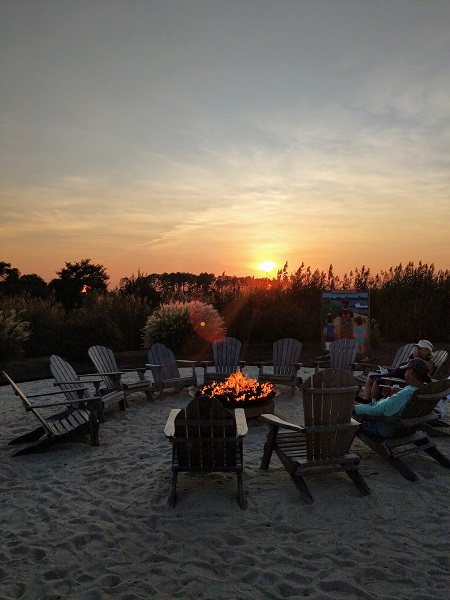 Bull Lips Dock offers a private shuttle owned by the restaurant that will transport you to and from each location free of charge, but the highlight is enjoying a crab dinner at The Red Roost. Expect to get VERY messy and laugh as you indulge in a mountain of sweet, delicious crab.
Market Street Inn is somewhere you have to stop by before you leave the city, it is one of the more sophisticated restaurants that are especially known for their crab cakes, don't forget to make a reservation if you plan on eating out here, because of its popularity it is quite busy especially for dinner! Oh and you HAVE to enjoy some of Miss Flo's Apple Pie Bread Pudding (we met Miss Flo and wanted to bring her home with us….she's a LOVE).
A Bit of History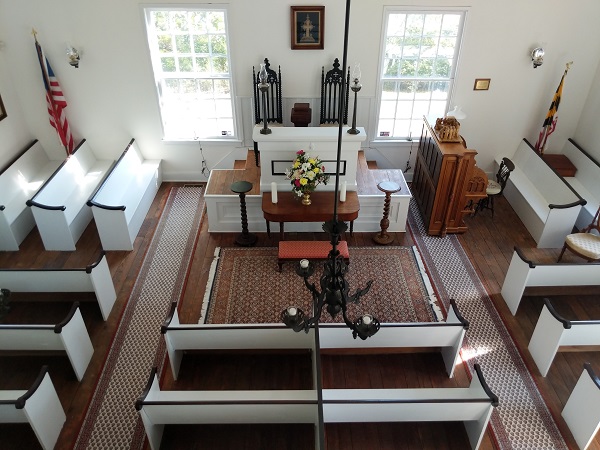 With lots of cool places to check out, I also love to learn a little history about the place I'm traveling to. Two of the most ancient attractions include the Mardela Springs which is considered one of the oldest springs on the East coast, in fact, Europeans used fur to trade with Natives for their minerals here. One of my favorite spots was the tiny Barren Creek Springs Church and cemetery with so much history.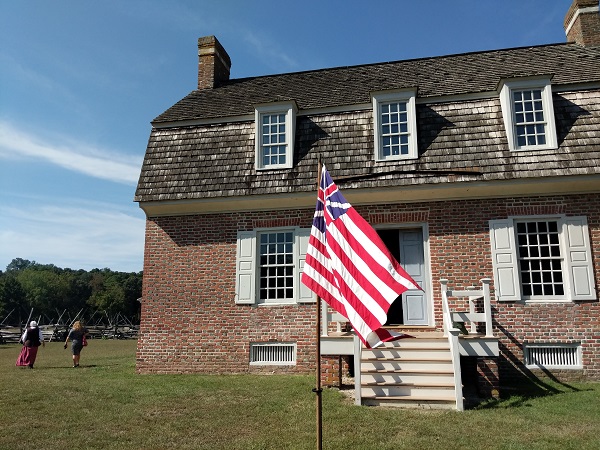 The second is Pemberton Hall which is the oldest brick roof houses to exist in America, it is a must-see and is also one of the only 18th century houses left that is actually still standing, you get a real feel of what it was like to live back in those times and see how farmers conducted their agriculture in order to provide for their communities.
Indoors and Outdoors
Pemberton Park surrounds Pemberton Hall and offers a really neat nature trail where you can walk around one of the oldest plantations on the East coast, so while you're walking you get a history lesson on what it was like to live back during this time while also getting to see it yourself.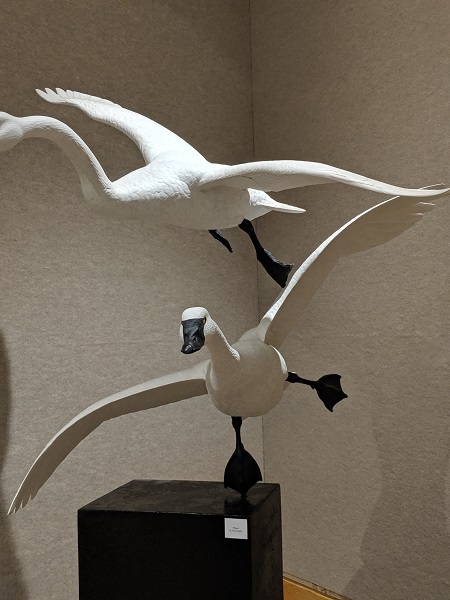 If you are really into learning about outdoor wildlife there is a museum nearby called the Ward Museum of Wildfowl Art, this museum is known for its antique wildlife sculptures and art. Artists who have their art exhibited in the museum have been awarded for portraying the true beauty of the outdoors and people all across the country come to see how realistic the work really is.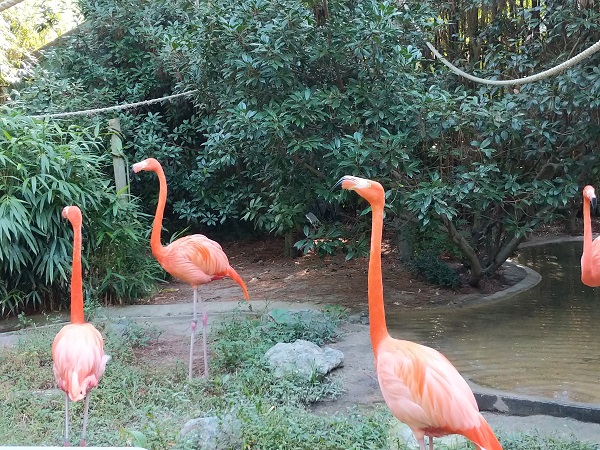 Last but certainly not least is the famous Salisbury Zoo! This zoo is beautifully designed to show you every walk of life from animals near and dear in the home of Maryland, from birds to monkeys and snakes, this zoo is perfect for a family outing. Kids love the zoo because of all of its interactive exhibits. The zoo has been open for business since 1954 and has dedicated itself to work closely with the animals to provide exceptional care and research to better understand and take quality care of each animal. This zoo also works closely with other organizations to help save animals that could otherwise be endangered or hurt in their native areas.
Wicomico County has so much to offer be sure to check out everything and come back soon!
Where to find the places in this post
Whitehaven Hotel

2685 Whitehaven Road – Whitehaven, MD 

Bordeleau Vineyards & Winery 3155 Noble Farm Road – Eden, Maryland
Courtyard Marriott 128 Troopers Way – Salisbury, MD
Boonies (Burgers, Beers and Bait) 21438 Nanticoke Rd – Tyaskin, MD
Tall Tales Brewing Company 6929 Heron Grove Ct – Parsonsburg, MD
Sobo's Wine and Beerstro  1015 Eastern Shore Dr – Salisbury, MD

Evolution Craft Brewery

  201 E Vine St –  Salisbury, MD
The Red Roost and Bull Lips Dock (via shuttle from the restaurant)   – 2670 Clara Rd, Quantico, MD
Market Street Inn  130 W Market St, – Salisbury, MD
Pemberton Hall &

Pemberton Park

  5561 Plantation Ln – Salisbury, MD
Ward Museum of Wildfowl Art  909 S Schumaker Dr – Salisbury, MD

Salisbury Zoo

755 S Park Dr – Salisbury, MD