In my life I've found a few places that I consider my personal HAPPY PLACES. Some are quite far and so it isn't practical for me to visit them often, but one of my favorite places to getaway is a mere one to two day drive away. The best part, I can meet my New England friends because it's a great halfway destination (a one day drive from CT). Where is this magical Champagne Living spot you ask?
THE OUTER BANKS – NORTH CAROLINA
You've seen me write and post about OBX many times over the years, and this season I went back to explore more of what it is that keeps a piece of my heart every time I leave. At 64 years old, I'm still young enough to push myself to do new things, but also want the serenity of sitting on the beach with the waves lapping at my feet. You'll see why I've chosen THIS destination as a personal favorite….
If like me, you are a baby boomer, a trip to The Outer Banks offers plenty of opportunities to both be active as well as completely chill. With its beautiful beaches, rich history, relaxing spas, and delicious seafood, it is no surprise that this is a top destination for travelers of all ages. As a boomer, I feel like it's perfect for Mr. S and I as a couple, for a girlfriend getaway (like I did a few weeks ago), or to rent a house on the beach and invite the entire family…from grandkids to friends.  Here are some ideas to help you plan that perfect OBX trip.
Where to Stay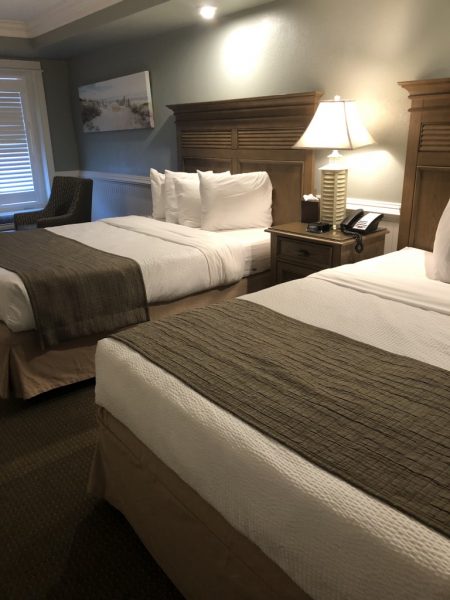 For a comfortable place to stay, check out Shutters on the Bank, a charming family-owned hotel featuring spacious rooms, indoor and outdoor seawater pools, and an oceanfront gazebo. If it's just the two of you, or you're going with a friend, Shutters on the Bank is in a great central location. You'll be beachfront and because you're located in a more central area of the banks, you can get from Duck to Hattaras without spending the day in your car. I did this with Rachel on this particular trip, but….
If I were taking the family or a friends vacation, I'd more likely rent one of the more traditional beach houses that dot the oceanfront.
Where to Dine
There are no lack of great dining experiences at the area's many restaurants.
Coming soon….a list of my favorite places to dine (as well as my menu picks) at some of my favorite OBX eateries….yes, there's even an ice cream spot.
Where to Spa
Renewing yourself at a spa is a must for any baby boomer vacation, so be sure to include a visit to one of the many spas on The Outer Banks. Sanderling Resort offers hot sea stone and Swedish massage (which is what I had) and other treatments using unique natural resources.  Koru Village Resort & Spa includes a fitness center, beach club, yoga studio, and villas, all with a feel-good vibe. I had the opportunity to spend a day with the developer/owner and I was impressed with the heart behind the village and made a note that I'd LOVE to stay there on my next visit. TIP: Spend time relaxing in the co-ed whisper zones or solarium and make sure to enjoy one of the amazing cupcakes at the Sanderling.
Embrace the history
Be sure to explore the area's rich history with visits to the Wright Brothers Memorial and a historic lighthouse. Built in 1870, the Hatteras Lighthouse, with 268 steps to the top, is the tallest brick lighthouse in the United States. The Bodie Island Lighthouse, built in 1848, is still operating today. Take a tour and climb the 214 steps to the top. Both lighthouses give you an incredible 360 degree view of the area. TIP: bring a bottle of water and stop along the way….and you can bypass the gym for the day, you'll get a great workout just making your way to the top.
Ditch the car and trot to the beach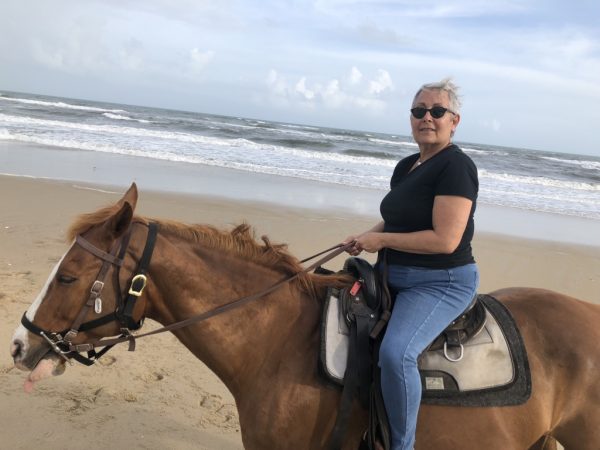 For a unique adventure, try out coastal horseback riding with Equine Adventures. Horseback riding on the beach with an experienced guide is an invigorating way to connect with the natural surroundings. The 45 minute trail walk to the beach offers sightings of deer, bunnies and more (at least it did the day we rode). Once you get to the beach, you'll feel the majesty of the ocean as you walk, trot or canter your way in the sand. The horses are well-trained and I felt very comfortable even at my age. I let Ricky (our trail guide) know that I hadn't ridden in a while (but, just like riding a bike…it came back to me). TIP: Make sure to wear closed toe shoes and spray LOTS of bug spray as your trail ride brings you through the woods where there is still water. These are English saddles, and the horses know the way to and from the beach with little guidance.
Come Sail Away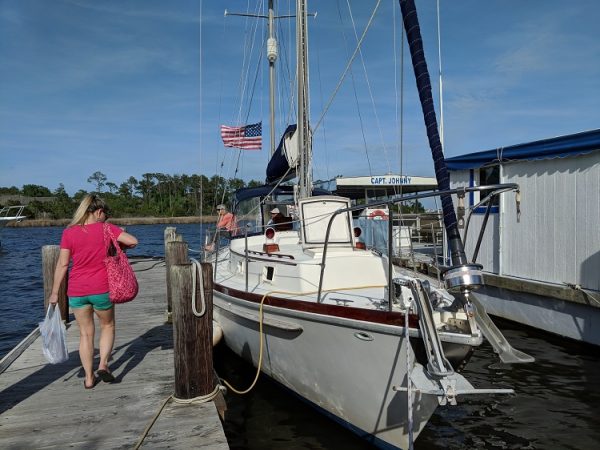 There's just no better way to explore the banks than by sailing its beautiful waters. Rachel and I took a leisurely sunset sail with captains Dan & Katherine of Sail Outer Banks on their beautiful 41 ft. ketch the Sea'Scape. Watching the sunset as Rachel took over the wheel for a while was an incredible introduction to an area where the water is the main attraction. Not only did we get to see the beauty of The Outer Banks as we glided through the calm waters, but we also walked away feeling like we had made friends for life of Dan & Katherine. TIP: Head to town before boarding to pick up a bottle of wine and some snacks as you sail.
Be a Rum Bum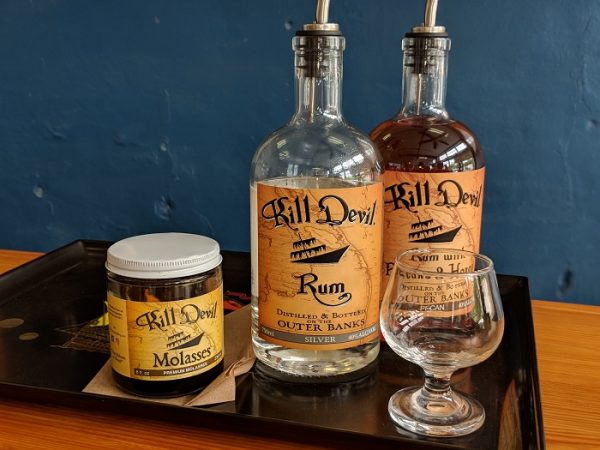 If a taste of rum is what you need to chill, take a tour at the Kill Devil Rum Distillery. Located in downtown Manteo and established in 2015, it is the only distillery in Manteo and offers an interesting array of rums, some seasonal and some they produce year round. Have a taste (or two) and enjoy some of the smoothest rum you've had in a while. TIP: This is a great place for buying a great souvenir to remember your trip. My only regret was not buying enough for gifts.
A View from Above
Leather helmet on? – CHECK
Earphones on?  – CHECK
Ready to go? – THUMBS UP
Rachel wants to do loop-de-loops – Um, maybe just ONE little drop…OHHH, that was fun.
Let Larry take you up-up-and-away as you take a step back in time and see the Outer Banks as you've never seen them before, flying high above the land, the sea and the sound in an open cockpit biplane. You'll be sitting UP FRONT as Larry from OBX Air Tour Adventures pilots this beauty for the best views on the banks. We got lucky while we were up and saw a school of dolphins, giant turtles and were able to get up close and personal with the Wright Brothers runway as well as a swoop by a shipwreck and Andy Griffiths home. It was my first time in a biplane, but it won't be my last. He's also got a WarPlane and offers helicopter tours of the area. TIP: Women, don't bother to do your hair before taking this trip, the wind has its own agenda and make sure you wear sunscreen.
Catch of the day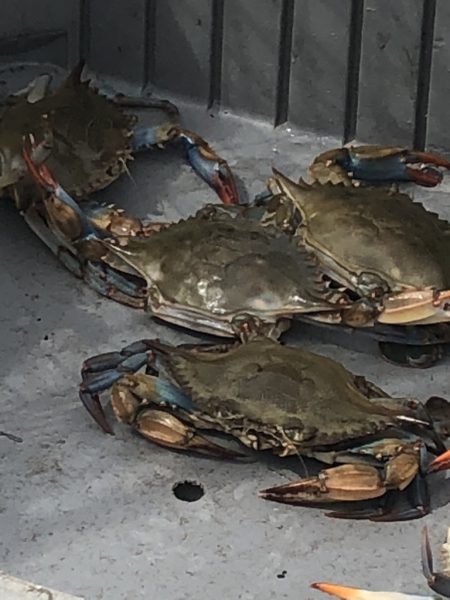 For an authentic Outer Banks experience, try a charter with OBX Crabbing and Shrimping Charter. Run by a full time fishing family, Captain Marc will take you out on his boat for a hands-on and educational experience, just like he does as a commercial crab and shrimper. I was amazed at the amount of crabs they take in per pot. It was not only fun, but also a great way to see the area from the water. TIP: If you're vacationing with children or grandchildren, this makes a fun hands-on experience as they pull up the pots to see just how many crabs they've caught.
Stretch your Wings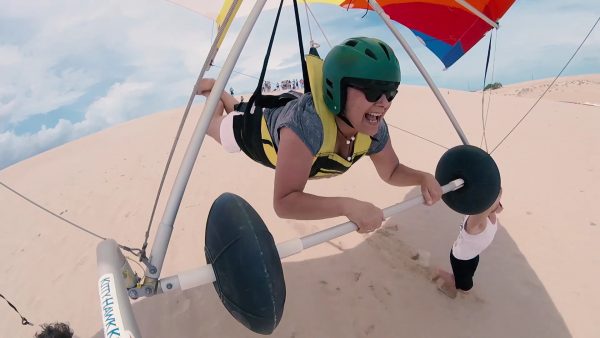 While hang gliding might not everyone's idea of a relaxing activity, a hang gliding lesson at Kitty Hawk Hang Gliding School, the largest hang gliding school in the world, will be an unforgettable experience. I have to admit that I was a tad afraid before I got there. I pictured jumping off a cliff and gliding to the ends of the world, where no one would ever find me again. I was seriously mistaken, as this hang gliding school has you gliding up and out from the largest sand dunes in North Carolina and landing softly in the sand. I LOVED IT and would do it again in a heartbeat….yes, even at 64. TIP: The most difficult part of hang gliding is hiking from the school up the dune. I found myself way behind the group taking multiple stops. It was worth it.
With so much to do, don't forget to take some leisurely strolls on the beach where you will see the most amazing sunsets. I'll have LOTS more to come about The Outer Banks soon. If you're looking for a slightly younger perspective on visiting the Outer Banks, check out this Empty Nester's Guide to the Outer Banks by my friend Rachel (that you see in all of those pictures with me) at Tools2Tiaras.com.

Find all of the places listed in this article online at: