Many items in this post were sent to us by the brand. We do not charge them for consideration or placement in our gift guides or round-up as we prefer to retain the right to not place an item that we don't truly love. We may however include affiliate links so that we get credit when you shop.
Let's Face It
Some of us just prefer to celebrate New Year's Eve at home and leave going out to the amateurs. While I used to LOVE getting all dressed up I was never a huge fan of spending the day with a bunch of strangers in a restaurant or a club. I'd rather spend the night with family and friends at their home or mine.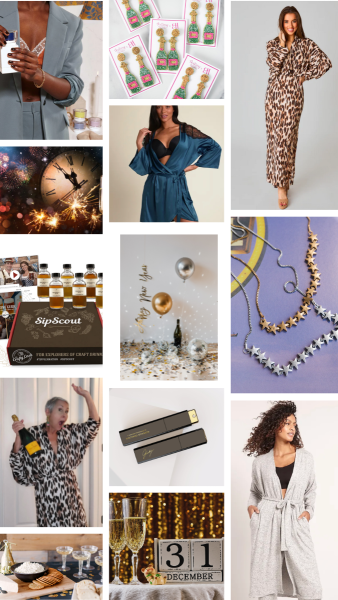 Making it Special
Whether it's just the two of you cuddled up or you've invited friends and neighbors to stop by, it is still very easy to make this New Year's Eve festive, fun, and FABULOUS. From a create-your-own cocktail bar (we love learning new things) to a night of personal pampering to start that self-care goal out IMMEDIATELY, here are a few items that you'll want to have on your shopping list before the 1st.
What to Serve
Whether you are staying in for that spa day alone or have a house full of friends coming to watch the ball drop, having these on hand will level up your party. Of course, you don't want to forget the bubbly!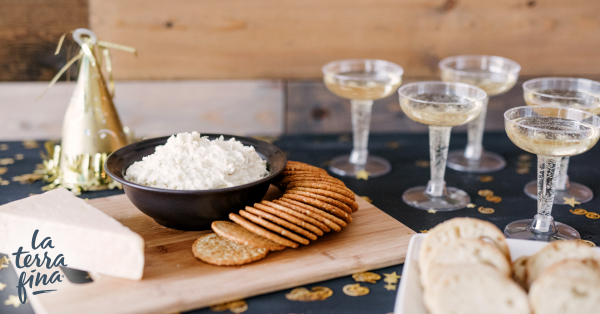 La Terra Fina's Dips & Spreads are the perfect companions to any New Year's Eve celebration home – all handcrafted with simple, wholesome ingredients. Choose between delicious flavors like Spinach Artichoke & Parmesan, Tzatziki with Feta or Mexicali that can be enjoyed with all your favorite crudités as you count down to midnight.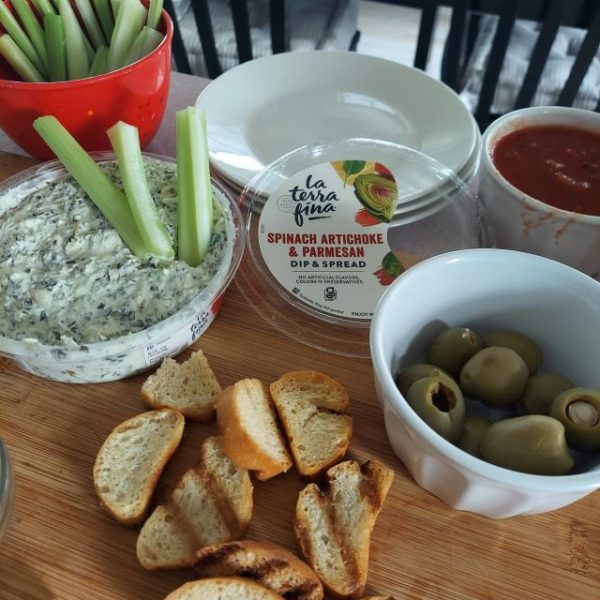 I regularly buy the La Terra Fina quiche at Sam's Club. It is frankly better than what I make and the price is unbeatable. The fact that Terra Fina products are available in over 12,000 major retail locations makes them easy to get for New Year's Eve or just a weekend watching football.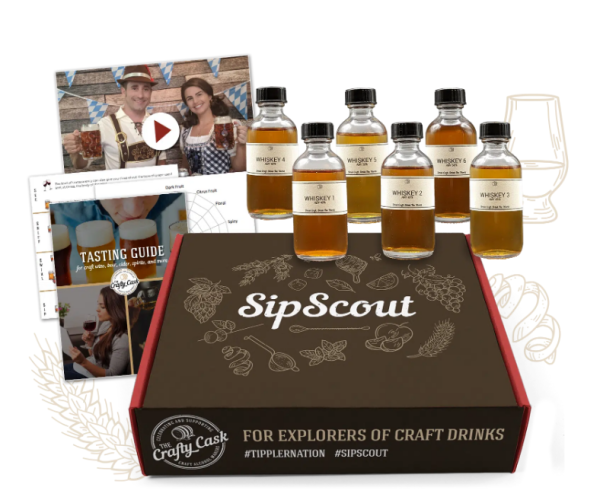 New Year's Eve just wouldn't be the same without toasting with a great drink. For those hosting an intimate get-together of just the two of you the Sip Scout from The Crafty Cask is a great way to explore. For those new to the brand, The Crafty Cask celebrates all things craft alcohol. From the people to the art and science of the craft itself, to unique approaches and industry innovations, to that delicious liquid in the bottle. One of the things that I really love about this brand is the stories behind each of the brands.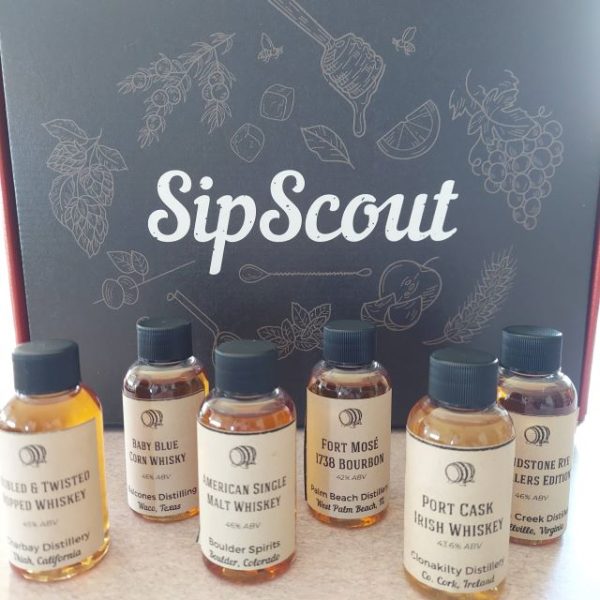 For those who you haven't bought a gift for yet, or for upcoming Valentine's Day gifts, SipScout's unique rotating subscription allows consumers to expand their palate, discover new craft drinks, and immerse further in styles they already know and love. They offer a one-month, three-month, or six-month subscription and you (or the person you've gifted) get to choose the month to start their gift. My favorite part is that offers a MONTHLY TASTING PARTY with a professional.  Each box includes a craft tasting or mixology kit, printed & digital resources related to the featured makers, styles, and products in the kit, special offers, and an invite to our monthly SipScout party as well as a SipScout Report where you will learn the background story about the featured makers, styles, and tipples included each month, including food pairing and service suggestions.
Each box is enough for two and some boxes even come with a special surprise gift.
Dressing Up
Whether you're hosting a fête at home or you want to get dressed to the nines just BECAUSE it's what we do on New Year's Eve, I've put together a look that's both upscale and FUN at the same time.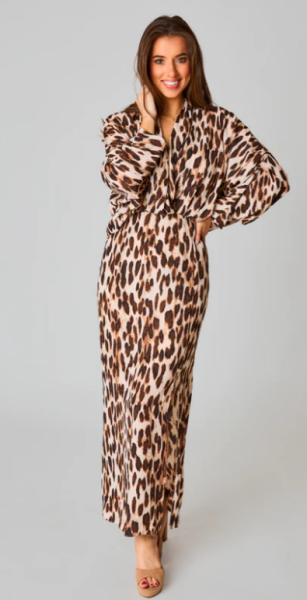 You'll dress to impress in this gorgeous Jude dress. Lightweight breezy material in the fun (and always timely) Kiara animal print, Jude is lined to the knee with a slit on the left leg and tighter on the bottom and features a looser top for a flattering fit! See I told you, you can make a BOLD statement and be comfortable at the same time.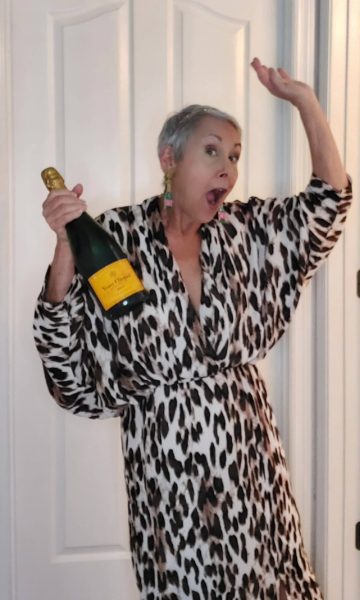 Whether you're wearing heels and he's in a tuxedo, or you're dancing in the living room to the old big band sounds that scream retro New Year's eve in bare feet. This dress will make New Year's Eve 2023 a night to remember.
It's all about celebrating with the bubbly and these Bubbly

champagne earrings from The Tiny Tassel add

the

perfect festive touch to any New Year's Eve celebration at home. This earring design is a collaboration between artist Evelyn Henson and

The

 

Tiny

 

Tassel

.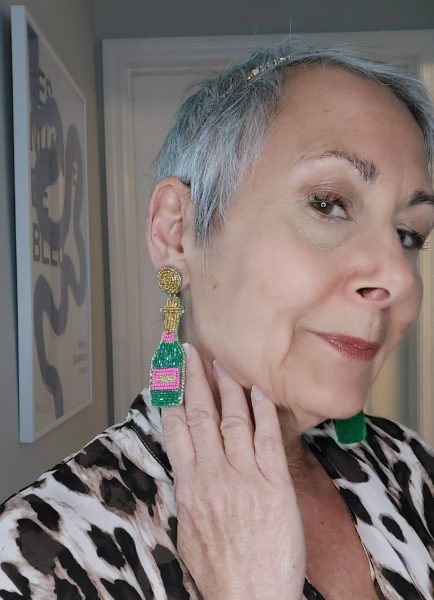 Each earring is hand beaded and accented with green, pink, and gold and is lightweight & hypoallergenic.
The
 earrings can be shipped anywhere from 
The
Tiny
Tassel
's flagship location in Charleston, SC. What a FUN way to pop the cork and upscale your celebration.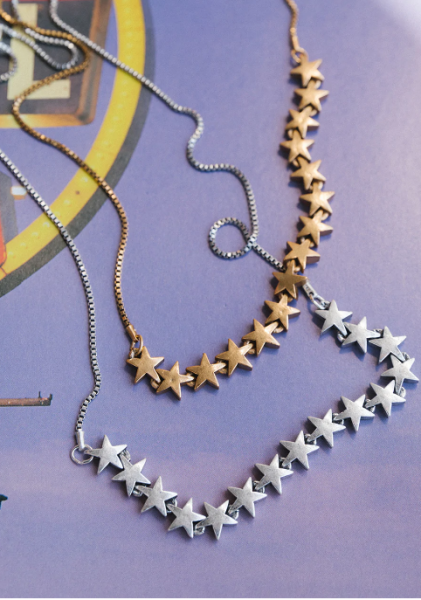 It's not just the sky that will light up with stars on New Year's Eve when you're wearing this fun Written in the Stars Necklace. This versatile piece of jewelry can be worn at multiple lengths up to 30″ simply by pushing a button on the chain and DOUBLES as a headband depending upon your mood.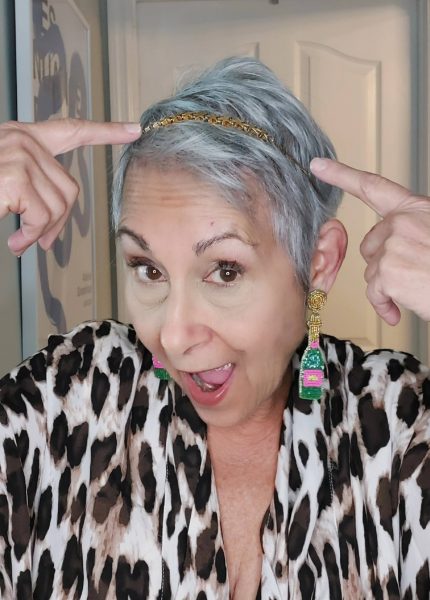 Written in the Stars is available in a finish of either vintage gold or vintage silver and would look great when you wear multiples of this piece layered over your hair or around your neck.
Old Hollywood nostalgia comes alive in this sophisticated, modernized fragrance newly created to capture the spirit of Judy Garland. It showcases Dark Orchid, Coriander, a medley of sultry Gourmand and spice notes, and a hint of the official Judy Garland Rose. An all-inclusive and gender-neutral fine fragrance that, just like Judy, embraces everyone.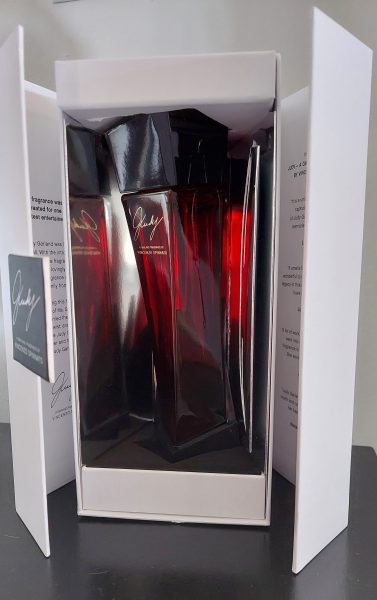 The fragrance was developed to honor the legendary Hollywood entertainer and actress Judy Garland by her surviving children, Lorna Luft, Joey Luft, and Liza Minnelli, and is created by Certified Nose and Cosmetic Chemist Vincenzo Spinnato.
Taking the night for Self-Care
There is nothing like starting the New Year on the right foot by taking time for yourself. If you've been following me, you know that my Word of the Year is BALANCE, and one of the ways that I am doing that is by taking the time for more self-care in my life. So, why not turn New Year's Eve by making that fresh start IMMEDIATELY?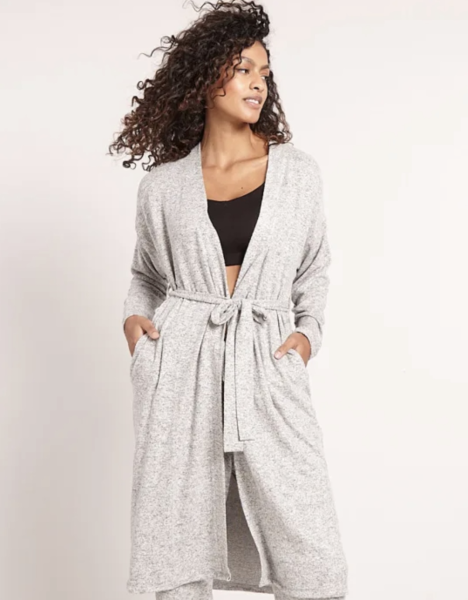 Recharge your batteries and wind down in ultimate comfort with this loungewear cardigan – did I mention it's been designed with big boobs in mind too?! It has the look and soft feel of viscose that will have you never wanting to take it off.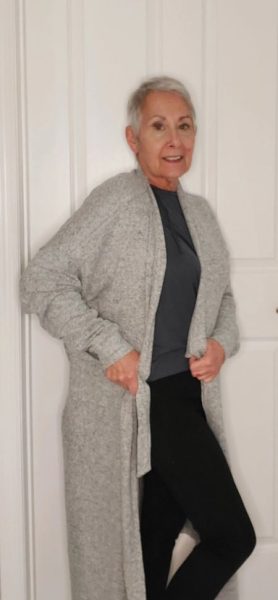 Pair this cardigan with a great pair of loungewear joggers so you can snooze in style and complete your loungewear look or toss it on over your favorite t-shirt and jeans (sans belt) for a casual daytime look.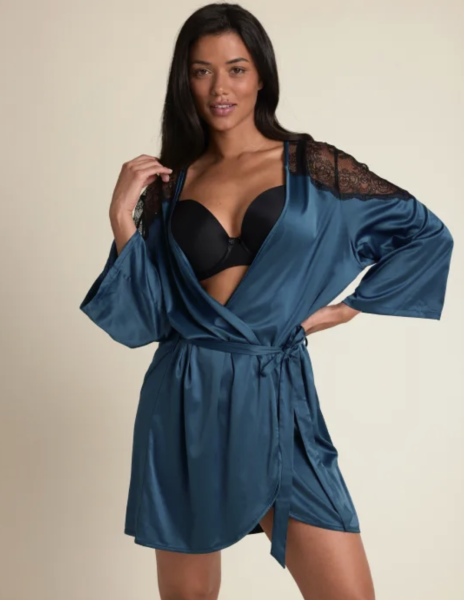 This beautiful (and sexy) Gossard "Confession" robe features gorgeous satin rimmed with eyelash lace making it perfect to wear for an NYE at home with the one that you love, pair it with black leggings or wear it over your sexiest lingerie! This deep teal blue satin robe with lovely eyelash lace sleeve details will make you feel oh-so-feminine.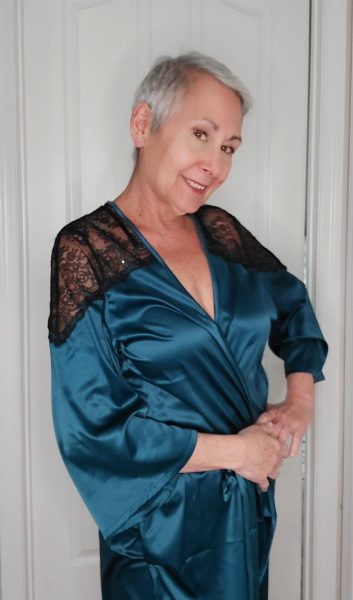 Once I'm done with all of my skin, hair, and other self-care, I'll be wearing this with NOTHING underneath since Mr. S will be home with me as well.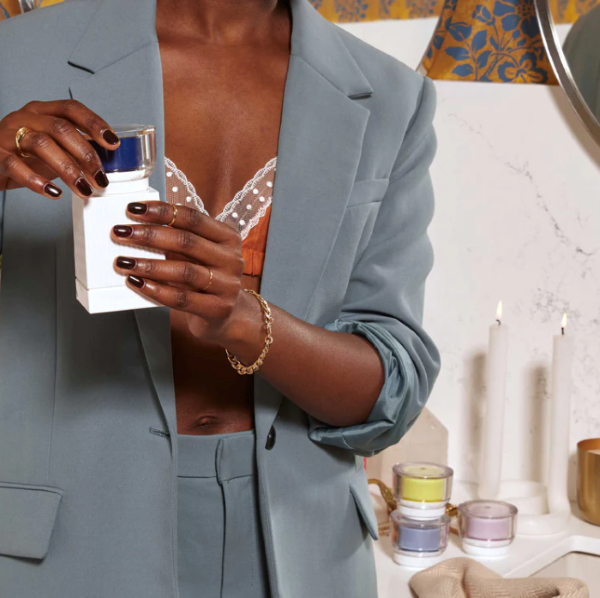 When the ball drops it's time to turn the page on "anti-aging" skincare products that start degrading the moment you open them. These pure Antioxidant Powders by Exponent Beauty are activated with our Quadruple Hyaluronic Acid Hydrator to transform into Superior Serums with clinical results.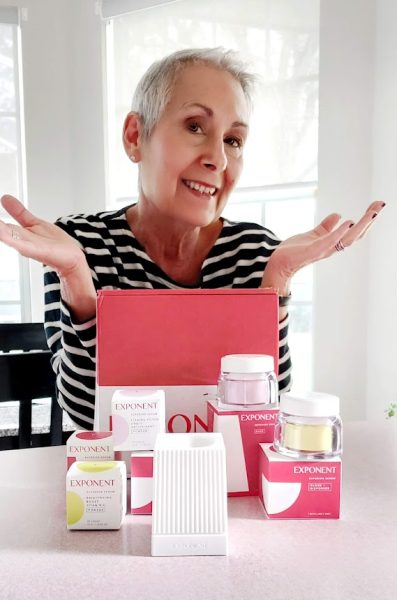 The most amazing part of Exponent is that 100% of subjects testing it showed a clinically significant decrease in global facial fine lines and wrinkles after 4 weeks as well as 100% improvement in firmness and elasticity. Here's to skincare that REALLY WORKS!