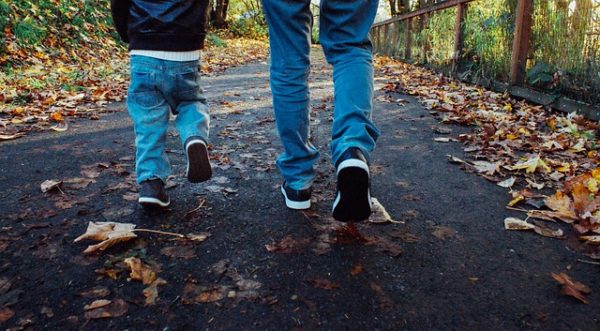 Note: For Mother's Day, my beautiful and talented sister Zippy published a piece titled "7 Life Changing Lessons my Mom Taught Me".  In keeping with our now decades-long (and always light-hearted) sibling rivalry, and not to be outdone, I present, for Father's Day, "8 Life Changing Lessons my Dad Taught Me".

Rob
In honor of my dad, Richie Lubin – September 1, 1927 – September 12, 2010
Keep your head down, keep your eye on the ball, and follow through: 
I first heard this from my Dad when I was 12 years old, when he took me out for my first round of golf.  I thought he was talking about just my golf game.  Turns out it was about so much more.  Dad was a successful businessman, and he knew the importance of staying laser-focused on your goals.  Whether the goal is to be a scratch golfer, or to get that coveted promotion, I learned from Dad to never ever give up.  I followed that advice in my 35-year Finance career, rising through the ranks not because I was smarter than everyone else, but because Dad taught that if you are focused and persistent your goals will become your achievements.
Do it just for the fun of it:
In his later years Dad played golf almost every day, and he was passionate about it.  He wasn't fixated on his handicap though.  What he was fixated on was carving out time in his life for fun with friends.  In our driven society, where golf is often just a way to make business contacts, and where we feel we need to justify our vacations by saying they make us more productive at work, Dad taught me never to make excuses for enjoying myself.  No matter how hard I worked in my career, my off-time was my own, filled with beach days, nights out with my partner and our friends, and travel.  It's important to make time for fun, not because it achieves some larger purpose, but just because it's fun.
Never let 'em see you sweat:
It's not just a tactic, it's a lifestyle.  Dad was a master negotiator.  When he took me on his buying trips to New York, I would sometimes watch in awe as he went back and forth with a seller, sometimes for hours, over what seemed like a minor price difference.  If the other guy or gal walked away from his final offer well, he kept his composure, put a smile on his face, and said he looked forward to doing business with them next time.  He cared deeply of course, about everything, but he knew that it rarely does any good to get upset or angry.  Things don't always go your way, but life is a lot easier if you keep smiling, and remember there's always next time.
Never let the facts get in the way of a good story:
Humor was a big part of our lives growing up.  Dad always had a story to tell, and if he started off with "This is a true story…", we always knew there would be a little hyperbole, a lot of "alternative facts", and a big laugh at the end.   I learned from Dad that our stories are the narratives of our lives.  Sharing them, and having a laugh, brings us closer and makes even the toughest days easier.
Mind your manners:
Dad instilled us with mid-century manners.  From a very early age I knew that when Dad introduced me to someone I had to get up out of my chair, look them in the eye and shake their hand politely.  Ball caps had to come off indoors.  And to utter a four-letter word in his presence spelled instant doom.  But I learned from Dad that manners aren't about pretense, they're simply a way to show that we respect and care about the people around us.
Sometimes you have to look before you leap – but sometimes you have to just leap:
If Mom was the epitome of the frugal and cautious New Englander, Dad was its polar opposite: he played poker, he bet on horses (mostly his own), he jumped in feet first.  I inherited my Mom's careful approach to life, while my effervescent sister Zippy got all of Dad's freewheeling style.  Throwing caution to the wind isn't in my nature, but luckily I have Zippy to remind me from time to time that sometimes you have to take a chance and go for it, even when the odds are against you.
Be generous and take care of the people you love:
My Dad would do just about anything for someone he cared about.  To his family and friends he did not seem to know the meaning of the word 'no'.  He was generous with his time and with his money.  I grew up comfortable in the notion that if anything went wrong, I could always call Dad and he'd be there for me.  And I learned that being there for the people you love is the greatest gift you can give them, and that the happiest people are those that spend time taking care of others.
Integrity Matters:
Dad taught me early on that a person's most important asset is their good name.  Sometimes, under pressure, it can be tempting to do the expedient thing, not the right thing.  But I knew from Dad that the only way a person can hold his or her head up with pride is to always act with integrity, and let the chips fall where they may.  He always followed this philosophy, and in the end he was able to look back on his long life with pride.  I hope to be able to do the same some-day.
Happy Father's Day, to my own Dad who I know is watching over us, and to all Dads who care about their families and always strive to do the right thing.