One of my favorite things to do when I hit a new city is check out the art galleries and museums (perhaps that's why I love Paris so much). But museums aren't the ONLY way to immerse yourself in the masterpieces. Here are a few ways to enjoy an artful vacation.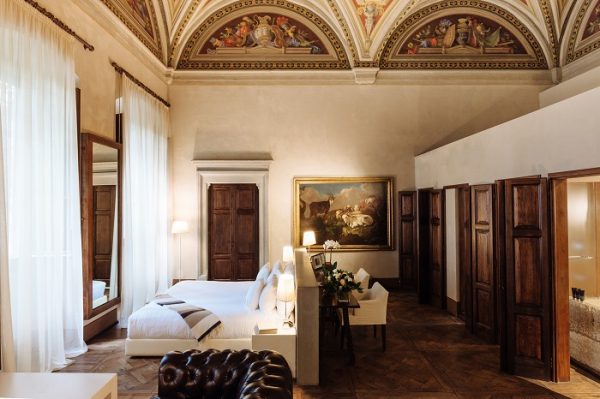 1. Renaissance Retreat with 15th Century Frescos, Artisan Paper Experience and Perfume Workshop / Il Salviatino, Italy
Originally built as a humble farmhouse then refurbished by some of Florence's elite families over the years, Il Salviatino is set within the sloping hills of Fiesole, yet only a stone's throw away from the Florence city centre. Surrounded by a lush private park, the villa was built in the 15th century and over the years has been a cultural gathering place for artists, performers, and intellectuals. Now a 44-room luxury hotel boasting some of the most stunning views of the Tuscan capital, Il Salviatino will swoon the most discerning of art admirers. Among the highlights is the property's Affresco Suite, which is centered around a breathtaking 1886 fresco by Bruschi. This dreamy space seamlessly blends authentic Italian charm with 21st century technology, also featuring two oil canvases by Gabriel van der Leeuw known as "Il Fiammingo" and equipped with an ancient stone bathtub.
Owing its glamour to the finest Florentine craftsmanship with artisans' work incorporated into all aspects of the villa, Il Salviatino pays tribute to the local maestri and their art. Guests can enjoy a private workshop with an artisan paper conservator who will not only unveil the secrets of his trade, but also, under his precise instruction, guide guests in creating their own leather notebook, folder and marbled Florentine paper. Additionally, guests can explore the world of fragrance creation at Aquaflor, a perfume house in the Santa Croce district. A workshop on artistic perfumery is led by an in-house olfactory specialist, who guides each person in creating their personal ambient scent or eau de parfum, taking home a 100ml bottle of their signature perfume as a keepsake.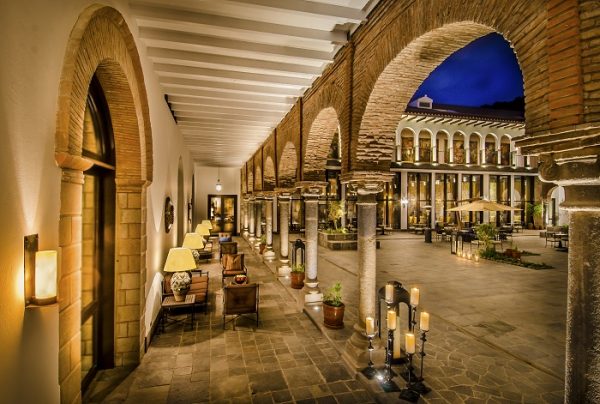 2. Andean Arts & Culture Project Onsite / JW Marriott El Convento Cusco, Peru
An ancient city filled with rich culture and history, Cusco, Peru, is a mecca for indigenous artwork with techniques that date back to pre-Inca times. Textile weaving is one of the area's oldest traditions and a mainstay that allows the Andean community to thrive. Located just a few streets from Cusco's Plaza de Armas, JW Marriott El Convento Cusco features an "Arts and Culture Support Project" — a non-profit initiative that turns the hotel's 16th century courtyard into a dedicated space for Peruvian artists, mainly Cusqueños, to exhibit their art free of charge. The project aims to expand the art scene and community in Cusco and create a platform for cultural and artistic expression on a local and national level. The pieces displayed at the hotel are open not only to guests but to the general public from 10 a.m. to 5 p.m. daily. The current display is a collective exhibition featuring three visual artists from Cusco and Puno, Peru.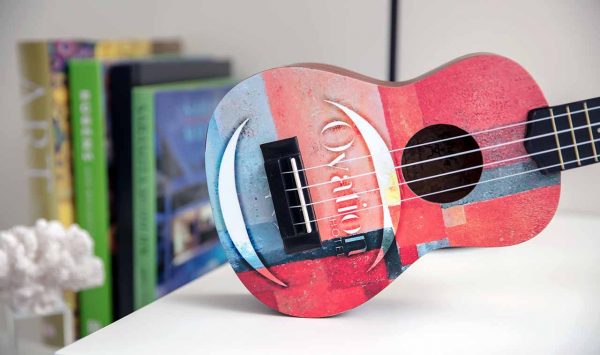 3. Hotel Designed to Immerse in City's Artistic Experience | Art Ovation Hotel, Florida
Sarasota offers travelers a memorable experience that is equal parts urban sophistication and natural beauty. Inspired by Sarasota's vibrant arts and culture scene, Art Ovation Hotel is a new hotel on Florida's Gulf Coast which debuted the first week of April 2018. Perfect for travelers who enjoy both beach vacations and the arts in all its forms, the 162-room boutique hotel is located in the heart of downtown Sarasota, surrounded by an enviable number of art galleries, theaters, and restaurants, all while a short trolly ride away from beautiful beaches. The first property designed to fully immerse guests in the creative and artistic experience that the city has to offer, Art Ovation will incorporate one-of-a-kind programs and amenities including a robust Artists in Residence program featuring a Studio space where both established and emerging artists can practice their craft while simultaneously engaging with guests; in-room instruments for private jam sessions; and a Project Notebook program allowing guests to leave their personal mark to share with future guests. Guests can choose to doodle, write a poem, story, or draw on the pages of designated leather-bound sketchbooks found in-room. A full-service restaurant, lobby bar, and a much-anticipated rooftop pool bar where locals and travelers can mingle over drinks and skyline view also come with the territory and provide an ideal starting point to the city's shows and exhibits.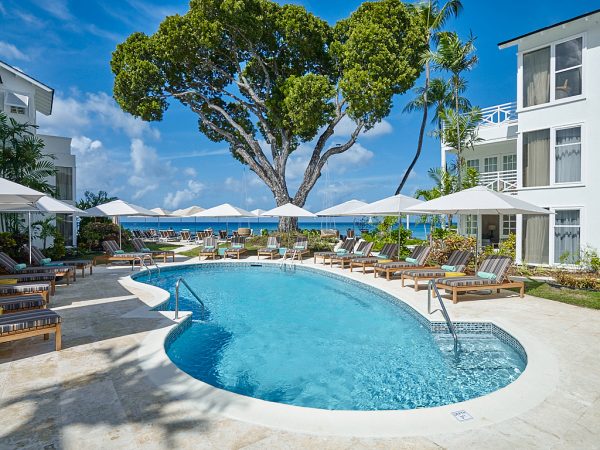 4. Art Crawl + Food Styling Classes | Treasure Beach, Barbados
Situated on Barbados' coveted platinum west coast, the newly redesigned Treasure Beach hotel is an intimate, adults-only resort with an art experience guaranteed to spark creativity. When guests aren't feasting on locally-inspired cuisine at Tapestry Restaurant, tasting fine wines with the on-property sommelier and enjoying the hotel's pristine beach and complimentary water sports, they can head out for the Treasure Beach Art Crawl. In addition to the curated gallery tour which showcases masterpieces created by local Bajan artists, hotel guests can embrace their inner creator with the property's complimentary easels, paints and meditation mandala classes or channel their inner gourmet chef with Art of Food Styling courses to learn how to plate to perfection.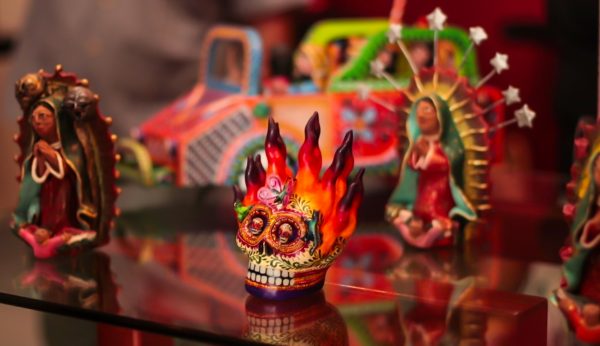 5. Art Gallery Tour & Paint with Wine Night | Casa Velas, Mexico
Guests staying at the adults-only hotel Casa Velas in Puerto Vallarta get to experience a wide range of Mexican art on a two-hour tour that explores local galleries. Showcasing Mexican culture through the art of the ages, guests will experience both traditional indigenous displays and eclectic contemporary showcases. The tour also includes a "hot" bar nightcap at the Café des Artistes where guests can enjoy a cocktail or coffee amongst the murals by the hotel's resident artist Federico Leon de la Vega. The experience is part of the resort's rotating schedule of complimentary dining offerings and entertainment activities for couples with also includes a paint night that incorporates a wine tasting.
6. Prehispanic Straw Mosaic Workshops | Velas Vallarta, Mexico
Velas Vallarta now offers new Straw Mosaic workshops for guests to learn the prehispanic technique of Arte en Popotillo. Originally used to adorn temples, houses, and schools, among others, the art is made by spreading a thin layer of beeswax from Campeche, a Mexican state on the Yucatán Peninsula, on a surface and then placing dyed popotillo in a pattern using one's fingernail to get a desired length. Straws from different grasses are now used to make the popotillo, such as wheat, oats, barley and rye, while originally the grass came from the wild Cambray plant which grows in the Mexican state of Hidalgo, north of Mexico City. Included in the nightly rate, the Straw Mosaic classes for kids and adults are offered every Thursday at 5 pm.

Book these great art experiences or learn more at: