Between all of the planning and accommodating, it's no wonder so many people decide to elope. If you are considering an elopement, we'll share six reasons why it might be right for you.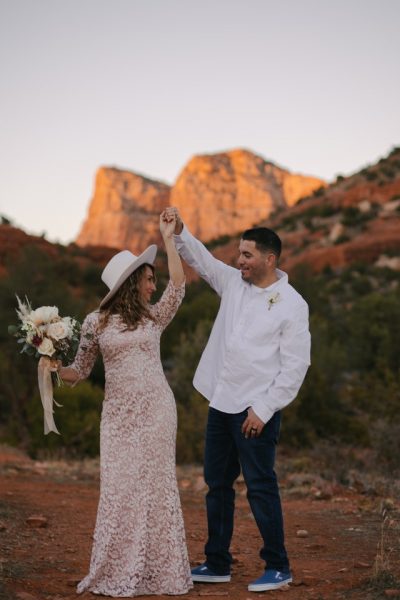 Hire an Elopement Planner
Just because you aren't having a traditional wedding doesn't mean you shouldn't hire someone to help with the day. Elopement planners are important – especially if you plan to elope in a different country.
There might be several logistics, such as your marriage license or language translations, that would be more difficult to navigate without a professional planner.
Reason #1: You Want To Focus On Just the Two Of You
Your guest list might start small, but then you start inviting your second cousins or your friends from college you haven't spoken to in a while. Next thing you know, your guest list is well over 200 people.
Instead of spending the entire wedding day shaking hands with hundreds of people, eloping allows your wedding day to be all about the two of you. Skip the chaos and focus on the intimacy with a romantic elopement.
Reason #2: You Want To Save Money
After the wedding is over, what are your big plans? Maybe you are saving for a house and want to eventually have children. Even things like starting your own business are dreams that shouldn't be put on hold because you had an elaborate wedding.
Eloping is much cheaper than a wedding because you won't have to rent a venue, hire a caterer, book a live band, or pay any other vendors you'd typically need for a big wedding. Stash away the extra cash, have a really nice honeymoon, and save for life's bigger plans.
Reason #3: You Don't Want the Added Stress of Planning a Big Wedding
Weddings can take years to plan, depending on how elaborate they are. One of the biggest reasons people consider eloping is because they don't want the added stress of the wedding planning process. No seating charts. No hour-by-hour detailed planning. Just you, your partner, and your nuptials. 
Reason #4: A Big Wedding Isn't What You Want
It's your big day so it should be exactly what you want it to be. Your entire life, you may have been conditioned to believe that you're supposed to have a big wedding. The good news is that if it's not your style, you don't have to do it. 
Reason #5: You Want Memorable Photos for a Lifetime
Many people think that by eloping, you're skipping out creating the perfect day. They couldn't be more wrong.
You'll still have a venue, whether it's outdoors in the mountains or at a nearby waterfall. You'll still have a gorgeous dress that makes you feel beautiful. You'll still be standing in front of your soon-to-be spouse sharing your vows.
Hiring a photographer will most likely be your biggest expense and can capture the incredibly unique experience. You'll want to look back at photos of your wedding and be in awe of the day you married the love of your life. 
Reason #6: You'd Rather Have a Post-Elopement Party
A post-elopement party is exactly what it sounds like. Think of it like having a reception – only it doesn't happen immediately after sharing your vows. These can be significantly less stressful and costly and can be intimate with just your closest family and friends in a casual environment to celebrate.
Conclusion
There are dozens of reasons why you'd want to elope. The most important thing to consider is that you're doing what's right for you and your partner. Stop thinking about what people think you should do, and focus on what you both want.