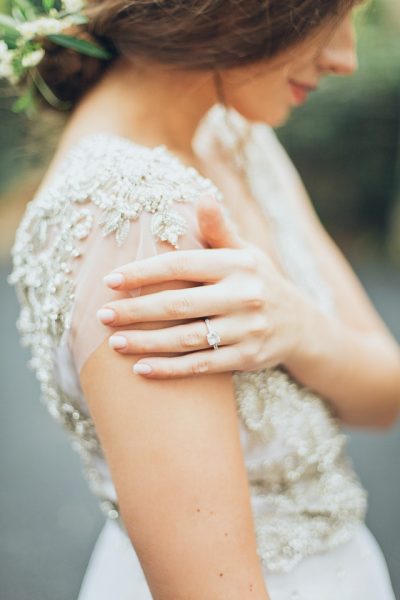 Shopping for an engagement ring doesn't come without its headaches. Even though it's a thrilling experience, finding the ring your partner will wear forever symbolizes your commitment; in the real world, several factors will influence your decision. Aside from the perfect spot to propose, one of the biggest things to consider when it comes to your proposal is how much you can afford on the ring. Thankfully, modern problems have modern solutions, and these days there is no shortage of affordable engagement ring options. If you feel you keep coming up short in your search for a ring that checks all your partner's boxes and works with your budget, keep reading for a nudge in the right direction. 
Keep It In The Family 
Sometimes, the answer to your budget woes is right underneath your nose. For many people, the ring they use for proposing is a family heirloom that belonged to generations past. While it may seem tacky and something you'd never do to flat out ask a relative for their ring, you can open a dialogue about it. Additionally, you don't need "the" ring, just a family ring. Perhaps your grandmother has an emerald ring you've always loved that she would be willing to pass on to you and your fiance. Antique rings are in trend when it comes to engagement anyway, so ditch the stigma of giving your sweetheart a "used" ring and think of heirloom options.
Shop Savvy 
In the same way you likely shop sales and deals on other items you use daily, you should shop the same way regarding your engagement ring. Whether you're shopping online for discount engagement rings or in the sales department in the store, it's never a bad idea to look for sales. Generally, larger jewelers online and in person can offer you deeper discounts than a small, local jewelry shop. While shopping locally has its merits, it's wise to save whenever and wherever you can when it comes to a huge investment like a diamond ring. 
Lab-Grown Diamonds 
Even though there are as many engagement ring stone trends as there are setting styles, traditional white diamonds are still the most popular when it comes to center stones. Aside from the ethical dilemma that earth-mined diamonds pose, their price tag is significantly higher than their lab-grown counterparts. Lab-grown diamonds are virtually indistinguishable from Earth-mined and are much friendlier on your wallet. Countless reputable retailers specialize in lab-grown diamonds to choose from, so ask friends and family who they went with and make sure you read reviews. These days, nearly thirty percent of couples opt for lab-grown stones, and that number is expected to continue to rise. 
Estate Jewelry 
As mentioned earlier, antique jewelry is on trend, but family heirlooms aren't an option for many of us. While heading into a pawn shop may not feel romantic for everyone, there is something to be said about finding your dream ring at an estate sale or antique shop. Taking advantage of the discounts that estate jewelry can offer is worth it, especially if you and your partner are looking to save for other big-ticket purchases like a honeymoon, a downpayment on a car, or even a home. So far, estate sales and sellers are still a pretty untapped market for finding an engagement ring. Not to mention, your ring will be rich in romantic history and with a much more unique appearance than rings purchased from larger retailers. 
Diamond Alternatives 
While lab-grown diamonds can save you significant money, shopping for diamond alternatives can save you even more. Options like Moisannite are gaining popularity as they look just like a real diamond and are equally as hard on the MOHs scale. Some women also prefer the added sparkle and brilliance of Moissanite over a diamond. Though Moissanite is a naturally occurring mineral, it is incredibly rare, so most Moissanite in jewelry is lab grown, making it more affordable. If you want the fire and brilliance of a diamond at a much deeper discount, Moissanite is worth looking into. 
Shopping for your engagement ring should be a romantic and memorable experience. If you feel constricted by a budget, don't let it get you down, most people are working with tight budgets these days. You can live a high life with the ring of your dreams if you use smart shopping habits. Congratulations, and enjoy the hunt for your perfect ring!