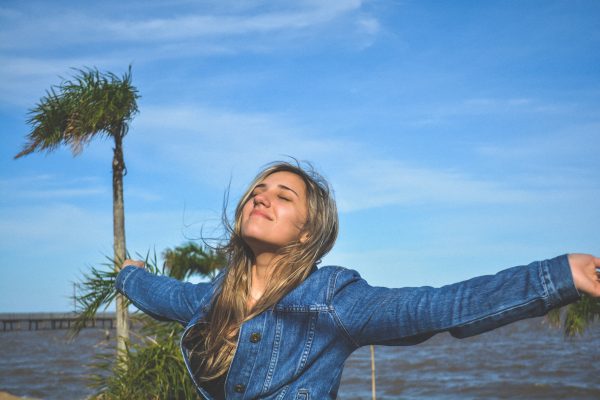 Movies have the magical ability to take us anywhere. They can make us laugh, cry, or hide behind a cushion during the scary parts. The world is a stressful place at the moment so you might be looking for movies to uplift you and make you feel good. 
No matter what genre of movie you prefer, we have some of the best feel-good movies to warm your heart. 
Elf
If you're looking for feel-good, then Christmas movies are a good bet. A modern classic is Elf, starring Will Ferrell. He plays Buddy, a normal human who has been raised in the North Pole and thinks he's an elf. When he discovers the truth, the heads to New York to find his father. His infectious happiness and love of all things Christmas change everyone around him for the better. 
The Martian
OK, so being seriously injured and stranded by your crew on Mars doesn't sound like an emotionally uplifting movie. But you'd be wrong. Matt Damon's portrayal of Mark Watney, as he struggles to survive all alone, is actually very funny and won a Golden Globe in that category. The soundtrack alone is enough to lift your spirits. Be warned though, it might put you off potatoes for life. 
Dodgeball
Do you remember the rules of Dodgeball? Dodge, duck, dip, dive, and dodge. Vince Vaughan and Ben Stiller star in this comedy which sees a group of underachieving misfits takes part in a national dodgeball tournament in order to try and save their gym from being demolished by Globogym, owned by Stiller's White Goodman. It's a part gross-out comedy, part feel-good sports movie but it's all about loving who you are. 
Groundhog Day
Some of the best feel-good movies have a bit of an edge to them, which can make them all the better for it. Comedy legend Bill Murray is a self-centered, cynical weatherman who heads to the small town of Punxsutawney to cover the annual Groundhog Day festival. He's then forced to live the same day over and over again until he finally learns what he needs to be happy. 
Toy Story 2
Don't let the fact that this is an animated movie make you think that this is just for kids. In fact, all of the Toy Story movies can make you feel great as well as bring you to tears. But the most uplifting is Toy Story 2. When Woody (voiced by Tom Hanks) is kidnapped to be part of a toy collection, his toy friends launch a rescue. 
When Harry Met Sally
Rom-coms get a bad name because there are so many terrible ones out there. But the very best rom-com ranks up there with the movie greats. One of the best is When Harry Met Sally starring Meg Ryan and Billy Crystal as two friends who eventually fall in love. It's not as sickly as it sounds, the script is witty and wrote into movie law that infamous fake orgasm in a restaurant. We'll have what she's having. 
Ferris Bueller's Day Off
If you ever pulled a sickie from school, you probably just lay about on the sofa all day, trying to convince your parents you were really ill. Not Ferris Bueller. His day off is the stuff of a movie legend. 
Billy Elliot
A young kid growing up in a Northern mining town dreams of becoming a dancer. As you can imagine, it doesn't go down well with his traditional father. Billy Elliot is about fighting for your dreams in the face of adversity so you can do what you love. 
Paddington 2
The first Paddington film was OK, but the second took everyone by surprise and has become an instant classic. With a deliciously over-the-top performance by Hugh Grant as the baddie, it's a heartwarming movie from beginning to end. 
Bringing Up Baby
the vintage Hollywood screwball comedy is a big miss from today's cinema. Starring Hollywood legends Katharine Hepburn and Carry Grant, a ditzy heiress and boring paleontologist struggle to cope with their growing feelings for each other while also trying to deal with 'Baby an escaped leopard. 
Finding the perfect movie to cheer you up has never been easier. After all, they're now all available online instantly to watch. The biggest problem you have is deciding between these excellent choices. It doesn't matter what type of movie you're usually into, there's a film to cheer you up. So snuggle up on the sofa, turn your phone off and prepare to be uplifted.