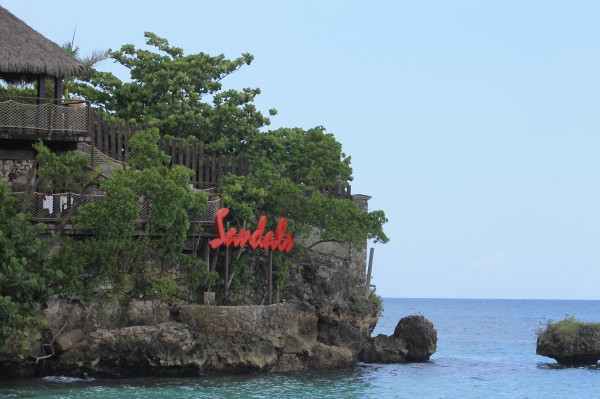 Mr. S can be a real stick in the mud sometimes. When I invited him to join me at the grand opening of the newly renovated Sandals Ochi Beach Club, he told me to bring a friend.
BUT HONEY, this is a COUPLES resort.
So, I picked up the phone and invited my OTHER, other half. My bestie Rachel from Tools2Tiaras and invited her to spend a few days with me exploring a honeymooner's paradise. Awkward? No, it was just as much fun (although without the romance) as if Mr. S had come.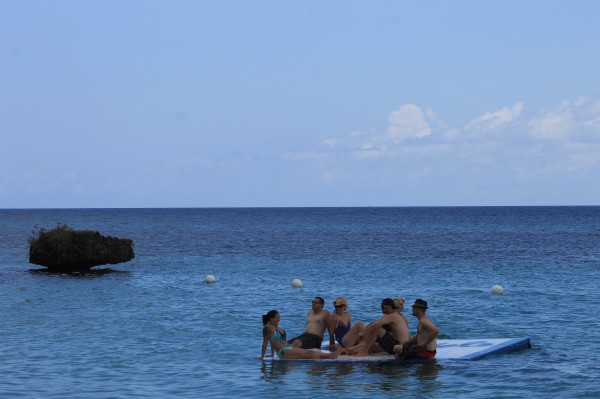 Here's why:
1. Do WHAT you want WHEN you want
The beauty of an all-inclusive resort like Sandals Ochi Beach means that you don't need to spend hours planning out where to go, what to do and where to eat ahead of time. You can TOTALLY fly by the seat of your pants and do whatever you feel like it. Just wake up and GO, DO, ENJOY.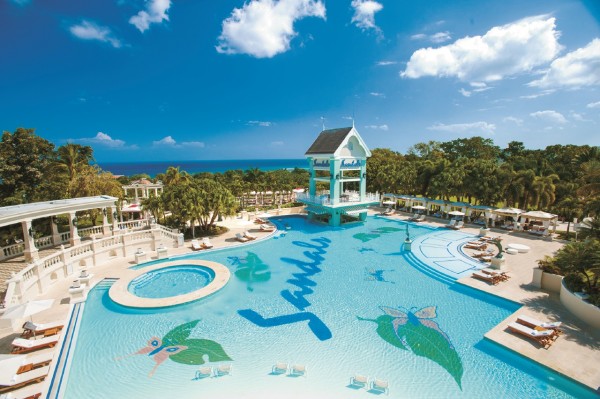 2. There are 105 pools and 22 hot tubs
You read that right ONE HUNDRED FIVE POOLS. OK, they're not ALL available for your personal use. I had a pool off my villa that I shared with the villa next door. One pool….two rooms in the Butler Village.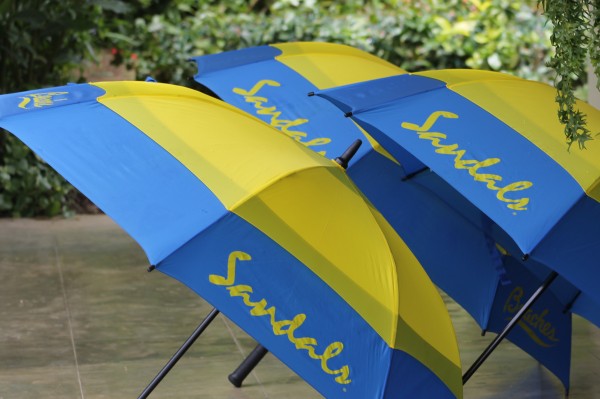 3. Jeeves
I didn't really meet a Butler named Jeeves, but in Butler Village you can arrange to have your own butler. We didn't have one, which make me have butler envy. I had to ask my friend Cacinda if I could "borrow" her butler to make my reservation for dinner. Cacinda's a good sharer. If I went back I would DEFINITELY request a butler. Cacinda got driven everywhere in a golf cart and her butler took care of ALL of her reservations, etc. I had to take the bus.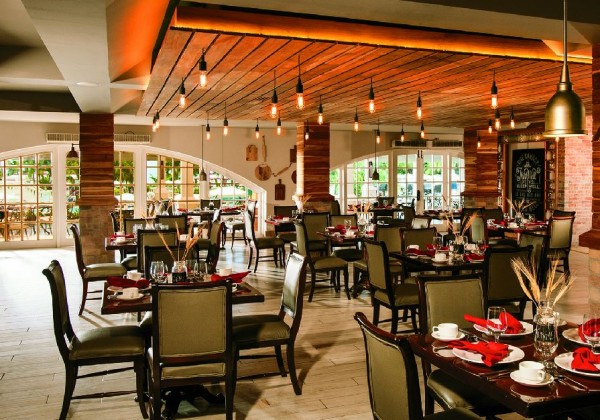 4. Eat your way around the world
There are 16 restaurants to choose from (plus room service from 7am – 10 pm, or 24 hours if you're in a butler suite – there's that butler again). If you don't feel like dressing up, there are casual options, like my FAVORITE…The Jerk Shack (you're in Jamaica, you HAVE to have jerk) to fine French cuisine at Le Gourmand which requires reservations and has a resort evening dress code.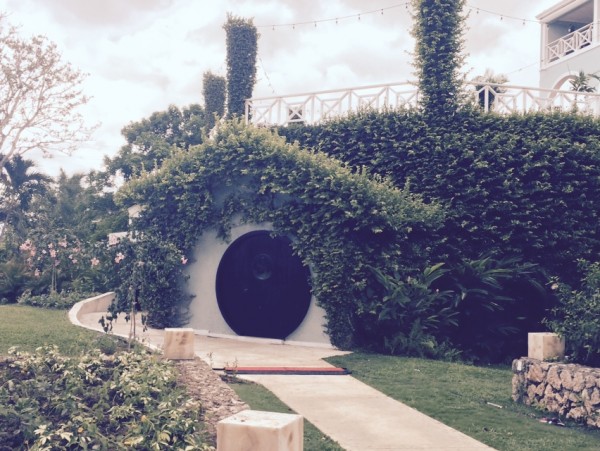 5. Fall down The Rabbit Hole
More like fall IN to the Rabbit Hole. You have to have the secret password (it changes daily) to get into this speakeasy. Yes, it's a SPEAKEASY with a drink menu befitting of the roaring 20's and prohibition. The entertainment (an amazing chanteuse) was befitting, flapper dress and all.
6. Take in a flick
Not your "usual" movie theater at all….as the Popcorn & Palms Outdoor Movies (shown each Sunday and Tuesday) are under the stars. Share a popcorn (or grab your own) and enjoy the big screen…with balmy breezes to cool you.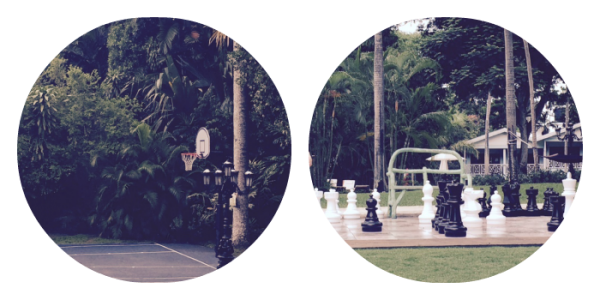 7. Stay active on land
This requires a list of MAJOR proportions. While some of us enjoy lounging on the beach, others need to go-go-go, and it's EASY at Sandals Ochi Beach. Because they offer:
Rock climbing wall
Squash courts
Pool tables
Chess on the lawn
Tennis (lighted for night)
Horseshoes (no horse required)
Bocce
Basketball
Volleyball
Shuffleboard
Croquet
and more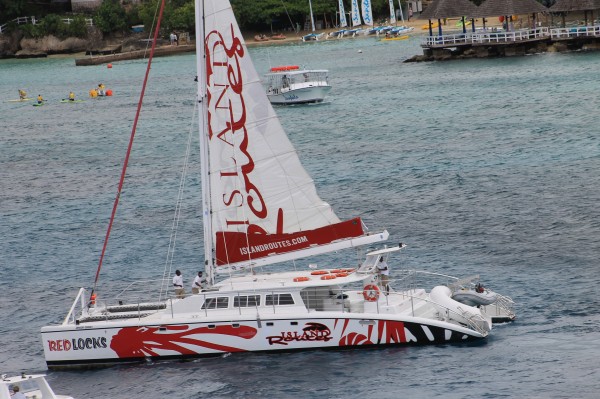 8. H2O activities
With a location on the beach and by the docks, you KNOW they have plenty to do on the water besides dog paddling. These non-motorized activities are part of the all-inclusive package, so get out your nose clip & flippers!
Kayak
Sail a Hobie Cat
Go snorkeling
Paddleboard
Peddle an Aqua Trike
Windsurf
Scuba Dive (unlimited for certified divers) – DSD and international dive certification cost extra
9. Hit the links
Mr. S would have my head if I didn't include the fact that you can head over to Sandals Golf & Country Club to play 18 holes on their par 71 course. Green fees and a shuttle to the golf course are part of your all-inclusive package…all you need to do is hire a caddy. Forgot your clubs & shoes, or prefer a golf cart? No problem, they can all be rented at the pro shop.
10. Keep your girlish figure (or hunkish)
With all of those restaurants and nightclubs, you may want to take precautions and join one of the many exercise groups at the fitness center (all ages and fitness levels are offered). Like to workout on your own? The fitness centers (there are TWO) have state of the art Life Fitness equipment and you can workout ANY TIME YOU WANT – even at 2 am.
DETAILS
For more information and to book YOUR trip visit: Sandals Ochi Beach