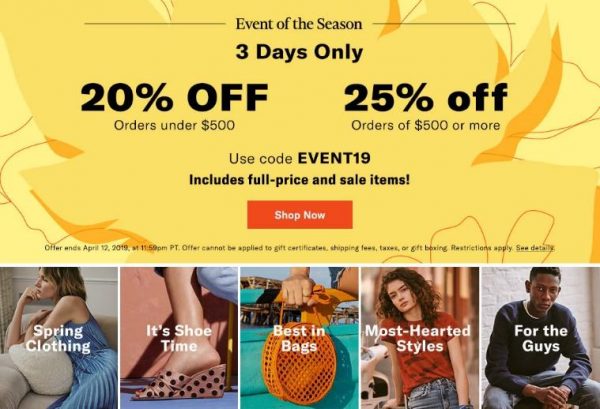 Grab your credit cards & your gift cards
Because the sale of the season has arrived at Shopbop and East Dane. If you haven't shopped at these online stores you'll be oohing and ahhing at the selection of GORGEOUS clothing and accessories. Yes, you've seen many of them before as most of the wardrobe that you see me in on The Compass Girls LIVE show comes right from the pages of Shopbop.
We are giving you ALL of this before you see it in their store
Why? Because the BEST stuff sells out FAST and I want us (yes, I am shopping the SALE as well) to be able to buy everything that we want. Mr. S has picked out a new pair of sunglasses and I've got my summer wardrobe saved in my cart for checkout.
The sale officially begins Wednesday, April 10, but because you are a Champagne Living reader, I'm giving you the heads up to shop TODAY – April 9th before everyone else.
Details
20% off orders under $500 and 25% off orders over $500
Use Promotion Code: EVENT19 at checkout
Exclusions:
Full Brand Exclusions: Arc'teryx Veilance, Oakley, Canada Goose, Ray-Ban, Tumi, Birkenstock, Alison Liu, Balenciaga, Gucci, Isabel Marant, Lana Jewelry, MICHAEL Michael Kors, Natori, Senreve, Suzanne Kalen, Skarlett Blue, Spanx, Sydney Evan, Tory Sport, What Goes Around Comes Around, Saint Laurent, Monse, Philosophy

Women's only exclusions: Acne Studios, Alison Liu, Balenciaga, Gucci, Isabel Marant, Kate Spade New York, Krewe, Lana Jewelry, MICHAEL Michael Kors, Natori, Senreve, Suzanne Kalan, Skarlett Blue, Spanx, Sydney Evan, Tory Sport, What Goes Around Comes Around, Saint Laurent, Zimmerman, Monse, Philosophy
As always shipping and returns are FREE and easy. Now stop reading and