The reviewer has been compensated in the form of a Best Buy Gift Card and/or received the product/service at a reduced price or for free.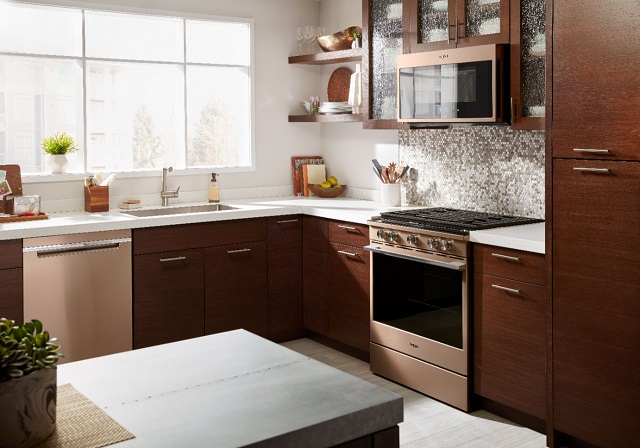 I have an old microwave
And, while I use it daily, I also have a convection oven on my counter that I use daily. If I could only put them TOGETHER and save space, not only would I be happy, but Mr. S wouldn't complain about the lack of available counter space (as if he actually cooks).
If I'm still wishing
I would make that microwave be able to know EXACTLY how long to cook without having to guess. You know, put it in for one minute…still cold, put it in for three and you're created a CRUST that you didn't want. Oh, I have a popcorn setting on my microwave, but what about other foods?
My genie just arrived!
It seems that such a thing DOES exist…and it's a Whirlpool Convection Over-the-Range Microwave! From customized recipes to a customized experience, the touchscreen on the Smart Microwave learns, adapts and suggests customized presets based on your family's routines. The dynamic system tracks preferences to learn family favorites – from what families cook, when they cook and how they cook.
Oh, so SMART
You see, the Whirlpool Convection Over-the-Range Microwave is very, very smart and it helps you to get the right settings every time. You simply scan a frozen food barcode with your smartphone or tablet and send recommended or customized cooking instructions straight to your microwave for dinner done the way your family wants it. So, there is no ruining dinner (take that Goldilocks).
Whirlpool® smart home appliances are purposely designed for the way you live.
With features like Control from anywhere connect you when you need it, wherever you are. These appliances keep up with you, so you can keep up with the ones you love. Now you can enjoy mealtime flexibility and control your appliances from any room in your home, managing mealtime with the click of a button to make holiday cooking and entertaining smarter, and easier. Whether using the touchscreen or controlling your range or microwave from your phone, dinner is cooked just the way you like it.
Whirlpool's connected appliances help keep mealtime hassle-free, even your busiest days.
The only one who won't be happy?
Is the pizza delivery person, because you may never have an "I don't feel like cooking" night again.
Disclaimers to include within Blog:
• "WiFi & App Required. Features subject to change. Details and privacy info at whirlpool.com/connect."
• "Appliances must be set to Remote Enable"
Offers to include? Save up to $400 on select Whirlpool kitchen packages. Valid 9/27 – 10/30