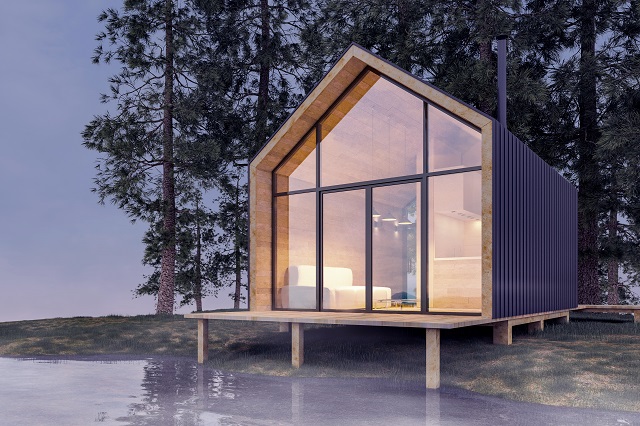 When it comes time to style and dressing up your tiny home project, there's no need to skimp on making your small getaway feel just as luxurious as the biggest of homes. Even with a tiny home, there's still plenty of room for customization and making it as comfortable as possible, perhaps on an even better budget, too, due to the lack of excess space.
If you're trying to decide on what additions to make to your little abode, there are a number of ways you can go, but a few that stand out among the rest. Here are just a few:
Climate Control
Quite possibly, the first thing that should be addressed when attempting to make your home feel more luxurious is climate control. Luxury is unlikely to be achieved without comfort, and neither is the enjoyment of the home. A tiny home differs in comparison with how you'd heat or cool a normal-sized house, so you might want to check out a complete guide to heating & cooling a tiny home to gather insight into what specific heating and cooling units are right for you.
After having done your research, you will need to decide on the right way to control the climate of your tiny house. With the choices available being broader than you may think, making this decision will be dependent upon factors such as the size of the house, how many rooms it contains, and how many you need to cool, considering you might not wish to climate control every one of them.
The location of the home also comes into play here, of course, with a tiny vacation home located near the Colorado Rocky Mountains will have entirely different needs from one in the Florida Keys due to unique local weather conditions. Ultimately, carefully selecting the right sized PTAC unit will be paramount to anything else in the choice.
Be Creative And Customize
The more fun aspect of your tiny home customization process is the portion where you get to play interior designer and make the home truly a home for you. With a small house, you'll have far less square-footage to furnish and, ultimately, be able to go all out with the customization of the whole area that you do have.
Whatever your goal for the house is, whatever the personality of the place is meant to be, this can and should be accentuated by the add-ons you make in the interior and exterior design process you undergo when filling out your home.
If it's a cabin-themed tiny home in the woods meant to be close to nature, add a skylight that allows natural day-time sunlight in and gives a view of the moon on a clear night. Continue with some relevant decorations and color tones throughout the few rooms the house does have and have the interior truly match the exterior when you're all done with the project.
Bring It All Together With The Right Amenities
Your tiny home isn't like others, so it doesn't have to be similar to others in terms of amenities either. A tiny home is built and designed at a fraction of the cost of what's spent on a traditional-sized house, so why not use some of those savings to add in some cool features?
To truly grasp the feeling of luxury in your tiny home, there must be a little something extra that other tiny homeowners, or homeowners in general for that matter, don't generally splurge on.
Some ideas may include but are not limited to things such as getting yourself a small movie theatre setup, installing some fiber-optic Wi-Fi cable if that's available in your area, or splurging on an awesome fridge in your kitchen. Go with some heated floors in the kitchen or bathroom, add another skylight to your shower, put in a hot tub outside, or buy a really nice grill. The options are almost endless, and you've earned them.
This will tie it all together and truly make your tiny home feel luxurious. Why have a normalized, boring little house if there's a chance you get to have something unique? At the end of the day, it's additions like these to top it all off that will truly fulfill your tiny home's fullest potential, and hopefully, make it something you enjoy for a long time.
Final Thoughts
Luxury and comfort are features that don't have to be exclusive to large houses. With a few tweaks here and there and some added amenities, your tiny home can be just as relaxing as a sprawling mansion.