Note: This post is a result of having been sent a Quell to review. As always, opinions are my own and because I only want you to invest in items that live up to their claims, I will always be completely honest with you.
I hate whining (in public)
So, my poor husband and doctor have to hear me complaining day in and day out. I know that I'm lucky to even be walking after my accident over 15 years ago (the doctors all said that I'd be wheelchair bound by now), and I knew that I'd have to deal with a certain amount of chronic pain, but having ANYTHING wrong with me is just not my jam. I'm active….I'm fun….I love to dance….and I want to do everything that my 20-something influencer counterparts can.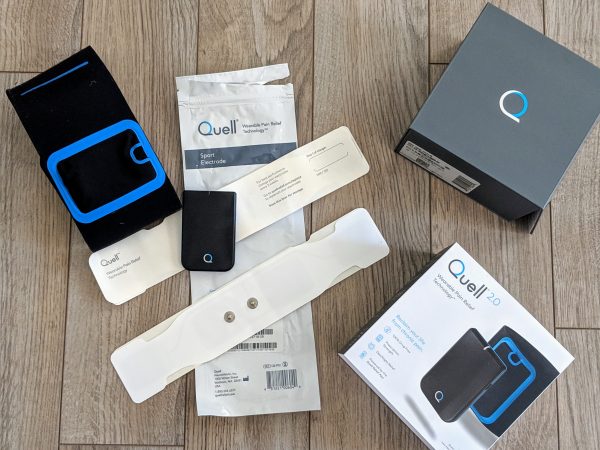 I saw the Quell advertised
The ads began to show up in my Facebook feed and on TV. I'd been using an inexpensive TENS unit for the past year or two (the cheap drugstore kind). There were days that if I used it in conjunction with my pain medication that it would take the edge off for a few minutes, but I didn't think my pain was chronic. When you are in pain all of the time it becomes your new normal, so I celebrate each day that I walk and try my best to ignore my pain vs. trying to eliminate it. When this is all you know, you don't realize that life can be better.
But I was curious
So, I emailed the people from Quell to ask them about this crazy-looking band that wraps around your upper calf. How can this little device help control the pain in my back if it's on my leg? I was about to find out when they agreed to send me one to try for this review. I figured that if it helped me, that those of you who deal with back pain, hip or knee pain or even pain in your arms would benefit. If it didn't, I'd tell you to not waste your money.
Inmate 21954
I decided that I'd wear my quell daily, and since I live in shorts, skorts and skirts people would see it on my leg with its tiny white blinking light. Some would stare as if I had on an ankle bracelet, others would directly ask me about it. I named my Quell "Inmate 21954" (my birthday) for the ones who thought I had just gotten out of jail.
Why I hate taking pain pills for my back
Addiction to prescription pain relief medication has skyrocketed in the last few years, and so many doctors over-prescribe them, but honestly, I didn't want to be one of those who relied on them. One of the most common forms of chronic pain is back pain and opiate pain medications have been used as a quick, (although effective) solution for pain, but I knew there were other ways to control pain that I would rather try first. For me, it was an accident that happened, but pain can be the result of constant straining, aging or poor physical health. Whatever the cause, there are varied ways of relieving back pain. My solution is using cutting edge pain relief technology based on the science of neurotechnology.
How it works 
Neurotechnology is the science of using technology to understand how the brain works in order to discover new ways of affecting changes in the body. The designers of the Quell device have created literal pain relief you can wear throughout the day. The technology is based on delivering electrical pulse frequencies into areas of the body that are in pain. The pulses stimulate nerve endings that are indirectly connected to the brain.
The electrical pulses end up at sensory areas of the brain that are associated with pain. The signals have the effect of turning off the brain's ability to recognize uncomfortable sensations like pain. This allows wearers of the Quell device to relieve their painful symptoms any time of the day or night continuously and safely.
Convenient and Easy to Calibrate
This pain relieving system is highly intuitive and completely adjustable to suit your needs. The device is powered by a powerful microchip that manages the system's performance. The band containing this versatile technology is simply worn around the waist, legs or arms and is adjusted for snugness and comfort.
The device can easily be calibrated in various ways through the smartphone app.
Set precise times in the app for therapy sessions to start and stop automatically, even while you're lying down.
Set different stimulation patterns for different kinds of pain.
Schedule automation features that integrate therapy sessions into your lifestyle.
Track weather changes that can impact your pain and make changes accordingly.
Keep track of intensity and time settings that work best
OMG OMG OMG 
That's what I said to Mr. S within the first hour of using my Quell 2.0. After speaking on the phone with the company, I decided to set my expectations fairly low. I knew how a TENS unit works, I knew that they took the edge off of the pain for a bit. I was told not to expect it to work right off the bat and because of the TYPE of pain that I had, that it may take up to a month to see the kind of relief I was looking for.
THEY WERE WRONG
I got relief with the very first usage.
Easy to use
Charge the small Quell 2.0
Download the app
Slip the unit into the leg wrap
Snap on an electrode strip
Wrap onto your leg (with Velcro)
Calibrate the unit via the app
Hit start
You will automatically have 60 minutes on/60 minutes off
You can use it during the day or while you're sleeping at night. The app automatically detects weather issues that may increase your pain and asks if you'd like to increase the intensity of your Quell 2.0 for those rainy days when the most you could do before was curl up on the couch in pain
I cried
Just the other day I turned to Mr. S and said….I didn't know I was in that much pain. He didn't understand what I was saying. As I said earlier, when you live in pain you just get used to it. It wasn't until I DIDN'T HAVE PAIN that I realized just how much pain I was dealing with on a daily basis.
This is not going to get rid of your headache…
or the pain from that toe that you just jammed into the coffee table. You may still need to take medication when the pain is stronger than usual. But, for day-to-day living with chronic pain, for me, the Quell has been a godsend. Yes, I do have to take an over the counter pain medication like ibuprofen when I've done a little too much. But, I no longer have to live on my prescription meds every day.
It worked for me
But, it may not work for you. Everyone's degree of pain is different. We each have different tolerance levels, etc. I still feel the compression in my back because this is not for healing the underlying cause, it is only to deal with the chronic pain that interferes with my day to day life. But…
I can attempt to garden
I can go on a road trip (sitting is awful for me)
I can explore a city without having to take 2 days off
I can live my life again
You don't have to live in chronic pain anymore
A personal observation
I do find that if I use it directly after shaving my legs that I need a lower intensity. I'm not sure why, but if you find it a little uncomfortable to use after shaving as I do, just manually lower the intensity for the first round of therapy.
Quell 2.0 pain relief is available online at their website store and at various other online stores including Best Buy and QVC. You can find them at some brick and mortar stores and pharmacies like Walgreens and CVS. The kinds of kits available will differ depending on where you get them, so it's best to get them online.
I've been using my Quell 2.0 for a few months now. I will keep you posted as I use it throughout the year.