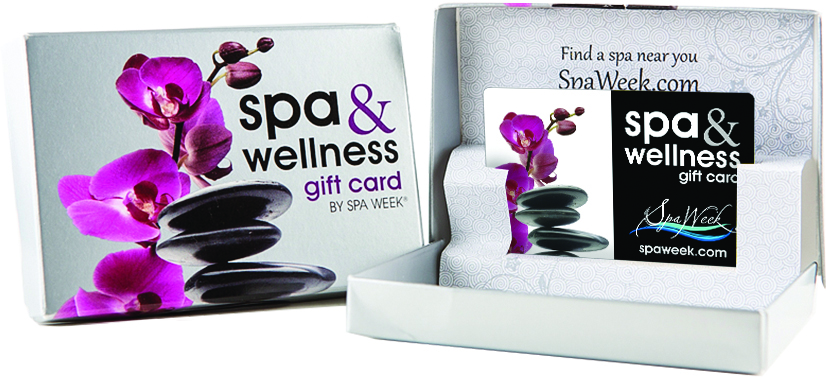 All I want for the holidays is to relax and be pampered.
That's all I EVER want….all year long.
Which is why, for spa and wellness lovers like you and I, the new Spa Week BLACK card makes the perfect gift. Imagine being able to give him/her 365 days of showing your love on a RELOADABLE gift card with access to spa and wellness services, medical grade treatments, holistic services and cosmetic treatments, such as: massages, facials, yoga, pilates, nutrition classes, acupuncture, chiropractic sessions and more.
Being able to load any amount from $10-$500 on a card that can be used in multiple locations on as many visits as they choose is the ULTIMATE gift for someone you really care about.
TRAVEL
I'm always looking for the gift of travel, and because the Spa Week BLACK card is accepted at over 8,000 spa and wellness locations across North America and may be used any time of the year without expiration, it is a great gift for someone who's about to embark on a trip.
HOME
Show them that you appreciate everything they do at home with the perfect escape. Spa services are most effective when you go regularly (any esthetician will tell you that a facial is nice, but real changes happen when you go every 4 or 5 weeks).
BESTIES
Girls know! We ALL love to get away for a "ME" day, and the more often the better. A great gift for that best friend who is always there when you need them, the Spa Week BLACK card means, that you can also surprise her when she's feeling a little down just by adding a reload to her card.
THE GIFT
Spa & Wellness BLACK, can be shipped in a gift box with a personal message anywhere in the United States.
LOCATIONS
Unlike other SINGLE SPA cards, the premier brands across the US that accept Spa & Wellness BLACK include: Waldorf Astoria, Four Seasons, Rosewood Hotels, The Peninsula, The Trump Soho, Jurlique Soho, Hyatt, Hilton, Marriott, L'Institut Sothy's and Fresh (LVMH).
NEED a LAST MINUTE GIFT?
You can always send an e-gift from Spa Week IMMEDIATELY or on a particular date. Holiday themes are available!
DETAILS
For more information or to order a Spa Week BLACK card, or any OTHER gift card visit: SpaWeek.com
Enter to win a $50 SpaWeek.com gift card. Remember to enter on all of the blogs below to increase your chances of winning!